Michigan Too Close To Call
The future of the Republican race in 2012 is in the balance in the Wolverine State.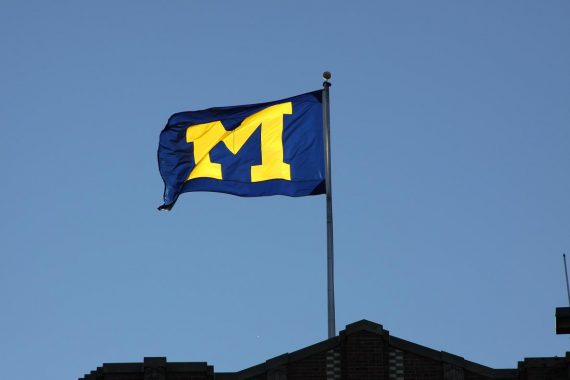 In more ways than one, the future of the Republican race for President is at stake today in the Wolverine State. If Mitt Romney manages to pull off even a narrow victory, and combines it with what looks to be a blowout win in Arizona, then he will have put to rest (at least for a week) the latest round of doubts about his campaign and his inevitability as the Republican nominee for President. If Romney manages to lose, however, then we will spend the next week hearing, probably justifiably, about a Republican Party in chaos as the guy that most serious party leaders see as their best chance to win in November defeated in his home state by a guy who seems likely to harm the GOP's chances to pick up the independent voters and swing states it needs to defeat Barack Obama, not to mention the votes it needs to retake the Senate.
The way things stand right now in Michigan, one has to think that Republican insiders are more than a little bit nervous. Just take a look at the latest Public Policy Polling poll:
PPP's final poll in Michigan finds Rick Santorum holding on to the smallest of leads with 38% to 37% for Mitt Romney, 14% for Ron Paul, and 9% for Newt Gingrich.

It's always good to be cautious with one night poll numbers, but momentum seems to be swinging in Santorum's direction. Romney led with those interviewed on Sunday, but Santorum has a 39-34 advantage with folks polled on Monday. The best sign that things have gone back toward Santorum might be that with those polled today who hadn't already voted, Santorum's advantage was 41-31.

Much has been made of Democratic efforts to turn out the vote for Santorum and we see evidence that's actually happening. Romney leads with actual Republican voters, 43-38. But Santorum's up 47-10 with Democratic voters, and even though they're only 8% of the likely electorate that's enough to put him over the top. The big question now is whether those folks will actually bother to show up and vote tomorrow.
The issue of crossover voting in the Republican primary has become an issue in the final hours of the campaign, thanks in no small part to what appears to be a conscious effort on the part of the Santorum campaign to appeal to working-calls Democratic voters:
Michigan Democratic strategist Joe DiSano has taken it upon himself to become a leading mischief maker.

DiSano says he targeted nearly 50,000 Democratic voters in Michigan through email and a robo call to their homes, asking them to go to the polls Tuesday to vote for Rick Santorum in attempt to hurt Romney.

"Democrats can get in there and cause havoc for Romney all the way to the Republican convention," DiSano told CNN.

"If we can help set that fire in Michigan, we have a responsibility to do so," he said.

Santorum is statistically tied with Romney in Michigan polls, and has the greatest potential of all the Republican candidates to beat Romney.

In his robo call, DiSano says "Democrats can embarrass Mitt Romney and expose him as the weak frontrunner that he is, by supporting Rick Santorum on Tuesday."

(…)

Santorum's campaign, meanwhile, confirmed it was also using a robo call urging Michigan Democrats to cross over and vote for Santorum on Tuesday.
It's hard to believe that crossover votes will be a huge factor today. In 2008, only 7% of the people voting in the Michigan Republican Primary identified themselves as Democrats. Of course this was a year when the Democrats had their own contested primary in Michigan, although it was one that none of the major candidates actively participated because of the sanctions that the Democratic National Committee had placed on the state Democratic Party for scheduling their primary early in violation of party rules. In fact, Barack Obama's name was not even on the Michigan ballot in January 2008 (although "Uncommitted" did win just under 40% of the vote). At the same time, though, given how close the polls are even a small crossover vote for Santorum could make a huge difference at the end of the day.
Nate Silver also finds a late momentum shift in favor of Santorum:
People sometimes apply the term "tossup" a bit too broadly, using it to refer to anything close enough that they don't want to render a prediction about it.

In Michigan, however, the term is appropriate. Rick Santorum, who once trailed Mitt Romney badly in the state, then surged to a clear lead there, then saw Mr. Romney regain his footing and pull back ahead, appears to have some late momentum in the race — perhaps just enough to win, and perhaps not.

However things turn out on Tuesday, this has been a dramatic enough sequence that it demands some explanation. It is unlikely that Mr. Santorum's last-minute rebound is purely a statistical fluke. There is a fairly rich amount of polling in the state and, importantly, Mr. Santorum has gained ground in consecutive polls issued by the same survey firms. In the Baydoun Consulting poll, for instance, which had him down by two points on Monday, he had trailed by eight points just days earlier. So the rebound is probably real.
Silver's prediction model now gives Romney a 55% chance to win the state today, and Santorum a 45% chance. The question for Santorum is whether the late momentum, and any potential crossover votes would be enough to overcome Romney's apparent advantage in early voting. A number reflected in the PPP poll:
[T]here's one big reason to think that Romney will still come out as the winner tomorrow night. 18% of the electorate has already cast its ballots and with those voters in the bank Romney has a 56-29 advantage. Santorum's likely to win election day voters, but he"s going to have to do it by a wide margin to erase the lead Romney has stored. We see Santorum with a 40-33 advantage among those who have yet to vote.
It all comes down, then, to turnout today. If turnout is high then Santorum would probably be able to overcome Romney's early voting advantage. My personal prediction, and it's really nothing more than a guess at this point, is that Romney manages to pull off an exceedingly narrow victory, something less than a 2.5% margin between him and Santorum and probably even smaller than that. I wouldn't be surprised to see Santorum win tonight either, and if that happens then the Republican race is a whole new ball game.