Mike Pompeo Will Probably Be Confirmed As Secretary Of State, But He Shouldn't Be
Despite facing headwinds in the Senate Foreign Relations Committee, Mike Pompeo will probably be confirmed as the next Secretary of State. That's unfortunate.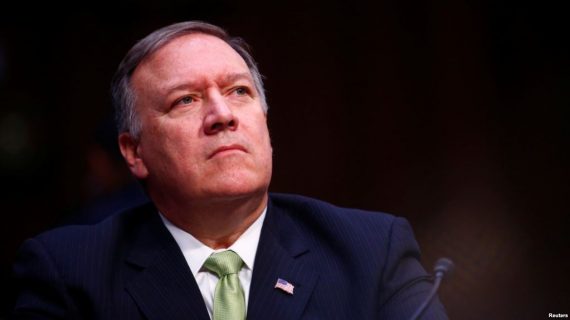 Ordinarily, President Trump's nomination of C.I.A. Director Mike Pompeo to be the next Secretary of State would sail through the Senate easily. For one thing, his nomination to be C.I.A. Director was confirmed easily last year and one would think that any questions about his qualifications or his background would have been answered at that point Additionally, the fact that Republicans control the Senate and that the relaxed filibuster rule means that they don't need 60 votes to invoke cloture on the nomination should make confirming him a matter of course. As we've learned many times over the course of the past year, though, these are not ordinary times, and for many reasons, Pompeo's nomination is facing strong headwinds that put the fate of his nomination up the air:
WASHINGTON — Mike Pompeo came close on Thursday to clinching confirmation as the nation's 70th secretary of state when Senator Heidi Heitkamp, Democrat of North Dakota, announced her support. But before that triumph, he is expected to face a historic rebuke from the Senate Foreign Relations Committee, which most likely will not recommend his confirmation.

Ms. Heitkamp, who faces a difficult re-election fight in a state that President Trump won handily, said in a statement that Mr. Pompeo had convinced her that he would rebuild the State Department, which was seriously depleted under the previous secretary of state, Rex W. Tillerson.

"At a time of peril around the world, we need to exhaust all diplomatic options before sending the brave men and women of the armed forces into dangerous situations that could escalate out of control," she said.

Ms. Heitkamp's announcement is likely to push other moderate Democrats facing re-election in states that Mr. Trump won to follow suit. Many of those senators — including Joe Manchin III of West Virginia and Claire McCaskill of Missouri — voted for Mr. Pompeo last year when he was confirmed to be C.I.A. director, and they are under renewed pressure at home to show they are willing to vote with Mr. Trump's interests from time to time.

But before an expected full Senate vote, the Foreign Relations Committee — with 11 Republicans and 10 Democrats — is scheduled to vote on Mr. Pompeo's nomination Monday evening. Senator Rand Paul, a Kentucky Republican, has said he will vote against Mr. Pompeo, and all 10 Democrats appear likely to do the same. The committee's chairman, Senator Bob Corker, a Republican from Tennessee, has vowed to send Mr. Pompeo's nomination to the full Senate anyway.

Still, a rejection would serve as yet another sign of the extraordinary level of partisan animosity now gripping Washington, and could bruise Mr. Pompeo's standing as the nation's top diplomat.

The Senate Foreign Relations Committee has never given a nominee for secretary of state anything but a favorable vote since the committee began considering nominees in the late 19th century, the Senate historian said on Thursday. And it has been almost 30 years since any cabinet nominee was reported with an unfavorable recommendation to the full Senate, a possible path for Mr. Pompeo.

"It has nothing to do with him," Mr. Corker said, referring to the Democrats' opposition to Mr. Pompeo. "I understand where they are. They feel like a vote for Pompeo is a proxy support for Trump."

But even allies of the administration worry that the vote could taint Mr. Pompeo and undermine American diplomatic initiatives. In a telephone interview coordinated by the Trump administration, former Secretary of State Henry A. Kissinger said that a committee vote against confirmation "will wound him." He urged senators to move quickly to confirm him.

"We cannot be without a secretary of state for very much longer," he said.

Democrats say their opposition to Mr. Pompeo springs from more than just anti-Trump sentiment.

Mr. Pompeo first came to Mr. Trump's attention in 2015 when, as a congressman from Kansas, he directed searing questions at Hillary Clinton during a hearing on the deadly 2012 attacks in Benghazi, Libya. Mr. Pompeo called Mrs. Clinton "morally reprehensible," a charge that still rankles Democrats, particularly since he has faced nowhere near the scrutiny he demanded of Mrs. Clinton as C.I.A. officers have died under his leadership.

Mr. Pompeo's ardent partisanship during his four terms in Congress did not endear him to Democrats. They also cite comments that have been called prejudiced against Muslims and lesbians, gay men, bisexuals and transgender individuals.

But at his confirmation hearing last week, Mr. Pompeo presented himself in surprisingly moderate terms, promising to defend gay rights around the world, work to rescue the Iran nuclear deal and reverse the administration's marginalization of American diplomats.

On Wednesday and Thursday, Mr. Pompeo continued a charm offensive intended to moderate his image and answer questions about a secret trip he made to North Korea to meet with its reclusive leader, news of which surfaced this week.

Beyond Ms. Heitkamp, he has yet to notch any clear wins from his campaign.

Senator Chris Coons of Delaware, the only Democrat on the Foreign Relations Committee who has yet to formalize his opposition to Mr. Pompeo, said on Wednesday that he was inclined to vote against him in part because calls and emails coming into his office from constituents were running 50 to 1 against Mr. Pompeo.

Senator Jeff Flake, an Arizona Republican and another member of the committee, said he had yet to make up his mind.

And Mr. Paul, who was one of the first senators to stake out his opposition to Mr. Pompeo's nomination, said he was unmoved after his Thursday sit-down with Mr. Pompeo, despite Mr. Trump's public assurances that Mr. Paul was a "very special guy" who had "never let me down."
Pompeo's rebuke by the Senate Foreign Relations Committee, if it happens, may weaken him to some extent but it will most likely not prevent him from being confirmed. Rejection by the committee does not mean that the nomination cannot or will not be brought to the floor of the Senate if the Senate leadership believes that should happen. In this case, it appears that this is exactly the intention of Senate Majority Leader Mitch McConnell. Assuming that happens, it's likely that there will be sufficient votes to confirm Pompeo notwithstanding his rejection by the committee and the fact that at least one Republican Senator, Rand Paul of Kentucky, has indicated that he will oppose the nomination. As noted above, Senator Heidi Heitkamp of North Dakota, a Democrat facing re-election in a state that President Trump won by more than 110,000 votes in 2016, has announced her intention to vote in favor of Pompeo's nomination and it is expected that she will be joined by other red-state Democrats such as Joe Manchin of West Virginia and Jon Tester of Montana, both of whom also face re-election battles in states that the President won by double digits. As a result, Pompeo should end up receiving enough support from Democrats to overcome the loss of Senator Paul's vote, the absence of John McCain, and the opposition of other Republicans such as Jeff Flake, who has yet to state his intentions on this nomination.
Notwithstanding the fact that Pompeo is likely to be confirmed in the end, I tend to agree with Daniel Larison that he shouldn't be:
It's not true that senators "haven't put forward any real reasons" to reject Pompeo. They have objected to his preference for resorting to force, his disdain for diplomacy, his hostility to the nuclear deal, his bias against Muslims, and his past record of supporting disastrous wars and torture. Those are just some of the reasons so many senators are opposed to Pompeo. Those sound like real reasons to me.
Larison goes into further detail in a subsequent post:
Pompeo served in Congress for a few terms, and he ran the CIA (badly) for a year. In all that time, he showed no aptitude for or interest in diplomacy or the compromise that it requires. He has developed a reputation as a hard-liner, and in tandem with Bolton he would make Trump's foreign policy even more dangerous than it already is. Pompeo was nominated first and foremost because he knew how to cultivate the president and successfully gained his confidence. That isn't nothing, but it isn't a reason to confirm him to be Secretary of State.

Pompeo may be confirmed by the narrowest majority of all time, or maybe he won't be, but the people opposed to the nomination have nothing to be ashamed of and every reason to fight it until the end.
When Pompeo's name was initially put forward as the replacement for former Secretary of State Rex Tillerson, I noted that I was sympathetic to the argument that a President should be entitled to the Cabinet that he wishes to have and that this seems to be especially true with respect to foreign policy given that this is the one area where the Executive Branch has the most discretion. As we've learned more about Pompeo beyond what we already knew, though, I began to have doubts about his qualifications and the propriety of having someone with his views and his relative lack of experience in the relevant fields that he would be responsible for in what is arguably the most important position in the Cabinet, I've reconsidered that view and am now of the belief that Pompeo does not belong at Foggy Bottom and that, at the very least, I would oppose his nomination were I among those being asked to vote on it.
Among the many issues in Pompeo's record that raise concern, perhaps the most serious concern his ties to anti-Muslim organizations here in the United States including persons such as Pamela Geller, who has been at the center of anti-Muslim hate speech for more than a decade now. Given those ties, it's difficult to see how he can credibly maintain a good relationship with the Muslim world. Another area of deep concern is the position he has taken with respect to the nuclear deal with Iran, a view that reinforces that taken by Trump's new National Security Adviser John Bolton that would seem to make it more likely that Trump would take the foolish step of pulling the United States out of that agreement and thus potentially precipitating a crisis in the Middle East at the same time that the United States is dealing with the situation in Syria and heading into a late Spring and early Summer that appears as if it will be highlighted by delicate talks with the North Koreans that seem to pose more risk of failing rather than succeeding.
As I said, in the end, Pompeo will probably be confirmed and rather easily so, and it will most likely happen with very little consideration of the facts surrounding his views and qualifications for the position he is being elevated to. Instead, we'll have to hope that he learns quickly on the job. Personally, I'm not optimistic.