Military Sexual Assault Policy: No Consent with Alcohol?
The military is cracking down on sexual assault. The pendulum may be swinging too far.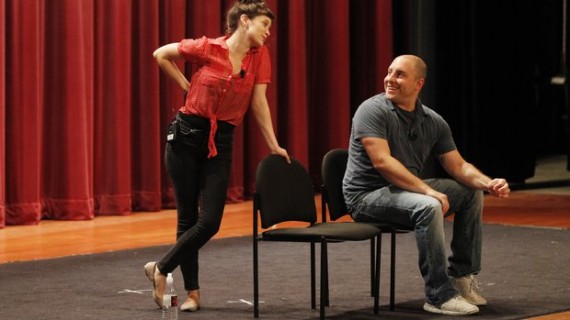 The Marines are moving beyond PowerPoint slides in teaching about sexual assault.
Gretel Kovach, San Diego Union-Tribune ("Marines Get Blunt Sex Talk To Prevent Assault"):
"Sex Signals," a series of skits and guided discussions led by civilian actors from Catharsis Productions, also demonstrated that role-playing and blunt, bawdy talk make more memorable sexual assault training than slide shows.

[…]

In one scene, the presenters played two Marines on a date of sorts. As the action on stage and dialogue with the audience of real-life Marines unfolded, they exposed common misperceptions about sexual assault and how they benefit rapists, besmirch the reputation of everyone, and discourage victims from getting help.

Welcome to the game show "Not My Fault," where a nice young corporal tries to explain why he is not to blame for hurting her, said Annie Rix, before assuming the role of "Amy," the "hot chick" on base.

Amy said she was raped in her barracks room. She struggled, but he pinned her down and wouldn't stop when she told him to.

George Zerante, playing "David," insisted: "What happened is really not my fault. I did have sex with her, but I did not rape her."

Amy and David had talked on the phone. They played pool one night. Another day she invited him to her room to "play some games."

He expected sex and brought beer. She fired up the Xbox video game console.

David, a big guy with a much higher tolerance for alcohol, plied her with drinks. Amy got drunk and lost control. Between rounds of tickling, playful wrestling and kissing, Amy kept saying no. Then yes. Then no.

After David started sexual intercourse, she whispered stop once, then went limp.

Was it rape? And if so, whose fault was it?

Most Marines in the audience said Amy was partly to blame for being raped because she gave him mixed signals and got too drunk.

Wrong, Zerante countered. Everyone is responsible for curbing risky behavior and safeguarding themselves, but "don't make excuses for rapists."

The appropriate penalty for getting too drunk might be vomiting, a hangover, or "spending $72 at Taco Bell," Rix said. Never rape.
Aside from assigning zero agency to Amy, who apparently lacks the slightest ability to refuse to continue drinking past the point of consciousness, this is of course right. But the training goes much further:
To ensure they aren't misreading sex signals, the trainers recommended using a "verbal condom" for protection: ask for consent first, and check in again if your partner becomes unresponsive.
Shades of the 1990s and written contacts for sex at colleges, but good advice regardless. Aside from the question of consent, responsiveness is a highly desirable quality in a sex partner.
This, however, strikes me as a bridge too far:
Because it is difficult to judge how much alcohol incapacitates another person, the military pushes a "one drop" approach against sex after alcohol, urging troops to save it for another day if either party has been drinking.

"With all these trainings, they drill it into you. Once you have one sip of alcohol, that's it," Hopkins said.

[…]

Many of his friends "didn't realize you can't get consent with alcohol, because of the culture we live in kind of promotes that type of lifestyle where you just drink and hook up with people," [Lance Cpl. Cody Ferguson, a radar technician] said.
In our Twitter conversation on this issue earlier this morning, John Schindler, a Navy Reserve officer and professor at the Naval War College, rightly worried about a system that treats "all men as potential rapists." But I'm not sure how to conduct mass training about a problem that's both impacting the entire force and yet isolated to a relatively few bad apples without forcing the training on the good guys, too. We simply don't know who the bad guys are until it's too late.
Given the degree to which both alcohol abuse and sexual misconduct are prevalent in the military—with the Marine Corps leading the pack because it's younger and more male than the other Services—it's important to find creative ways to correct these problems. Zero tolerance for rape, sexual harassment, and sexual assault is reasonable; they are, after all, crimes. And it's crucial to educate people, especially young males, where the lines are.  But let's not draw the lines stupidly.
Adults are allowed to operate motor vehicles at high rates of speed with substantially more than one drop of alcohol in their system. It's just asinine to pretend that they're incapable of consenting to sex after a drink or two. If she's too drunk to know what she's doing; it's rape. If she's had a glass of wine, it's reasonable to assume that Yes means Yes.
This is bureaucratic overkill and it's dangerous. You don't change a culture that treats women as mere objects by replacing it with one that treats women as imbeciles incapable of regulating their own actions.