Million MAGA March Sparks Violence
The inevitable happened, as extremist organizations descended on DC.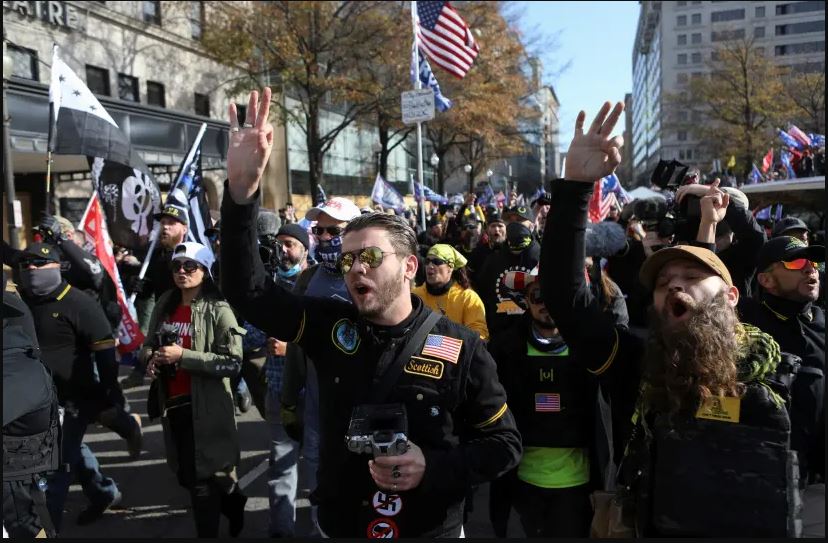 President Trump held another political rally at the White House yesterday, dubbed the Million MAGA March. Like its presumptive namesake, Louis Farrakhan's Million Man March almost exactly a quarter-century ago, it drew considerably less than a million marchers. Unlike Farrakhan's, it led to violence.
The local NBC station, in conjunction with the Associated Press, reported it ("Clashes Between Protest Groups Break Out After Thousands Rally for Trump in DC") this way:
Violent clashes between supporters of President Donald Trump and counterprotesters erupted in the streets of downtown Washington, D.C., Saturday night after thousands of the president's supporters rallied earlier in the day to protest election results they say are fraudulent.

One person was stabbed when a fight broke out between two large groups at 10th Street and New York Avenue NW about 8:30 p.m., a spokesperson for D.C. Fire and EMS said. Medics took the person with critical injuries to a trauma center, the spokesperson said.

Fire officials said the fight was related to the ongoing protests. Authorities have not given any information yet about a possible suspect in the stabbing.

Police arrested a total of 20 people since demonstrations began midday, and two police officers were injured, D.C. Mayor Muriel Bowser's office said. The extent of their injuries is unclear at this time.

[…]

Trump weighed in on Twitter late in the evening, blaming the violence on "Antifa Scum."

Ten of the arrests included four people arrested for firearms violations, two for simple assault, one person for assaulting a police officer, one person for "no permit" and two people for acting disorderly, the Metropolitan Police Department said. It's unclear at this time if those arrested were Trump supporters or counterprotesters.

Police recovered seven guns during the pro-Trump rally, Bowser's office said.

The march was largely peaceful during the day before turning tense at night, with multiple confrontations as small groups of Trump supporters attempted to enter the area around Black Lives Matter Plaza, about a block from the White House, where several hundred anti-Trump demonstrators had gathered.

In a pattern that kept repeating itself, those Trump supporters who approached the area were harassed, doused with water and saw their MAGA hats and pro-Trump flags snatched and burned, amid cheers. As night fell, multiple police lines kept the two sides apart.

[…]

Three Trump supporters were at a restaurant at 16th and K streets NW when someone set off fireworks in their direction, News4's Shomari Stone reports. Video shows people covering their ears and jumping as the fireworks exploded right above them.

At one point, a group dressed in all black and carrying black umbrellas began approaching a group of Trump supporters who were standing outside the Capitol Hilton Hotel on 16th Street NW, Stone reports. Police then got between the Trump demonstrators and counter protesters and moved the counter protesters back.
The report makes it appear that peaceful pro-Trump demonstrators were attacked for exercising their First Amendment rights. The overseas press, which is answering the question "How would we report this if it were happening elsewhere?" puts it in a more nuanced context.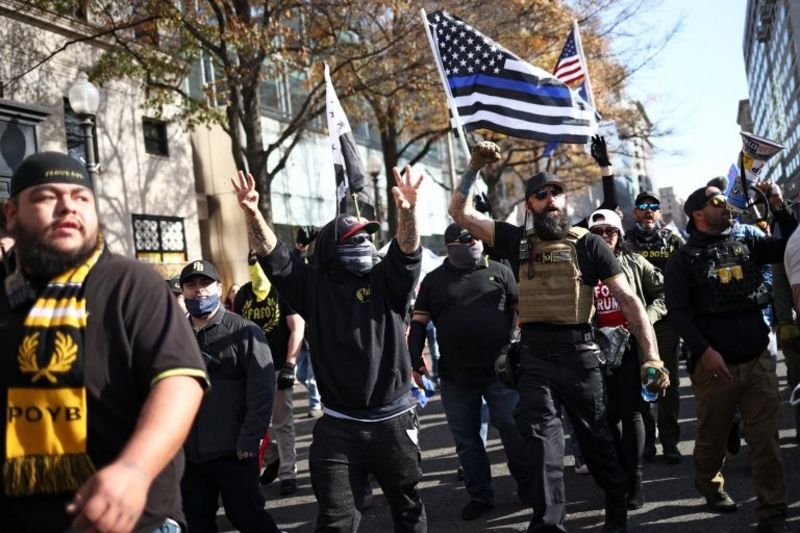 BBC's headline ("Million MAGA March: Thousands of pro-Trump protesters rally in Washington DC") is more neutral but the reporting is still brutal:
Thousands of supporters of US President Donald Trump turned out in Washington DC to back his unsubstantiated claims of voter fraud in the election.

Flag-carrying demonstrators were joined by members of far-right groups including the Proud Boys, some wearing helmets and bullet-proof vests.

The largely peaceful demonstration saw some violence later in the evening, as Trump supporters and counter-protesters clashed in several skirmishes.

Joe Biden won the 3 November election.

On Friday, he solidified his victory with a projected win in the state of Georgia – making him the first Democratic candidate to take the state since 1992.

He now has 306 votes in the electoral college – the system the US uses to choose its president – which far exceeds the 270 threshold to win.

However, Mr Trump has so far refused to concede. He has launched a flurry of legal challenges in key states and made unsubstantiated allegations of widespread electoral fraud – but his efforts have so far been unsuccessful.

Mr Trump's supporters kicked off the demonstrations at about noon local time (17:00 GMT) on Saturday near Freedom Plaza, just east of the White House, and later headed towards the Supreme Court.

As well as more mainstream Trump supporters, members of the far-right Proud Boys and the Oath Keepers militia group were among the marchers. Conspiracy theorist Alex Jones addressed the crowd.

Mr Trump's motorcade passed the gathering demonstrators on Saturday morning and did a circuit of nearby Freedom Plaza, but he carried on to his golf club in Sterling, Virginia without addressing the crowds.

[…]

A gradual stream of pro-Trump supporters made its way towards Freedom Plaza, adorned with T-shirts and carrying placards which read "Stop the Steal" and "Trump 2020".

The demonstrators were also identifiable by their lack of face-masks as many participants rejected measures to contain the spread of coronavirus.

In that regard alone, this pro-Trump rally was seen by its critics as reckless and irresponsible. It took place with the United States grappling with some of its worst Covid-19 infection rates since the pandemic began, with more than 180,000 new cases and 1,400 deaths recorded in the country over the past 24 hours.

None of that appeared to matter much to the participants who excitedly greeted President Trump's motorcade as it made an impromptu pass around the plaza. They are desperate to see this election result overturned and fully back his unsubstantiated claims of election fraud and his refusal to concede.

Still, although they may deny it, there is a growing sense of a fight losing its energy and that – like it or not – these supporters will see President-elect Joe Biden in the White House in January.
So, look, Trump supporters have every right to rally to express their unfounded beliefs that the election was stole. After all, Hillary Clinton supporters showed up in droves around the Trump inauguration to declare themselves "The Resistance" and protest the very fact that the winner of the election was taking office.
But, while the crowd was mainly just ordinary Americans who voted for a man most of us find reprehensible, the fact of the matter is that it also attracted a large number of white supremacists and conspiracists. While there may be nuanced differences between being dressed in Proud Boys regalia rather than a Klan hood, they're likely lost on the largely Black population of DC. Adding in the disregard for the social contract of mask wearing, and it's not unreasonable to anticipate violence.
The Jerusalem Post report ("Proud Boys clash violently with Antifa at Trump rally") largely repackages the AP reporting but in a much clearer way:
Supporters of US President Donald Trump, including the far-right group Proud Boys, rallied together in Washington on Saturday, backing his claims of a "stolen election," but the situation quickly devolved into violence as night fell when Trump supporters clashed with counter-protesters, The Associated Press reported.

According to videos uploaded to social media, left-wing counter-protesters including Antifa members fought with Trump supporters in fistfights, along with throwing projectiles. According to AP, police arrested at least 20 people at the protests, with one stabbing reported and several firearms confiscated.

CNN reported that a wide range of Trump supporter groups banded together to make their voices heard at the rally. Notably present were the Proud Boys, as well as the Three Percenters, another far-right group. A Proud Boys leader recently made headlines by attempting to redefine the group as positively antisemitic.

The Oath Keepers, one of the few anti-government groups, were also at the rally, in addition to various Republican members of Congress and conspiracy theorist Alex Jones.

Promoted on social media as the Million MAGA March, the protests come as Trump still insists he won the election, despite widespread consensus giving victory to Democratic rival and now President-elect Joe Biden.
Trump is largely responsible for this. He has spent months—arguably five years—ginning up hatred. His claims of election fraud has needlessly ratcheted up tensions. And his embrace of the Proud Boys, QAnon, and other crazies has rather obviously emboldened them.