Millionaires Club Has Lots of Turnover
Few people earn a million dollars in a year. Fewer still do it more than once.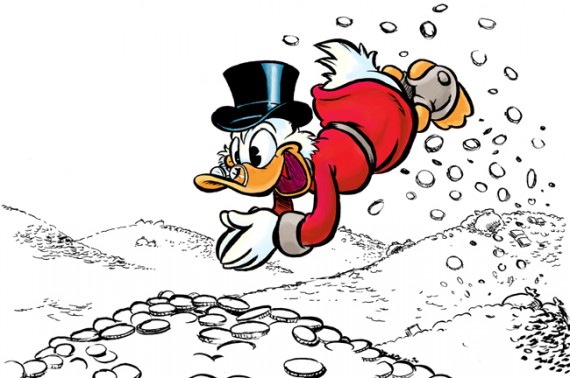 Few people earn a million dollars in a year. Fewer still do it more than once.
Washington Wire ("Study: Lots of Turnover in Millionaires Club"):
A new study shows that the ranks of people earning $1 million or more are highly variable from year to year. That implies that millionaires aren't quite the monolithic class that some political rhetoric might suggest.

In fact, from 1999 to 2007, about 50% of people who earned $1 million or more in any given year only managed to achieve the feat once, according to the research by the nonpartisan Tax Foundation. Another 15% did it twice.

Just 6% filed in all nine years with incomes more than $1 million. Millionaires often generate their income through one-time sales of small businesses, or other appreciated assets.
This isn't exactly surprising: a million dollars is still a hell of a lot of money; outside of Fortune 500 CEOs, superstar entertainers, and professional athletes, almost nobody earns that much in salary. And business owners tend to reinvest most of their profits in their business rather than cashing it out as salary.
A recurring subject in OTB comment threads over the years is that the definition of "millionaire" seems to have changed. While the dictionary definition still refers to people with a million dollars in net worth, it's increasingly being used to mean "earning a million dollars or more a year."  While some 600,000 American households accomplish that feat in any given year, the grand total that fit the old definition remains quite small despite inflation: 3,104,000 according to the World Wealth Report for 2010. That, by the way, represents almost a third of the world total.
The disparity between those two numbers is actually rather interesting: there are roughly five times as many American households with a million dollars in wealth as there are who earn that much in a single year. Rather clearly, keeping a million dollars is even harder than earning it.