Mississippi 1964? No, Missouri 2014
But, hey, don't worry, there's nothing racial going on here. Nothing at all.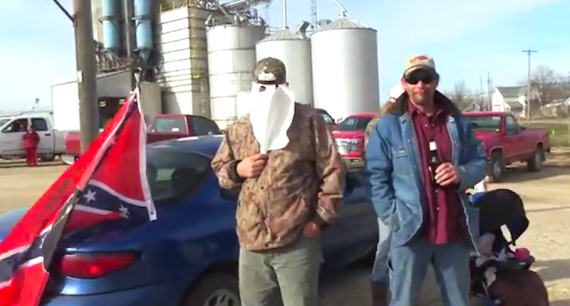 A group of protesters marching from Ferguson, Missouri to Jefferson City were met with, well, they were met with this:
A group of Ferguson protesters were met Thursday afternoon with Confederate flags, racist symbols, and gunfire as they marched through a pair of rural Missouri towns.

Counter-protesters, including children, shouted racial slurs and carried signs urging the marchers to "go home," reported the Columbia Missourian.

Residents of Gerald and Rosebud, where the marchers arrived about noon, set up a display of fried chicken, a melon, and a 40-ounce beer bottle in the street.

Some of the counter-protesters wore improvised Ku Klux Klan hoods, and they set up homemade signs supporting law enforcement and the grand jury's decision not to charge Darren Wilson in the shooting death of 18-year-old Michael Brown.

"We've seen a few people who have used the N-word, who have asserted their First Amendment rights with obscenities, and that's a part of our country and your rights under the Constitution," said NAACP president and CEP Cornell William Brooks, who added that demonstrators have more frequently been met with support, including prayer and refreshments.'

Police are investigating a gunshot fired at the back of one of the buses traveling with the marchers, who have been walking 20 miles a day since Saturday to protest the grand jury decision.

"I support the police," said former Rosebud mayor Clyde Zelch, who stood before a sign reading "Grand jury got it right! Justice was served."

"We may have a system that needs to be improved on, but it's a system our Founding Fathers gave us, and what the NAACP acts like is that we're supposed to throw out everything that's worked for 200 years, and the only version that they want is one in which they win every time," Zelch said. "It should not be us against them. This is just simply criminal committing crimes and having to pay a price for that."

He said about 175 counter-protesters had joined him, but news reports placed that number closer to 50.

Doug McQuery, who wore a T-shirt supporting the former Ferguson police officer, told the Missourian he thought it was fine if protesters wanted to burn down their own towns.

But the Bland resident said he wouldn't stand for that anywhere else, and he expressed doubts that the Journey for Justice organized by the NAACP would be peaceful.

One of the marchers, Rhea Willis, said the hostile response reminded her of the attitudes her parents faced as civil rights activists in the 1960s.

"The comments that we saw are pure ignorance," Willis said, adding that racism is learned, not innate.
More from the Columbia Missourian:
About 50 activists marching from Ferguson to Jefferson City encountered a hostile counter-protest Wednesday in Rosebud.

About 200 people met the marchers as they reached Rosebud around noon, activists said. A display of fried chicken, a melon and a 40-ounce beer bottle had been placed in the street. A Confederate flag flew. Counter-protestors shouted racial epithets. (Read more about the march on Thursday through Osage County, which was calmer.)

Rhea Willis of Velda City, Missouri, said she saw a boy she estimated to be 8 years old holding a sign that read, "Go home."

Somebody shot the window out of the back of one of the buses traveling with the march, dubbed by the NAACP as the Journey for Justice. The outer pane of glass broke. The bullet landed in the windowsill, the driver said.
And here's some video from a local television station:
Now, I am not going to claim that this bunch of yahoos represents most people in rural Missouri, or even a significant percentage of them. Like most Americans, I am sure that most of the people who live in this part part of the country are good, decent, honorable people who would never engage in nonsense like this. A good portion of them are also likely at least somewhat empathetic to the message that the people marching to the Jefferson City are trying to convey. At the same time, though, it's important to recognize that people like this still exist, and that many of them are perfectly willing to act like this in public. They probably won't even think they'll be shamed in front of their neighbors either, and for the most part they're probably correct about that. It's worth noting, though, because there is quite obviously a racial undertone to what has been happening in Ferguson and elsewhere in response to events like the shooting of Michael Brown, the death at the hands of police of other mostly young African-American men such as Eric Garner, Tamir Rice, Akai Gurley, and other cases that stretch back further than can reasonably be counted in the space of a short blog post. It is sufficient to say that there is clear evidence of racial disparities in the enforcement of laws and the use of force by police, clear evidence of unequal justice both in the sense that police are treated far more deferentially even when it is clearly inappropriate to do so and in the sense that someone who is poor is less likely to get an adequate defense at trial than someone who is not, and a clearly disparate impact in the use of deadly force by law enforcement.
Despite the evidence of all of this, there seem to be far too many people who either wish to dismiss these concerns entirely, or to deflect attention away from them by bringing up other issues. The most common response I have seen from some of the people who take this attitude has been to respond to points about police behavior by pointing out "problems" in the "black community." Now, I don't think many people will deny that there are social problems in many African-American communities that contribute to things like high crime rates, poverty, and other factors. Many of those are related directly to poverty, of course, but a good number of them are, for lack of a better word "cultural" problems that do need to be addressed. However, those problems are not the reason why police are treating young African-American men unfairly, nor are they the reason why even African-Americans who qualify as middle and upper class can report that they too have been singled out by police for disparate treatment for no conceivable reason. And it often doesn't matter what the race of the police officer involved happens to be. Bringing up "the problems in the black community" in response to someone who points out these problems isn't an argument, it's a cop-out and an attempt at diversion by people unwilling to discuss a topic that, obviously, makes them uncomfortable.
And that brings us back to the people that the marchers from Ferguson encountered on their march to Jefferson City. Again, I am not going to suggest that they are representative of a majority of Missourians, or Americans, but they exist and I'm sure that they would readily agree that the problems in the United States don't lie in an unequal justice system but in the "black community." Why would anyone want to be associated with people like this?