Mississippi School District Bans 'To Kill A Mockingbird'
The school district in Biloxi, Mississippi has removed 'To Kill A Mockingbird' from the 8th-grade reading list because it "makes people uncomfortable."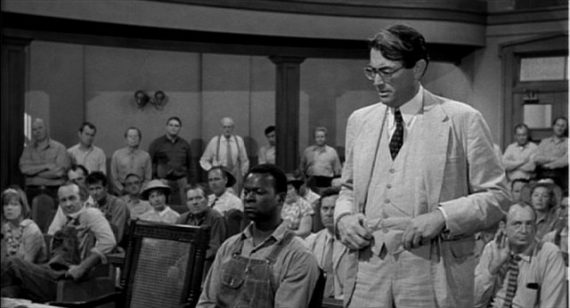 A school district in Mississippi has banned Harper Lee's classic novel that stands even today as a powerful message against racial prejudice:
The Biloxi School District got complaints about the wording in "To Kill A Mockingbird" — an American classic being taught in 8th grade English Language Arts classes — and pulled it from the curriculum.

It was an administrative and department decision, a member of the school board said, and not something that the school board voted on. It happened Wednesday or Thursday.

Kenny Holloway, vice president of the Biloxi School Board said, "There were complaints about it. There is some language in the book that makes people uncomfortable, and we can teach the same lesson with other books.

"It's still in our library. But they're going to use another book in the 8th grade course."

When asked Thursday morning if the book had been pulled from the course, Superintendent Arthur McMillan issued a statement five hours later that said: "There are many resources and materials that are available to teach state academic standards to our students. These resources may change periodically. We always strive to do what is best for our students and staff to continue to perform at the highest level."

Sun Herald received a email from a concerned reader who said the decision was made "mid-lesson plan, the students will not be allowed to finish the reading of 'To Kill A Mockingbird' …. due to the use of the 'N' word."

The reader said, "I think it is one of the most disturbing examples of censorship I have ever heard, in that the themes in the story humanize all people regardless of their social status, education level, intellect, and of course, race. It would be difficult to find a time when it was more relevant than in days like these."

The current themes for 2nd term language arts classes in Biloxi this year are the Golden Rule and taking a stand. With "To Kill A Mockingbird" specifically, the teens were slated to learn that compassion and empathy are not dependent upon race or education, according to the school's website.

The book is listed on the curriculum as core text for 8th grade ELA, the Common Core state standards for English Language Arts.

One 8th grade teacher on the school website described it as: "Compassionate, dramatic, and deeply moving, "To Kill A Mockingbird" takes readers to the roots of human behavior — to innocence and experience, kindness and cruelty, love and hatred, humor and pathos. Now with over 18 million copies in print and translated into 10 languages, this regional story by a young Alabama woman claims universal appeal. Harper Lee always considered her book to be a simple love story. Today it is regarded as a masterpiece of American literature."

A Southern gothic novel, it was published in 1960, won the Pulitzer Prize in fiction the next year and was adapted into an Oscar-winning film in 1962.
The Biloxi Sun Herald, which first broke this story earlier this week, criticized the decision in an Editorial:
The word in question is an ethnic slur directed at black people that is so offensive this newspaper does not put it in print. But it is a word that is used all too often elsewhere. And unfortunately, too many eighth-graders have heard it far too often. And racism, unfortunately is far too prevalent in our society.

Just as it was in the 1930s Alabama that Harper Lee wrote about.

As Lee said through her character Atticus Finch:

"Why reasonable people go stark raving mad when anything involving a negro comes up is something I don't pretend to understand."

By removing "Mockingbird" Biloxi has missed a wonderful opportunity to have a frank discussion with their children why "reasonable people go stark raving mad." Perhaps if we talked about race more there would be fewer people cavalierly tossing out hurtful racist language.

Acting as if race is no longer a factor in our society is part of the problem. Acting as if it is too difficult or offensive to talk about is part of the problem.

We have not, in fact, overcome racism.

The racists in our society must be confronted. They must not be allowed to assume our silence is acquiescence.

In the book, the Finch children, Scout and Jem, grow when they confront evil. They discover prejudice and overcome it. And that is because their father, Atticus, treats them maturely and guides them in the right direction.

The Biloxi school system should follow his example.
This isn't the first time this issue has come up, of course. Harper Lee's novel has been the subject of censorship campaigns in the past, as have other classic works of American literature such as The Adventures of Tom Sawyer and The Adventures of Huckleberry Finn. As with Mark Twain's works, Lee's classic novel, which stood as her own publicly released work until shortly before her death when Go Set A Watchman, a book that was sold as a sequel to Mockingbird which proved to be controversial both due to the circumstances surrounding its publication and the manner in which it treated the characters in Mockingbird that many people had come to know and love due to both to the book and the 1960 movie adaptation that starred Gregory Peck in the iconic role of Atticus Finch.
In all three of these cases, the controversy was allegedly based on the fact that the book featured the so-called "n-word" being used in some way. In reality, of course, all three books stand in no small part as critiques of the very racism and prejudice that word is supposed to represent, and all three teach lessons about racial equality and respect that were much needed at the time and still quite relevant today. This would seem to be especially true in a state like Mississippi where the people like Jefferson Davis is still celebrated as some kind of hero and the Confederate Battle Flag remains part of the state flag. The children of Mississippi would do well to learn the lessons that Harper Lee seeks to convey in her classic novel and, while the book will still be available in school libraries for now, the fact that it is being banned is a rather disappointing development for those looking for signs of racial progress in a part of the country where inequality between the races is still quite obviously an issue. Indeed, the main reason that school officials cite for removing the book from the 8th-grade reading list — that it 'makes people uncomfortable' — is itself a reason that it should be included and why children and adults need to continue to learn the lessons that Atticus Finch sought to teach his children.