Missouri Town Bans Girl Scout Cookie Sales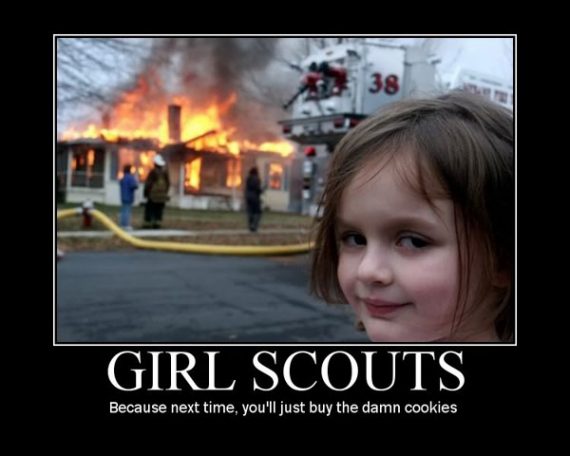 Seriously, what kind of a bureaucratic fool do you have to be to ban the Girl Scouts:
The city of Hazelwood says they do support the Girl Scouts but not when they are violating the home occupancy code.

They'd been warned, but the city says the Girl Scouts Abigail and Caitlin Mills continued to sell Girl Scout cookies from a stand in front of their home. A neighbor complained anonymously because of all the people and the traffic and the dogs barking at all the people and the traffic.

"Based on this complaint, the city of Hazelwood had to take action," says spokesman Tim Davidson. He says it is also against city code to sell products from home.

And while he has heard some complaints from residents that Hazelwood is being too harsh on the teens, Davidson says others have pointed out that one tenet of the Girl Scouts is good citizenship.

"The fact that we did have this code in place, it's the responsibility of every good citizen to respect the laws that we have," said Davidson.

But the girls' mother, Carolyn Mills, is vowing to let them keep selling their cookies, until they reach their goal of 2,000 purchases.
Fortunately, the great cookie battle ended peacefully:
HAZELWOOD, Mo. — The battle of the cookies is over in Hazelwood. Carolyn Mills received a letter this month from the city warning her that selling Girl Scout cookies on her driveway violated city code. Mills, though, said she and her two daughters would keep selling until all of the remaining 2,000 boxes were sold.

The St. Louis Post-Dispatch reports that on Wednesday, the Rev. George Hutchings — who is known as "The Shoeman" for collecting shoes to benefit Kenya — bought the last 36 boxes.

Hutchings took some boxes and told the mother and daughters to give the rest to neighbors.
So all's well that ends well. Seriously, though, whatever happened to letting kids be kids. Between nit-picking neighbors and self-important city officials it seems like even small town America isn't what it used to be anymore.