Mistrial In First Trial Of Officer In Freddie Gray Case Deals Prosecution A Setback
A setback for prosecutors in the Freddie Gray case.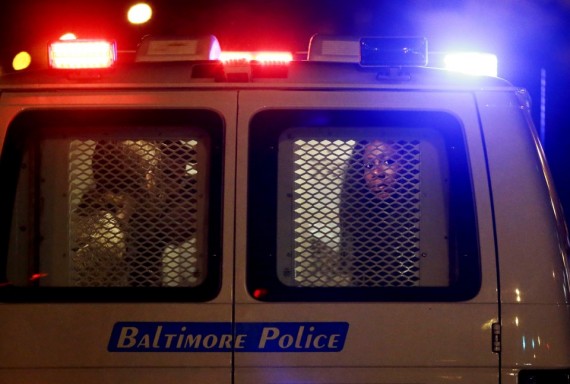 The first trial of one of the six police officers indicted in the case of Freddie Gray, which led to days of rioting in Baltimore earlier this year, has ended in a mistrial after the jury was unable to reach a verdict, and this has thrown the prosecutions entire strategy into chaos:
BALTIMORE — The trial of the first Baltimore police officer in the death of Freddie Gray ended in a hung jury on Wednesday, an unexpected twist that complicates the cases against five other officers facing charges in a fatal police encounter that prompted violent unrest here last spring.

Judge Barry G. Williams of the Baltimore City Circuit Court formally declared a mistrial shortly after 3 p.m., after a weary-looking jury of seven women and five men filed into his wood-paneled courtroom. They had sent him a note after 16 hours of deliberations to inform him they were deadlocked on all four charges, including manslaughter.

The mistrial brought an irresolute end to proceedings that have gripped this city, where many legal experts expected an acquittal, at least on the manslaughter charge. Officials have for weeks been preparing for the possibility of more unrest.

Instead, on Wednesday night, Baltimore was calm — though its downtown was heavily guarded by police officers, some in riot helmets — as residents, many disappointed by the lack of a verdict, absorbed the news. A decision on a new trial date could come Thursday; the judge has scheduled a private conference to discuss it with lawyers.

Mayor Stephanie Rawlings-Blake and Police Commissioner Kevin Davis, speaking at police headquarters, urged residents to peacefully accept the jury's decision — even if it was unsatisfying — and they did. Protests were limited and scattered; people hugged during a "prayer line" at North and Pennsylvania Avenues, the center of the spring riots, while several dozen demonstrators converged downtown near City Hall.

"Justice is not a verdict," the mayor said. "Justice is a process that we have to protect."

A lawyer for the Gray family, Billy Murphy, called the outcome "a bump on the road to justice."

The trial of the officer, William G. Porter, was to be the opening to — and a critical building block for — a six-part legal proceeding on the fatal encounter between the police and Mr. Gray, a 25-year-old black man who died April 19 of a spinal cord injury that prosecutors say was sustained during a ride in a police van.

The mistrial could complicate the other prosecutions; Officer Porter is considered a material witness in their case against the driver of the van, Officer Caesar R. Goodson Jr., who is scheduled to go on trial Jan. 6 with the other cases to follow.

A big question now is whether the state will push back Officer Goodson's trial, or decide to retry Officer Porter after the other five officers — or perhaps not retry him at all. Judge Williams has barred prosecutors and defense lawyers from publicly discussing the case.

"There is no question now that the state can't just proceed against Officer Goodson with Officer Porter unless they try Officer Porter first," said David Jaros, an assistant professor of law at the University of Baltimore who has been following the case. Of a new trial, he said, "It's a do-over — with a preview of the evidence."

Officer Porter, 26, who testified in his own defense, was charged with manslaughter, assault and reckless endangerment and misconduct in office. The state accused him of "callous indifference" to Mr. Gray's life for failing to call a medic after Mr. Gray asked for one, and for not buckling Mr. Gray into a police transport van, where he sustained the fatal injury to his spinal cord.

The Porter trial was closely watched by Black Lives Matter activists across the country, who viewed it as a barometer of whether it is possible to convict police officers. Yet its racial dynamics were complex. Officer Porter is black; so are Judge Williams, who made a career of prosecuting police officers as a lawyer with the Justice Department's Civil Rights Division, and Marilyn J. Mosby, the tough-talking state's attorney who brought charges against the six officers, three black and three white. Seven of the 12 jurors were black.

As the drama played out in the courtroom on Wednesday, Officer Porter and Ms. Mosby stood on opposite sides of the courtroom, each staring straight ahead. Ms. Mosby looked grim. The officer's mother, Helena, who had testified as a character witness for her son, was sitting in the back of the courtroom, and hung her head in her hands after the judge announced, "I do declare a mistrial."

Officer Porter spoke only briefly in court to answer "Yes" to a question from his lawyers. Walking silently out of the courtroom escorted by a sheriff's deputy, he gave a nod to his mother to follow him. They left through a side door, ushered by deputies away from reporters, under strict instructions not to conduct interviews in the courthouse.

(…)

The trial featured cellphone video of the first chaotic moments after Mr. Gray's arrest, and conflicting medical testimony about precisely when Mr. Gray's injury occurred and whether Officer Porter could have saved him. It centered on what happened inside the van as it made six stops through West Baltimore on the morning of April 12, when Mr. Gray was arrested by two officers patrolling on bicycles. Video showed him being dragged, screaming, into the van; Officer Porter arrived later as backup.

The officer was calm and composed as he took the witness stand in his own defense, telling jurors that he thought Mr. Gray had been faking his injuries, and that he had no idea his life was in danger until the van arrived at the Western District police station with Mr. Gray, shackled and unresponsive, on the floor.

"It was traumatic for me, also," Officer Porter said on the stand. The jury began its deliberations shortly after 2:30 p.m. on Monday, and on Tuesday announced it was deadlocked; Judge Williams then sent jurors back for more deliberations. In instructing them, he had said that a manslaughter conviction required them to conclude that Officer Porter showed a "reckless or wanton disregard for human life," and that his actions were a "gross departure" from those of a reasonable officer — a standard that also applied to the assault charge.

The jurors also had to consider counts of reckless endangerment and misconduct in office; the misconduct charge required them to find that he acted "with an evil motive in bad faith." When jurors sent a note to Judge Williams during their deliberations asking him to define those words, he declined to do so.

Some legal experts attributed the outcome to the starkly different closing arguments delivered by the prosecutor Janice Bledsoe and the defense lawyer Joseph Murtha. Mr. Murtha's argument was somewhat plodding, as he took the jury through the witnesses one by one.

But Ms. Bledsoe delivered an impassioned appeal, dangling a blood-stained seatbelt from the van before jurors, and calling the wagon "a casket on wheels." Mr. Jaros, who had predicted it would be difficult for the state to win convictions on the most serious charges of manslaughter and assault, said the state did "a better job than we appreciated."

But critics of Ms. Mosby — who has become a divisive figure here, especially among defenders of the police, who view her as an overzealous prosecutor — saw the mistrial as a big loss for her.
A mistrial, of course, is not a complete defeat for the prosecution, nor is it a complete victory for the defense, although in this case it arguably is a better sign for the defense in this and the remaining cases in the Gary case than it is for the prosecution. Each of the six officers who were indicted in Gray's death were involved in some degree or another in the incident that led to his death, some more than others, and the evidence in each case impacts their cases in different ways. In Officer Porter's case, we're talking about someone who was, arguably, among the least culpable of the officers involved and certainly not the "big fish" among the group that the prosecution is holding responsible for Gray's death. To sum it up as shortly as possible, Porter is charged because he is one of the officers who had direct contact with Gray during the course of the ride in the police van and who had at least some knowledge of the fact that Gray was complaining about his injuries during the course of the ride through the streets of Baltimore and failed to take steps to get him medical attention. Unlike many of the other officers, Porter was also one of the few officers to give a statement to investigators rather than assert their rights under the Fifth Amendment to remain silent.
As I didn't follow the trial on a daily basis, it's hard for me to say what it was that may have caused the jury to be unable to reach a verdict, however some elements of the evidence did seem to put the prosecutions case against Porter into doubt. Medical evidence, as well as testimony from doctors, for example, apparently established that the severity of the injuries that ultimately killed Gray were such that it was essentially impossible that he could have made the comments about being injured that Porter admits hearing and dismissing as the same sort of malingering that police often hear from from prisoners. That led the defense to argue that the prosecutions argument that Porter's failure to seek medical care for Gray was reckless or at least negligent. It is also the case that Porter was not among the officers driving the police van during the long journey across the city, so he didn't necessarily have any idea of how the officers doing the driving were allegedly taking Gray on a "rough ride" while he was not secured by a seatbelt. The important point, though, is that the nature of the evidence against Porter was such that the jury was not able to come to an agreement, and the Judge didn't believe they would even after just 16 hours of deliberation.
As Luke Broadwater and Ian Duncan of The Baltimore Sun note, it's unclear how the prosecution proceeds at this point, especially given the fact that the decision to proceed against Officer Porter first was part of what seemed to be a deliberately timed series of trials meant to build up to the trials of the officers most culpable in what happened to Mr. Gray:
After fighting to a draw in Baltimore's highest-profile trial in years, prosecutors and defense attorneys will meet Thursday behind closed doors to decide what happens next.

Officer William G. Porter still faces four charges in the death of Freddie Gray. But after a jury deadlocked in the first trial, legal analysts say prosecutors face difficult strategic decisions.

Will they press ahead immediately with another trial of Porter? Or will they turn their attention to other officers charged in Gray's death, notably Officer Caesar R. Goodson Jr., the driver of the van in which Gray sustained his fatal injuries?

"The state is now confronted with a significant issue and has a difficult decision to make," said Warren S. Alperstein, a former city prosecutor who watched the trial. "Officer Porter, in his statements, very clearly shifts blame to Goodson. Prosecutors very much want to use Officer Porter in the case against Goodson."

Court officials said lawyers in the case will meet in Judge Barry G. Williams' chambers Thursday to discuss a new trial date for Porter. But legal analysts said much uncertainty remains.

University of Maryland law professor David Gray said prosecutors typically indicate they will retry a defendant after a hung jury. But he suspects they will offer Porter a "more attractive plea deal" in return for testimony against other officers.

"The decision as to whether they actually will go through with a second trial is weeks away," said Gray, who is not related to the victim.

Meanwhile, analysts said the hung jury indicates both sides of the case presented persuasive arguments to different segments of the jury. The 12-member panel — four black women, three black men, three white women and two white men — could not agree on Porter's guilt or innocence on charges ranging from misconduct to manslaughter.

Williams ordered lawyers in the case not to talk to reporters, and the identities of the 12 jurors were not disclosed. Analysts can only speculate on what might have influenced members of the jury.

Since State's Attorney Marilyn J. Mosby announced charges May 1, her office has faced questions about whether it moved too quickly in the case. Wednesday's outcome should blunt some of those criticisms, analysts said.

David Jaros, a University of Baltimore law professor, said it's significant that at least one juror was convinced of Porter's guilt on every charge in a legally complicated case.

"That's not Eric Garner, where there's a film of the guy choking," he said, referring to the death of a man in police custody in New York in which a grand jury chose not to indict the officer involved. "This is a much harder case to prove, so that says something."

Gray and others believe white and black jurors may have perceived the case differently. "Race plays a role in every aspect of our criminal justice system," Gray said. "It follows that race played a role in this trial and this jury's deliberations."

If prosecutors seek to retry Porter ahead of the next scheduled trial, it could have a domino effect — pushing back all the other trials. The murder trial of Goodson, who faces the most serious charges in Gray's death, is set to begin in early January.

Williams could order both sides to stick to the schedule laid out in the fall, with the five remaining officers' trials taking place throughout the winter and spring.

The defense might also want to explore what kind of a deal could be reached, said University of Maryland Law professor Douglas Colbert.

"You have an ethical duty to engage in negotiations and then allow your client to make that decision," Colbert said.

The number of jurors in favor of convicting Porter will be a key piece of information both sides want to find out as they craft their strategies, defense attorney Brian Murphy said. It only takes one juror to leave the jury hung, and Murphy said he's seen lone holdouts in favor of both conviction and acquittal.

"You've got to find out what the count was," he said. "If it's 11 to 1 for not guilty, they ought to think about not trying it again."

(…)

If prosecutors decide to move forward with a second trial, there will be another battle over whether to move the case out of Baltimore. Porter's lawyers moved for a mistrial as the jury was deliberating because Baltimore schools CEO Gregory Thornton sent a letter home to parents urging calm. Throughout the week, officials called for peace in the wake of a verdict, and police prepared in Druid Hill Park to deal with any protests.

Those events could weigh on future potential jurors, Jaros said, though Williams expressed his confidence in the jury selection process before the first trial.

"It's not impossible he would say that again," Jaros said.
Not surprisingly, there were protests in the wake of the hung jury, but for the most part they appear to have been peaceful. That was likely helped, in no small part, by the fact that the Gray family, speaking through an attorney, did not express disappointment in the outcome but instead said that the process should continue to move forward. Nonetheless, there have been those who have expressed the concern that the fact that jurors in this case and any in the future are no doubt aware of what happened in the city earlier this year and could be improperly influenced in their verdict by the fear of what could happen in their city based on the verdict they ultimately reach in the case. The fact that a racially diverse jury in this case was at least partly convinced of the defense case, though, strongly argues that any remaining arguments that the defendants cannot get a fair trial in Baltimore are mostly without merit.
We'll get some idea of how the prosecution wants to proceed today after the meeting with defense counsel in the Porter case and the Judge, presumably, but the fact that this mistrial threatens the entire trial schedule for all six officers could mean that it will be some time before the dust settles.
Update: Goldie Taylor, Editor-At-Large of The Daily Beast argues that Baltimore State's Attorney Marilyn Mosby is "blowing" the Freddie Gray case, while The Washington Post's Jannell Rose argues that the mistrial and hung jury just another example of the way that police violence against African-Americans is swept under the rug. Both of these judgments seem to be, at least, premature. First of all, the fact that someone is brought to trial does not mean that they should be convicted, Indeed, a central premise of our justice system is that all defendants are presumed innocent until proven guilty beyond a reasonable doubt. Mosby's deputies could have put on a completely flawless prosecution case and the jury may still have been unable to reach a unanimous verdict for completely legitimate reasons. Second, even when you take race out of the picture it has always been more difficult to convict police officers in these types of cases due to the fact that, out of necessity, police officers have some degree of discretion in the use of deadly force in the course of doing their jobs. Finally, the outcome in this particular case doesn't mean that the entire house of cards in the Freddie Gray case has come down. Yes, there are now some complications in the cases going forward, but those complications aren't necessarily fatal. Before jumping to the conclusions that Taylor and Rose do, we should at least let more than twenty-four hours pass before passing judgment.