Mitt Romney: A Perfectly Manufactured Nothing?
Is there any there there?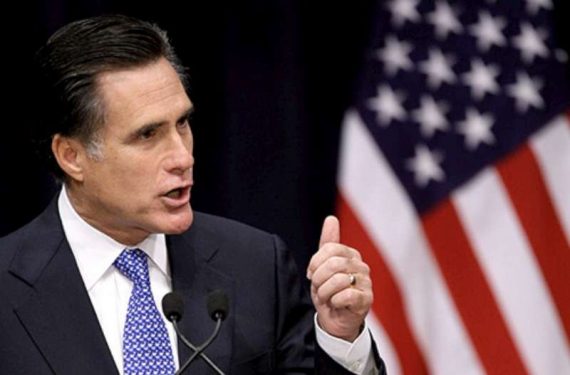 Over at National Review, Mark Steyn lays into the Romney campaign, and more importantly, Romney the candidate:
The nature of this peculiar primary season — the reason it seems at odds with both the 2009-2010 political narrative and the seriousness of the times — was determined by Mitt Romney. Even if you don't mind Romneycare, or the abortion flip-flop, or any of the rest, there's a more basic problem: He's not a natural campaigner, and on the stump he instinctively recoils from any personal connection with the voters. So, in compensation, he's bought himself a bunch of A-list advisers and a lavish campaign. He is, as he likes to say, the only candidate with experience in the private sector. So he knows better than to throw his money away, right? But that's just what he's doing, in big ways and small.

Small: It's a good idea to get that telegenic gal (daughter-in-law?) to stand behind him during the concession speech, but one of those expensive consultants ought to tell her not to look so bored and glassy-eyed as the stiff guy grinds through the same-old-same-old for the umpteenth time. To those watching on TV last night, she looked like we felt.

Big: Why is the stump speech so awful? "I believe in an America where millions of Americans believe in an America that's the America millions of Americans believe in. That's the America I love." Mitt paid some guy to write this insipid pap. And he paid others to approve it. Not only is it bland and generic, it's lethal to him in a way that it wouldn't be to Gingrich or Perry or Bachmann or Paul because it plays to his caricature — as a synthetic, stage-managed hollow man of no fixed beliefs. And, when Ron Paul's going on about "fiat money" and Newt's brimming with specifics on everything (he was great on the pipeline last night), Mitt's generalities are awfully condescending: The finely calibrated inoffensiveness is kind of offensive.

And what's with the wind up? The "shining city on the hill"? That's another guy's line — a guy with whom you have had hitherto little connection other than your public repudiation of him back in the Nineties. Can't any of his highly paid honchos write him a campaign slogan that's his own and doesn't sound in his mouth so cheesily anodyne, as if some guy ran a focus-group and this phrase came up with the lowest negatives?
That highlighted portion of Romney's stump speech became the subject of much derision this morning on Morning Joe, as Joe Scarborough read it aloud off of his iPhone. It doesn't sound like something a guy whose been running for President since 2007 would say, it sounds like something Stephen Colbert would say while in character. In fact, it sounds like it came from his 2007 book  I Am America And So Can You. It's the kind of line you can maybe expect out of a Herman Cain, or a Michele Bachmann, or a Rick Perry. This is Mitt Romney, though, the guy who dozens of Republican elected officials are lining up behind as the man they say is best able to take on Barack Obama and lead the country. The guy who Republicans were being told all through 2011 was the "serious" candidate, in contrast to lightweights like Bachmann, Cain, and Perry. And this is the kind of speech he pays people to write for him? Is it really any wonder that he is finding it hard to compete with someone who is capable of exciting the base, who doesn't stick to a script when he speaks, and who actually seems to be emotionally engaged in this campaign?
There's a lot that can be said about Newt Gingrich's many flaws and what his rise says about the state of the Republican Party. I've said many things on both topics myself, and I think it's fairly clear that I'm no fan of Gingrich and honestly don't think he belongs in the Oval Office. However, there's an old saying that you can't beat something with nothing and that seems to be the situation that the GOP race is in right now. Mitt Romney has a lot to recommend to him as a candidate. He's got the resume, the ability to appeal to the independents that are likely to be turned off by a bomb thrower like Gingrich, if you were going to call Central Casting and ask for a guy who "looks Presidential," they'd send you a guy who looks like Mitt Romney. But it seems like that where it ends. Romney seems to lack not just the passion that many analysts say the GOP is looking for, but any passion at all. His efforts to connect to the average voter on the stump usually come across as looking pretty dorky (someone needs to tell him to stop wearing jeans). And, even after running for President for nearly five years he doesn't seem to be able to communicate the reason why he wants the job.
Mitt Romney has a great campaign organization, a lot of money, and the backing of some of the biggest names in the Republican Party. What he seems to be lacking, though, is anything resembling substance, and that may be the reason he finds himself threatened by an irresponsible, amoral, big government conservative who is likely to lead the GOP down the road to ruin if he wins the nomination. Romney can still win this nomination, but if he's going to but this Gingrich challenge to rest he will need to show voters that he's something more than a perfectly packaged real-life version of Bill McKay. Otherwise, he could find himself eating Newt Gingrich's dust as the former Speaker heads off to November to assist in the re-election of Barack Obama.