Mitt Romney Is Not Convincing Me
Mitt Romney outlines his plan for dealing with Iran.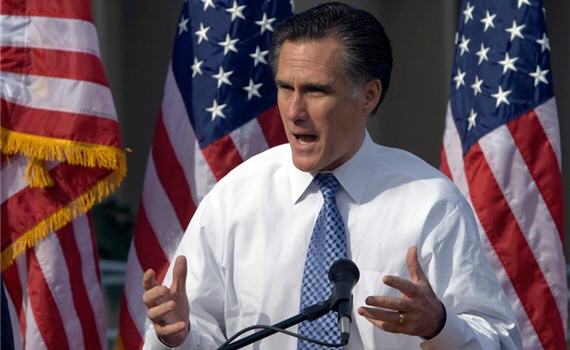 Mitt Romney has an op-ed in the Washington Post outlining how his approach to dealing with Iran would differ from President Obama's. After some exposition, he asserts:
The overall rubric of my foreign policy will be the same as Ronald Reagan's: namely, "peace through strength." Like Reagan, I have put forward a comprehensive plan to rebuild American might and equip our soldiers with the weapons they need to prevail in any conflict. By increasing our annual naval shipbuilding rate from nine to 15, I intend to restore our position so that our Navy is an unchallengeable power on the high seas. Just as Reagan sought to defend the United States from Soviet weapons with his Strategic Defense Initiative, I will press forward with ballistic missile defense systems to ensure that Iranian and North Korean missiles cannot threaten us or our allies.

As for Iran in particular, I will take every measure necessary to check the evil regime of the ayatollahs. Until Iran ceases its nuclear-bomb program, I will press for ever-tightening sanctions, acting with other countries if we can but alone if we must. I will speak out on behalf of the cause of democracy in Iran and support Iranian dissidents who are fighting for their freedom. I will make clear that America's commitment to Israel's security and survival is absolute. I will demonstrate our commitment to the world by making Jerusalem the destination of my first foreign trip.

Most important, I will buttress my diplomacy with a military option that will persuade the ayatollahs to abandon their nuclear ambitions. Only when they understand that at the end of that road lies not nuclear weapons but ruin will there be a real chance for a peaceful resolution.

My plan includes restoring the regular presence of aircraft carrier groups in the Eastern Mediterranean and the Persian Gulf region simultaneously. It also includes increasing military assistance to Israel and improved coordination with all of our allies in the area.
Here are his proposals into bullet form:
Restoring our Navy's position as an unchallengeable power on the high seas. Is that position in doubt? Just as an example, we have eleven aircraft carriers currently in service. The total number of aircraft carriers of all other countries in the world is ten. Will piling Ossa on Pelion meaningfully strengthen the Navy's position?
Ever-tightening sanctions. That has been the policy of the Obama Administration so, apparently, a Romney Administration would provide continuity in this area.
Speaking out on behalf of the cause of democracy in Iran and supporting Iranian dissidents. I agree with Gov. Romney that the Obama Administration could have done more in this area. I don't think it's completely clear that the U. S.'s supporting Iranian dissidents would actually further the cause of liberalization there. If the U. S. is to support Iranian dissidents, it would probably best be done covertly. Either the Obama Administration is not currently supporting Iranian dissidents or its covert support is effective in remaining covert. We just don't know.
Making America's commitment to Israel's security and survival clear. I think that is what the president was attempting to do in his address to the AIPAC meeting this weekend and in his public statements to Israeli PM Netenyahu. I'm not sure what else could be done short of attacking Iran.
Demonstrating that commitment by making Jerusalem his first overseas visit on being elected. I think that the Arab world and Iran already sees the U. S. and Israel as joined at the hip. Israeli PM Netenyahu said as much in his public remarks yesterday.
Buttressing diplomacy with a military option. Again, I think this is what President Obama has been trying to make clear for the last week or so.
Restoring the regular presence of aircraft carrier groups in the Eastern Mediterranean and the Persian Gulf region simultaneously. It is my understanding that we presently have three carrier groups in the Gulf. I am not enough of a naval strategist to comment on whether positioning a carrier in the Eastern Mediterranean, too, would be an improvement or not.
In summary, Mr. Romney wants to build more ships, spending more money on the military, engage in some symbolic behavior, and otherwise continue the policies of the Obama Administration. As I've said before, I vote for president largely based on foreign policy. In aggregate would the measures that Gov. Romney is proposing alter the Iranian regime's calculus in any meaningful way? I don't see it. Whether Gov. Romney is trying to distinguish himself from the president or reassure me of the continuity between his administration and the Obama Administration, he's not convincing me.