Mitt Romney: Make Business Experience A Requirement For The Presidency
Mitt Romney thinks prospective Presidents should be required to have business experience.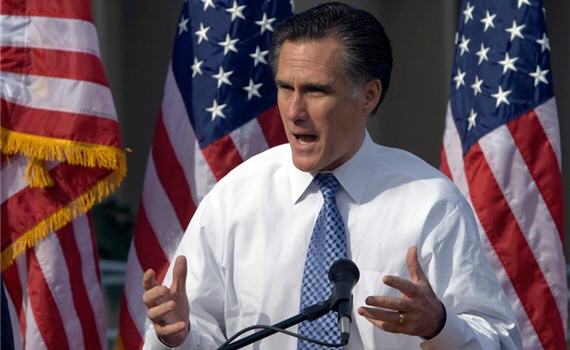 During a speech in Las Vegas earlier this week, Mitt Romney argued that business experience should perhaps be a qualification for the Presidency just like citizenship and age are:
"I was speaking with one of these business owners who owns a couple of restaurants in town," Romney said. "And he said 'You know I'd like to change the Constitution, I'm not sure I can do it,' he said. 'I'd like to have a provision in the Constitution that in addition to the age of the president and the citizenship of the president and the birthplace of the president being set by the Constitution, I'd like it also to say that the president has to spend at least three years working in business before he could become president of the United States.'"

Romney continued: "You see then he or she would understand that the policies they're putting in place have to encourage small business, make it easier for business to grow. They'd understand that if they say something negative about Las Vegas it means that businesses and government agencies aren't going to come here. And that would mean that people who have jobs in hotels will lose those jobs."
Interestingly enough, Romney's proposed amendments would have disqualified a whole host of American Presidents including Dwight Eisenhower, George Washington, Andrew Jackson,  Abraham Lincoln, and George H.W. Bush.  Now it's probably that Romney was being just a little hyperbolic here, but the statement is of a piece with what has been a general theme of his campaign from the beginning, the idea that as a former businessman he is uniquely qualified to deal with the economic situation facing the country. The problem is that there's not really much historical evidence to support Romney's argument. For one thing, we haven't really had that many "businessmen" serve in the Presidency to begin with, and many of the non-businessmen who have held the office have been more than qualified for the position. So, arguing that business experience is somehow essential to the Presidency is not supported by history, and doesn't really hold up to serious examination on its own.
I dealt with this particular issue about two weeks ago and, at the time, noted the following:
[C]ontrary to the way people seem to frequently put it, the Presidency is not like being a Chief Executive Officer. Not only does the analogy end up being an incomplete description of presicsely what a President's duties and role in the Federal Government actually are, but it deliberately ignores the significant differences between the two roles. When a corporate CEO makes a decision, he can reasonably expect that what he decides will be what actually happens, and if it doesn't then he's going to fire someone. To some extent, the CEO is restrained by the Board of Directors, which does ultimately have the power to remove him or her, but for the most part what the CEO says goes. No such luck for a President. Even with the way that Presidential powers have expanded in recent years, there is still much that an American President cannot do without the agreement of other branches of government. Often this means having to negotiate with a Congress controlled in whole or in part by the opposing party, but sometimes a President must also deal with opposing factions in his own party.
Perhaps there are skills that Romney learned in business that would make him a good, or even great, President, but it strikes me that he would be the exception rather than the rule. The two men with the most business experience to ever reach the White House were Herbert Hoover and George W. Bush, and neither one of them seemed to have that great of a handle on what it took to be a good President. Indeed, one could argue that it was their business instincts that tripped them up in the Oval Office. On the non-businessman side meanwhile, we have the men I listed above, along with men like Bill Clinton who, whatever else one wants to say about him, remains one of the most skille politicians the nation has ever had in the Oval Office. Romney's (perhaps not seriously) proposed change to the Constitution would have barred all of them from being President for reasons that, in the end, seem trivial at best.
There's nothing wrong with someone with business experience being President, of course, but the idea of making it a job requirement for all Presidents is quite simply absurd.