Mitt Romney, Now With More Human
Mitt Romney has apparently realized that people don't like him much, so he's working to come across as less robotic.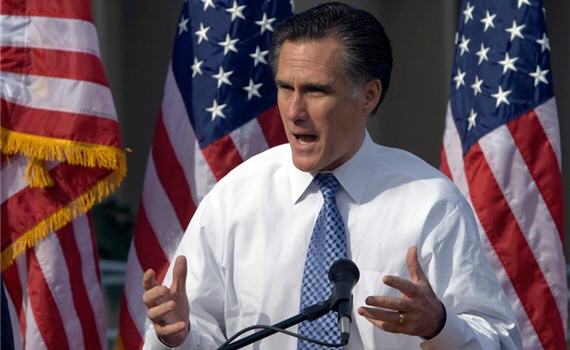 Mitt Romney has apparently realized that people don't like him much, so he's working to come across as less robotic.
That notion was the opening theme of today's "Morning Joe" and the network's First Read column hammers it home.
Beginning with Romney's speech on Tuesday night, we can point to four examples how he and his allies have begun to retool his biographical message, trying to expand it beyond the simple "economic fix-it man." So in his address on Tuesday night, he talked about his father's humble roots and past work as a carpenter. (It was a little forced and the "pointy end forward" nails example is not his best stump moment, but we digress). Then the campaign released a statement yesterday commemorating the 10th anniversary of the Salt Lake City Olympics and reminding everyone of Romney's role with it. ("I was deeply honored to have been asked to lead the Olympics and am proud that the games were such a memorable success," Romney said in the release.) Then, campaigning in Atlanta, he talked about his time as a Mormon lay pastor, something he rarely does. ("In that capacity, I had a chance to work with people who lost their jobs, in some cases, or were facing other financial distress.') And finally, his son Tagg tweeted an article about how Romney rescued a 14-year-old kidnap victim (a story we heard more about in the '08 race than the '12 one). You add up these four things, and it's an obvious attempt in a 24-hour span to humanize Romney and add more texture to his biography — beyond the guy who's good at giving a PowerPoint presentation.
I don't claim to have any special insights into Romney's personal life but my strong sense is that this "retooled" Romney is the real Romney. That is, he's a strong family guy who's strongly shaped by religious faith and its command to minister to those less fortunate–and yet comes from a cultural tradition that counsels against bragging about one's good works.
He'd hoped to be able to sail on to the Republican nomination on his strength as a manager and fixer without having to resort to anything more personal and schmaltzy than singing "God Bless America." Now, it's clear that he's not going to be able to do that and he's reluctantly–and perhaps a little awkwardly–opening up.
When Newt Gingrich was his chief threat, his campaign quite reasonably decided to focus on Gingrich's bountiful weaknesses. Now that Rick Santorum has seemingly become the "conservative alternative," he can't do that. Santorum's weakness is some rather extreme positions on social issues that make him unelectable in the fall. But Romney can run against those, since they're actually popular with a wide swath of the Republican nominating electorate. And, while Gingrich is inherently unlikable, Santorum comes across as a really decent guy with a compelling personal narrative.
So, Romney has no choice but to dispel the notion that he's an out-of-touch rich guy with no personality, no core beliefs, and no soul. It may be too late to do that and he may simply not have it in him to open himself in public.