Mitt Romney Once Again Misrepresents The Status Of The U.S. Navy
Mitt Romney is once again making completely false claims about the status of the United States Navy.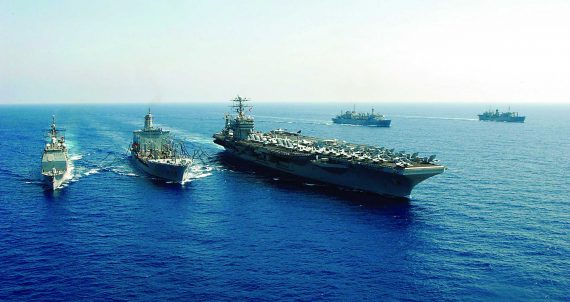 During his foreign policy speech yesterday at Virginia Military Institute, Mitt Romney made a claim that he's repeated several times in the past:
"The size of our Navy is at levels not seen since 1916. I will restore our Navy to the size needed to fulfill our missions by building 15 ships per year, including three submarines."
This isn't the first time that we've heard this from Romney. He made a similar claim during a debate in advance of January's Florida primary and he made the same claim during a debate earlier in the month in South Carolina: 
ROMNEY: I've still got time. So as long as I still have time I just want to go back and agree with what Governor Perry said, the most extraordinary thing that's happened with this military authorization is the president is planning on cutting $1 trillion out of military spending. Our Navy is smaller than it's been since 1917. Our Air Force is smaller and older than any time since 1947.

We are cutting our number of troops. We are not giving the veterans the care they deserve. We simply cannot continue to cut our Department of Defense budget if we are going to remain the hope of the Earth. And I will fight to make sure America retains military superiority.
Glenn Kessler takes a look at Romney's claims about our Naval strength and finds them to be completely untrue:
The historical records of the Navy show that in 1916, the Navy had 245 ships. This was also the year that President Woodrow Wilson signed into law the Naval Act of 1916, which put the United States on a crash course to build a world-class Navy.

But take a look at the types of ships on the list. Yes, there are cruisers and destroyers but also:

Gunboats

Steel Gunboats

Torpedo Boats

Monitors (that's kind of a small warship)

These types of boats aren't on the list anymore. Instead, the current list of Navy ships includes behemoths such as aircraft carriers, "SSBN" (nuclear-powered, ballistic-missile carrying submarines) and "SSGN" (cruise-missile submarines).

In other words, this is an apples-and-oranges comparison. Romney's line reminds us of a similar strained comparison he made last year regarding the workforce needs to make ships during World War II and today. But in this case he goes even deeper back into history. After all, 1916 is not only before computers, it is before television — even before regular radio broadcasts.

John Pike, director of GlobalSecurity.org, notes that it is difficult to make comparisons between ships that are even much more recent. "Today's aircraft carrier has about 10 times the lethality of an aircraft carrier of 20 years ago, due to the advent of precision munitions — in the old days, it was sorties per target, now it is targets per sortie," he said.

The current level of ships, 285 in fiscal 2011, is actually not even the lowest since 1916. The historical list shows that the lowest ship force was reached during the Bush administration, when the number of ships fell to 278 in 2007. Given the change over time in the composition of the naval force, that probably is the most relevant comparison — and the trend line is up.
Romney is wrong here not just on the facts — the size of the Navy now is not the lowest its been since 1916 — but he's also wrong because he's making a completely meaningless comparison. As Kessler notes, there is simply no way to compare nuclear powered aircraft carriers and submarines to the type of Navy we had 96 years ago. For one thing, today's ships possess far more firepower than their early 20th Century counterparts did. Indeed, an aircraft carrier and its associated task force allows an American President to project overwhelming military power around the world in a relatively short period of time. The same is true of a submarine equipped with cruise missiles or nuclear weapons. In addition to firepower, today's ships also possess far better propulsion systems than their ancestors, meaning that they can get from one point to another in a much shorter period of time than was possible when the United States was still deciding whether or not it would get involved in World War One. Additionally advanced communications systems mean that Washington can communicate with this vast fleet at any time such communication is necessary. Finally the Navy of today has something that the Navy of 1916 could only dream of,  an air component consisting of some of the most advanced fighter jets in the world, along with cruise missiles that can strikes any target on the planet with stunning accuracy. Comparing an early 20th Century Navy with an early 21st Century Navy is as ridiculous as it would have been to compare the 1916 Navy with the 1816 Navy, and Romney's obsession with the rather meaningless number of how many ships we have while ignoring their quality and strategic and tactical value of those assets demonstrates quite clearly to me that he's using this as a talking point, not a serious element of a serious plan.
Additionally, Romney's shipbuilding plan isn't really all that different from what the Navy is already planning to do and would seem to be unlikely to have a major impact:
Romney's pledge to build 15 more ships per year, including three submarines, also is less than meets the eye. The current Navy plan is to build 34 ships over the next four years — 10 in 2013 — including seven submarines as part of its goal to reach at least 300 ships by 2019. (The Congressional Budget Office, however, has raised questions about whether this plan is feasible.)

Given ship retirements, Romney's plan probably would net an additional 20 ships, Pike said, but he said it generally takes three years to build a ship and another year to put it in commission. In other words, the Navy in place at the end of a first Romney term would be Obama's Navy. In any case, even under the best-case scenario under Romney's proposal, the Navy would end up with about as many ships as in 2000 — which is barely better than 1916.
Much of Romney's call for additional shipbuilding is reminsicent of President Reagan's pledge in the 1980 Presidential Election Campaign that he would fulfill the Navy's strategic goal, motivated in large part by an effort to rebuild from post-Vietnam downsizing, of a 600 ship Navy. At the time, with the Soviet Union still a major strategic thrat and the Cold War at full boil, this was likely an advisable goal. In many respects, this plan was carried out. Ship construction was stepped up from where it had been in the 1970s, many of the Iowa-Class Battleships which had been mothballed after Vietnam were refitted and called back into service. Indeed, the USS New Jersey played an important role in the American involvement in Lebanon in the early 80s, and several of the recommissioned ships were in service as late as the First Gulf War. The 600 ship Navy, though, became a victim of budgetary realities and the fact that the Soviet Union collapsed. At that point, we simply didn't need the kind of Navy that Reagan had helped construct. Those Battleships that were reactivated are now mostly museum ships.
As I noted when this issue came up back in January, Romney's argument misses largely because the Navy of today is different from what it has been in the past:
We simply aren't likely to ever see the kind of multi-ship battles that were a crucial part of World War II's Pacific component. Today, our Naval resources are more about force projection to far corners of the world and protecting one corner of the nuclear triad. More importantly, even with recent Chinese advances there simply isn't a Navy on the planet that can match our force today (and there barely was even with the Soviet Union still existed).
And that's a fact that is unlikely to change anytime in the foreseeable future. Moreover, given the fact that the Air Force now plays an important role in force projection from far further distances, and that some military planners are talking about vehicles that could strike any target on the planet within an hour virtually undetected, one wonders just how much bigger the Navy would really need to be.
Mitt Romney is, quite simply, wrong about our Naval situation. There may well be good reasons to build up our capacity in specific areas. Given the fact that we're dealing less with major national threats and more with rogue nations and terrorist groups, perhaps more attention should be paid to fast-attack craft that can get into an area quickly, launch a cruise missile barrage, or a drone, and get out before anyone knows they were there. However, he's simply wrong to compare the Navy today to an era when the internal combustion engine was still, to most people, a novelty.
Photo of the USS George Washington (CVN-73) and part of its battle group via U.S. Navy