Mitt Romney Still The Inevitable Nominee
As of now, there's no reason to believe that Mitt Romney won't be the Republican nominee in 2012.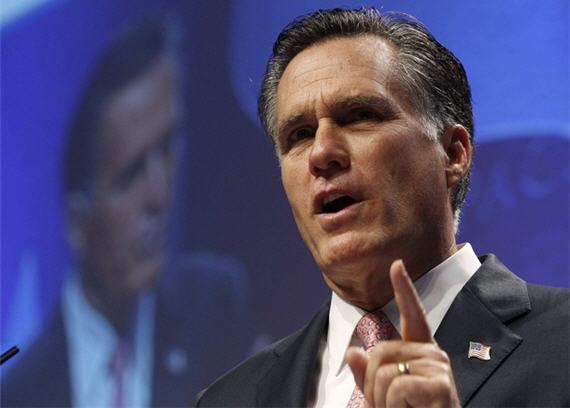 Ross Douthat argues that despite all the complaining you hear from the right, despite the rise of Michele Bachmann, then Rick Perry, and now Herman Cain, Mitt Romney is still on track to be the Republican nominee for President in 2012:
For the next three months, the political press will engage in an extended masquerade, designed to persuade credulous readers and excitable viewers that the Republican presidential nomination is actually up for grabs.

Last week the big story was Herman Cain's rise to the top of the polls, and then Rick Perry's combativeness at the Las Vegas debate. Next week, perhaps, it will be Newt Gingrich's surprising resilience or Ron Paul's potential strength in the early caucuses or the appeal of Perry's flat-tax plan. Then there will come a debate in which Mitt Romney looks shabby instead of smooth, a poll that shows one of his rivals surging, a moment when all his many weaknesses are on every pundit's lips.

Please do not listen to any of them. Ignore the Politico daily briefings, the Rasmussen tracking polls, the angst from conservative activists over Romney's past deviations and present-day dishonesties. Please ignore me as well, should campaign fever inspire a column about the Santorum surge or the Huntsman scenario. Because barring an unprecedented suspension of the laws of American politics, Mitt Romney has this thing wrapped up.

Note that I am not saying that he will win every primary or caucus. He could easily lose Iowa to somebody, and if he loses Iowa, he will probably lose some Southern primaries as well, giving political reporters grist for the horse race narrative they crave.

But Romney's path to the nomination is more wide open than for any nonincumbent in decades. He should win New Hampshire and Nevada, Florida and Michigan. He should dominate the Rust Belt, the Northeast and the Mountain West. And if need be, he can seal the nomination late, with wins in the New York and California primaries.

For now, though, none of his rivals look capable of even pushing the race that far. They don't have the money or the organizational muscle, but more important they aren't clearing the first hurdle that every presidential candidate faces. After months of campaigning, it is nearly impossible to imagine any of them as a major party's nominee, much less in the White House.
This isn't a new argument, of course. James Joyner noted earlier this month that the nomination was essentially Romney's to lose, and I said the same thing back in September. Notwithstanding the continued surge of Herman Cain and the renewed speculation about a Rick Perry resurgence, there doesn't seem to be much of a reason to believe that it still isn't true. For one thing, Perry still isn't showing any signs of reversing the sharp, steep decline that started shortly after he appeared on national television for his first debate. There seems to be a consensus among some pundits on the right that he "did better" in the last debate, but that's perception still isn't showing up in the polls and there are signs that Perry's slide in the polls has also been accompanied by a slide in fundraising:
In his first week on the trail, Perry raised more than $1.5 million from supporters who donated more than $200 each, the FEC reports show. He raised another $2 million the following week and a staggering $5.3 million during the week of Aug. 28, when buzz around his candidacy reached a peak.

Perry's three worst fundraising weeks coincided with a series of weak debate performances. Perry's halting style, inability to hit talking points, and apparent fatigue toward the end of the debates sent his poll numbers plunging.

His fundraising followed suit. Perry raised $858,000 the week of the Sept. 7 debate at the Ronald Reagan Presidential Library in Simi Valley, Calif. He raised $1.3 million the following week, when GOP presidential hopefuls debated in Tampa, Fla.

(…)

Back-to-back debates put pressure on every candidate's fundraising schedule. Romney, Perry, and Cain all raised less during debate weeks than during off weeks.

But Perry's September dropoff was so sudden and steep it suggests other factors were at work. To the Texas governor, putting his campaign on the right track is essential to attracting the high-dollar donors, upon which he most heavily relies, to fund his campaign. Of the $17 million he raised in his first full quarter as a candidate, $16.3 million, or 96 percent, came in chunks greater than $200—the level at which the FEC requires campaigns to list the names and occupations of donors.

By contrast, Romney received about 86 percent, or $12.1 million of the $14.1 million he raised in the last quarter, from big donors.
It's worth noting that Perry did raise $3.7 million in the final week of the reporting quarter, and that much of the money he raised during the Third Quarter was front-loaded, meaning that it was probably inevitable that there would be some drop-off in September. Nonetheless, the combination of the bad debate performances, the drop in the polls, and the drop in fundraising should be worrisome to Perry's campaign. If it means that the donors have decided to sit on the sidelines to see if Perry is still a horse worth backing (nobody likes to give money to someone who isn't likely to win, after all) or, worse, jumps ship to Romney, then he could have a serious problem even with that $15 million in the bank.  Perry is scheduled to roll out a new tax plan rumored to be modeled on the kind of flat tax plan that Steve Forbes championed in 1996 and 2000 and there are many speculating that it could be the beginning of the seemingly inevitable comeback. Whether that will happen or not is unclear, what is clear, though, is that unless Perry starts turning things around immediately it's going to be more and more difficult for him to turn things around in time.
Herman Cain, meanwhile, still isn't a credible candidate notwithstanding his rise in the polls. His tax plan does not stand up to serious scrutiny from either the left or the right. He can't seem to figure out whether he stands on issues ranging from abortion to gay marriage. He has no real understanding of foreign policy. He raised less than $3 million in the Third Quarter. He's been spending most of the past month or so on a book tour that took him to states that don't have primaries until March or April. And, most importantly, he still doesn't appear to have anything resembling a serious campaign effort. Cain has benefited from a combination of Perry's fall, the lack of a credible conservative alternative, and the fact that he is, if nothing else, an engaging and entertaining public speaker with an interesting personal story. As he comes under more and more scrutiny, though, it seems clear that Cain just isn't going to last, and that if it comes down to a contest between him and Romney then it's entirely possible this race could be over by February.
Douthat continues, pointing out that Romney's seeming inevitability is due largely to the fact that the GOP has yet to come to terms with the failures of the past decade:
It is a rather extraordinary turn of events. But when you have eliminated the impossible, as Sherlock Holmes told Watson, then whatever remains, however improbable, must be the truth. This rule holds for presidential contests as well as for whodunits: Romney is improbable, but his rivals are impossible, and so he will be the nominee.

What's more, Republicans have only themselves to blame for his inevitability. Romney owes his current position to two failures: the Bush era's serial disasters, which left the Republican establishment without a strong bench of viable national politicians, and the Tea Party's mix of zeal and naïveté, which has elevated cranks and frauds and future television personalities to the party's presidential stage.

To date, neither the establishment nor the populists have come to terms with the failures of the last age of Republican dominance. And despite occasional flashes of creativity, neither has groped its way to a credible vision of what the next conservative era should look like.

What they have to offer instead is a largely opportunistic critique of a flailing liberal president. So it's fitting that America's most opportunistic politician is destined to be the standard-bearer for their cause.
This doesn't necessarily bode well for the future. If Romney wins in 2012, which is entirely likely, he won't have a united Republican Party behind him, at least not one united around anything other than "We're Not Barack Obama." The war between the "establishment" and the Tea Party will still be ongoing, perhaps intensified with a Republican control of the Senate. If he loses, then we're in for four more years of GOP infighting of the type we've been seeing since 2008 which will lead to the same incentives, and the same actions, we've seen from the Republicans in Congress for the past two and a half years. In either case, it doesn't seem that anyone in Washington will be prepared to deal with the problems facing the nation. This time, though, we'll have less time to deal with them.