Mitt Romney's Immigration Problem
Mitt Romney's health care plan subsidized health care for illegal immigrants.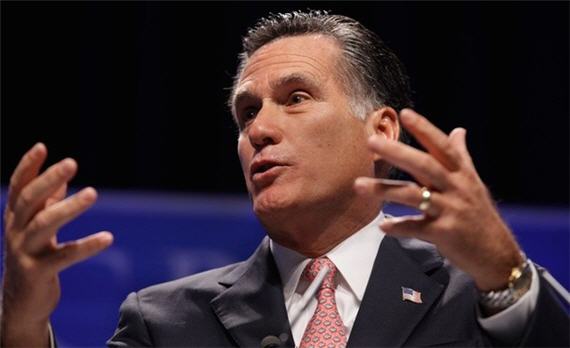 After spending more than a month scoring political points on the right  by hitting Rick Perry on his deviations from the standard conservative line on immigration issues, such as Texas's in-state tuition program. Now, however, questions are being raised about how illegal immigrants are treated under the public policy program with which Romney is most identified:
The Massachusetts healthcare law that then-Gov. Mitt Romney signed in 2006 includes a program known as the Health Safety Net, which allows undocumented immigrants to get needed medical care along with others who lack insurance.

Uninsured, poor immigrants can walk into a health clinic or hospital in the state and get publicly subsidized care at virtually no cost to them, regardless of their immigration status.

The program, widely supported in Massachusetts, drew little attention when Romney signed the trailblazing healthcare law. But now it could prove problematic for the Republican presidential hopeful, who has been attacking Texas Gov. Rick Perry for supporting educational aid for children of undocumented immigrants in Texas.

"We have to turn off the magnet of extraordinary government benefits," Romney said at the recent Fox News-Google debate in Florida.

Perry has defended the Texas program, saying it is better to educate young people, even if they are in the country illegally, to help them become productive members of society.

Similarly, supporters of the Massachusetts program note there are ultimately higher costs for denying care to sick patients regardless of their immigration status.

The Massachusetts program, which cost more than $400 million last year, paid for 1.1 million hospital and clinic visits. It's unclear how many undocumented patients benefited because the state does not record that data.
The Romney campaign is saying it was never the intent of the program as drafted that it provide subsidized health care for illegal immigrants, and said that if this is what has occurred, it's because of the way his successor has implemented the program:
The Romney campaign was quick to react to the article, and to criticize Democratic Gov. Deval Patrick, who succeeded Romney.

"Federal law requires emergency medical care for illegal immigrants. And if illegal immigrants are getting access to additional healthcare in Massachusetts, it's liberal Gov. Deval Patrick that has made it easier for them to do so. All of the regulatory activities involving the Health Safety Net Fund, including who could get care, were made long after Mitt Romney left office," said Romney spokesperson Andrea Saul

(…)

"Mitt Romney's record on illegal immigration is clear: as governor, he vetoed an in-state tuition bill for illegal immigrants and authorized his state troopers to detain people based on their immigration status. On the other hand, liberal Gov. Patrick has the same position on illegal immigration as Rick Perry – he favors in-state tuition and reversed an executive order to detain illegal immigrants – and neither can be trusted to deal with such an important issue," added Saul.
The Perry campaign, obviously, sees things differently:
"When faced with the illegal immigrant benefits this morning, the Romney campaign tried to deny indisputable facts and to cover their tracks by blaming Gov. Patrick," Perry national press secretary Mark Miner said in a statement. "The truth is Gov. Romney's plan intended to provide free health care to illegal immigrants, and the law and rules he approved were clear about providing free health care to illegal immigrants."
In the end, I think it's pretty clear that Romney has the better policy argument here, and that the Perry campaign's effort to score points here is ignoring important facts. Under Federal Law, anyone who walks into an emergency room must be treated regardless of their insurance status. This causes many people without insurance, and especially people in the country illegally, to use Emergency Rooms as clinics, which in turn raises the cost of care for everyone. One of the main motivations of the Massachusetts program was to find a way to shift these ER visits to clinics, which are more appropriate places to treat routine visits to begin with, and which also happen to be much less expensive than an ER visit. The solution they came up with was to subsidize clinic visits for the indigent, regardless of immigration status. As Ed Morrissey notes, the only other alternative would have been to deny any subsidized care at all to the indigent, and that simply wasn't going to pass in a state like Massachusetts (and probably not in many others, either).
The problem that Romney faces in the context of the GOP primary, though, is that the long-winded policy explanation I went through just now isn't going to work in a political environment dominated by sound bites and 30 second commercials, and it would be hard for it to come across well in the context of a Presidential debate with short response times and constant back-and-forth between the candidates. The GOP base is already wary of Romney because of the health plan to begin with — I suppose Tim Pawlenty's one contribution to the 2012 race will be that he helped popularize the term RomneyCare, for example. Adding the illegal immigrant thing into it will just make it harder for Romney to make the eventual peace with the base that will have to be made if he is indeed going to be the nominee, as I still suspect.
More importantly, though, this is the kind of story that could blunt the effectiveness of Romney's criticism of Perry on immigration generally. In some ways, Perry's rather lame effort to pin the hiring of an illegal immigrant on Romney at the last debate was intended to do that as well, but it clearly hasn't worked because there was simply no merit to the charge. With this, however, the most Romney can say is that they never intended that the law would subsidize health care for illegal immigrants, even though it's pretty clear that this is exactly what happened. Blaming Deval Patrick for this doesn't strike me as something that's going to go over very well with Republican voters, not in the least because most of them don't know who Patrick is and probably couldn't care less. The next time Romney tries to bring up Perry's tuition program, Perry can just point at this as an example of Romney flip-flopping on yet another issue. It's not a fatal issue for Romney by any means, but it complicates things for him and it provides Perry with some much-needed cover on a hot button issue.  If Perry is going to stage a comeback, this could be the kind of thing that helps him do it.