Mitt Romney's Latest Dumb Response On The Tax Return Question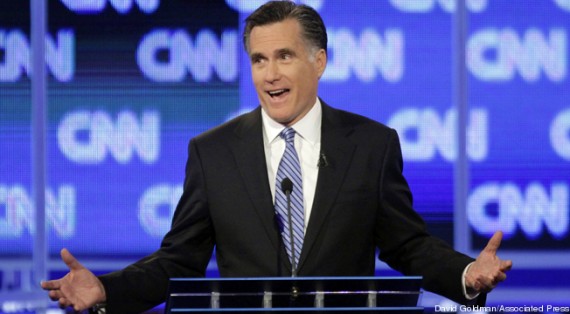 Inexplicably, Mitt Romney's campaign still can't seem to come up with a coherent response on the tax return question. More importantly, though, you would think that after a week of bad press, they'd have  something better than this latest statement on the subject, which  pretty much makes no sense whatsoever:
GREENVILLE, S.C. — Mitt Romney called on Newt Gingrich to release all correspondence he'd had with mortgage giant Freddie Mac on Saturday morning, the day of South Carolina's primary, while meeting with supporters at his Upstate South Carolina campaign headquarters.

"I'd like to see the report," he told reporters. "I'd like to see what he actually told Freddie Mac. Don't you think? This is a big issue. We've got a Washington insider talking about Freddie Mac. Let's see what his report was to Freddie Mac, what he said to them, what advice he gave them."

Gingrich worked for Freddie Mac in the mid-2000s, but has said he served as a "historian" and never lobbied on Freddie's behalf.

Romney has been criticized for having not yet released his tax returns, which he said will come out in April. In recent days he's sought to turn the tables on Gingrich on the issue — he asked yesterday for him to release the House Ethics Committee report that led to a reprimand from the full House. Gingrich pointed out that the report was already public.
Seriously? This is how they're going to try and turn this issue to their advantage? I honestly don't care about Mitt Romney's tax returns, but even I'm not convinced by this argument. More importantly, though, at this point the tax returns are turning into something of an albatross around the neck of the campaign. Romney has had two opportunities over the past week to get the issue behind him and he's totally failed to do so. Trying to divert attention by bringing up Freddie Mac, which is a four month old story at this point, or Gingrich's ethics issues from 1997, simply isn't going to work at this point. Romney needs to come up with a clear plan for how and when he's going to release his returns, make a clear public statement regarding that plan, and get the issue behind him. The more time he spends doing anything else with regard to this issue, the worse it will get for him.
This issue is going to come up again Monday night in the first Florida debate of the week. Either Romney will have an answer, or he won't.