Modest Government Salaries in Perspective
President Obama's comments about the "relatively modest pay" earned by Robert Gibbs and other high level government workers may be a bit tone deaf. But they're right.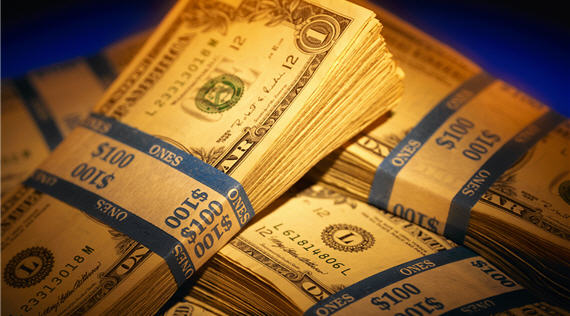 James Warren mocks the notion that Robert Gibbs and other high level government workers receive, in President Obama's words, "relatively modest pay."
In fact, he earns $172,200 in a nation where the average family income hovers around $55,000, unemployment is high, record foreclosures persist and wages for most folks are at best stagnant.
Sure.  And perhaps Obama's usual cautiousness should have prompted a different word choice.  But, of course, when he said "relatively" he didn't mean "relative to the Average Schmo" buy "relative to what he could be commanding in the private sector."   Which, Warren readily concedes, is a hell of a lot more than $172,200.
It's a world in which a one-hour appearance can bring more than many Americans earn in a year, with the elite in the roughly $50,000 to $75,000 range. You offer a few benign inside anecdotes, take some questions and then get taken back by limo to the airport and a seat in first-class (assuming your deal doesn't include a private jet, as is the case for some journalists I know).

For sure, working at a high level in the capital brings contact with many who exit government to rake in huge sums. It's why so few high-ranking Senate and House members return home after retirement or defeat. There's just too much money to be made in Washington, often as a shameless influence peddler.
So, yes, as Warren puts it, "a former Chicago community organizer might have edited himself just a bit better in suggesting that a loyal lieutenant is a portrait in financial sacrifice."  But, in fact, working ridiculously long hours under constant public scrutiny for an annual salary of roughly what one could earn in three hours of speechifying actually is a portrait in financial sacrifice.
But the average American will no doubt have Warren's reaction to the notion.   Back in my teaching days, I had little success convincing college students in rural Alabama that a Congressman making $174,000 (or, whatever the going rate was back then) was not only not "rich" but actually taking a financial hit.   Because that amount of money was unfathomable to them, the notion that almost anyone electable to Congress could easily earn multiples of that struck them as ludicrous.   And, in a location where the mortgage on a very nice house was less than $700 a month, the idea that it would be hard to both maintain a residence in DC and a home back in the district on a Congressman's salary seemed absurd.