More Odd Developments In North Korea
More odd developments inside the modern day version of the Hermit Kingdom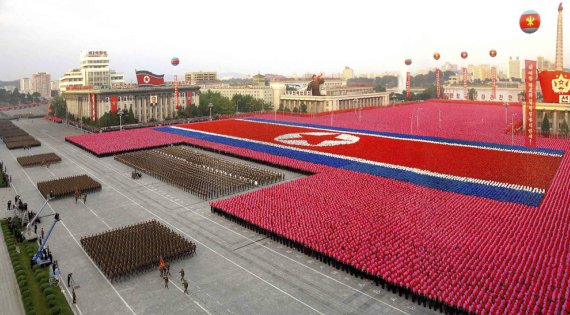 As former President Carter heads to North Korea to supposedly negotiate for the release of an American being held there, there are reports that North Korea's bizarre and reclusive leader has headed to China:
SEOUL, South Korea — A special train believed to be carrying the North Korean leader, Kim Jong-il, entered China around midnight on Wednesday, South Korean officials said, setting off speculation over what might have compelled him to travel to his isolated government's closest ally while former President Jimmy Carter was visiting Pyongyang at the North's invitation.

After watching Mr. Kim's movements for the past few days, South Korean authorities said his train had crossed the central border with China, traveling from the North Korean town of Manpo to Jian, a Chinese town on the other side, according to an official at the presidential Blue House in Seoul.

Two South Korean intelligence sources who, like the presidential aide, spoke condition of anonymity because of the sensitivity of the matter, said that Mr. Kim might be taking his third son with him to formally introduce him to Chinese leaders. South Korean news outlets reported the same possibility.

Mr. Kim is grooming the son, Kim Jong-un, as successor, according to South Korean officials. North Korea is scheduled to convene a congress of its ruling Workers' Party early next month where Mr. Kim was expected to rally popular support for his succession plans.

If confirmed, this would mark Mr. Kim's sixth trip to China, his impoverished country's largest trade and aid provider, and his second since May, when he met President Hu Jintao during a five-day visit. North Korea and China usually do not confirm a trip by Mr. Kim until it is over.

Reports of Mr. Kim's travels came a day after Mr. Carter arrived in Pyongyang, the capital. It would be highly unusual for Mr. Kim to leave his country while an important guest was visiting.

News of the possible trip led to rampant speculation in South Korea. Possible motives cited by analysts in Seoul included the regime's urgent need for Chinese aid because of massive flood damage and the possibility of a sudden decline in Mr. Kim's health, which might have forced his aides to take him to China for treatment. Many intelligence officials believe Mr. Kim suffered a stroke in 2008.
Add to this some interesting news that Stephen Green passes along about troop movements:
Since June, at least two additional combat divisions have been camped outside the North Korean capital. No official explanation was given for this troop movement (which required using a lot of scarce fuel.) All is speculation in the north, because intel agencies in South Korea, the United States and China are reluctant to release any solid information, lest they risk exposing the few good sources they have up there. But the current rumors indicate that most of what's going on up north these days is driven by efforts to keep the government going. This is difficult, because supreme leader Kim Jong Il is apparently dying, or at least believes he is. The big problem is that his chosen successor is his youngest son, an able enough young man in his 20s. That's too young for a place like Korea, where people like their leaders elderly. Kim Jong Il is trying to convince his elderly associates to honor his choice of successor, and apparently not everyone is convinced.
As with the crisis that erupted earlier this summer over the sinking of the Cheonan, it appears that this is all linked to Kim Jong Il's effort to broker the succession of his son, a man with no military or political experience, to his position. As I noted back then, it's all very odd:
We're dealing, however, with the first real hereditary dictatorship the world has seen in quite some time so it's no surprise that Pyongyang looks more like Bourbon France than the Kremlin. Of course, they've got nuclear weapons so the consequences for the world are a little different this time.
While reading North Korean tea leaves is never easy, it's not too hard to figure out that the elder Kim is concerned about the succession more than ever before, perhaps because he's dying. Whether he can succeed in putting his son in power may depend on the Chinese, but it also brings up the question of whether the world is ready for a North Korean collapse. We may get to find out sooner rather than later.