More on DSK's Accuser
The New York Times keeps digging up new facts about yesterday's shocking reversal in the Dominque Strauss-Kahn case.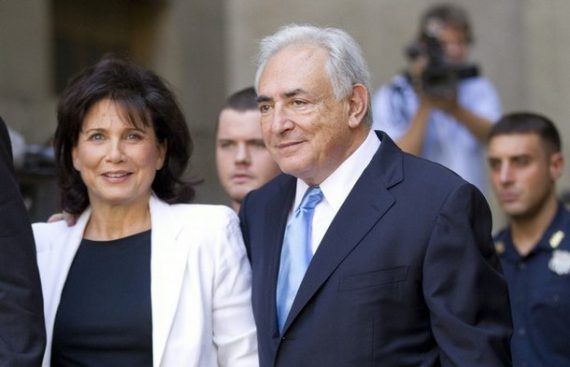 The New York Times keeps digging up new facts about yesterday's shocking reversal in the Dominque Strauss-Kahn case.
Strauss-Kahn Accuser's Call Alarmed Prosecutors

Twenty-eight hours after a housekeeper at the Sofitel New York said she was sexually assaulted by Dominique Strauss-Kahn, she spoke by phone to a boyfriend in an immigration jail in Arizona. Investigators with the Manhattan district attorney's office learned the call had been recorded and had it translated from a "unique dialect of Fulani," a language from the woman's native country, Guinea, according to a well-placed law enforcement official. When the conversation was translated — a job completed only this Wednesday — investigators were alarmed: "She says words to the effect of, 'Don't worry, this guy has a lot of money. I know what I'm doing,' " the official said.

It was another ground-shifting revelation in a continuing series of troubling statements, fabrications and associations that unraveled the case and upended prosecutors' view of the woman. Once, in the hours after she said she was attacked on May 14, she'd been a "very pious, devout Muslim woman, shattered by this experience," the official said — a seemingly ideal witness.

Little by little, her credibility as a witness crumbled — she had lied about her immigration, about being gang raped in Guinea, about her experiences in her homeland and about her finances, according to two law enforcement officials. She had been linked to people suspected of crimes. She changed her account of what she did immediately after the encounter with Mr. Strauss-Kahn. Sit-downs with prosecutors became tense, even angry. Initially composed, she later collapsed in tears and got down on the floor during questioning. She became unavailable to investigators from the district attorney's office for days at a time.

Now the phone call raised yet another problem: it seemed as if she hoped to profit from whatever occurred in Suite 2806.

[…]

In recent weeks, investigators collected bank records showing deposits of thousands of dollars in Arizona, Georgia, New York and Pennsylvania to an account in her name.

The woman had repeatedly said that the Sofitel was her only source of income.

Now, investigators confronted her with the bank records.

The woman, silent, turned to Mr. Thompson, seemingly pleading for direction on how to respond. He seemed startled.

"He was speechless," the well-placed official said.

The district attorney's office said the woman had lied about her income to maintain her public housing, and had claimed a friend's child as her own dependant to increase her tax refund.

At the same meeting, the woman gave a new version of what she had done immediately after the encounter with Mr. Strauss-Kahn. In testimony before the grand jury in May, she said she had fled Suite 2806 to an area in the main hallway and waited until she saw Mr. Strauss-Kahn leave in an elevator. She has said that her supervisor arrived a short time later, and that she told her supervisor what had happened.

On Tuesday, the well-placed official said, she told investigators new details, stating, "I forgot to tell you this."

In fact, she said, she left Mr. Strauss-Kahn's room and entered another room — her lawyer said it was Suite 2820 — and cleaned it, and then returned to Suite 2806 and cleaned it until her supervisor arrived.

"She did not know what to do," her lawyer said. "She did not want to lose her job. She knew that her supervisor was going to be coming upstairs momentarily. So, she went into another room."

And yet, even this version was not corroborated by card-key data obtained by investigators on Friday, which indicated that the housekeeper went to the other room only after she had finished Mr. Strauss-Kahn's room.
We've learned enough about DSK in the period since the rape charges came out to know that he's a very unsympathetic character–a rich jerk who abuses his power and treats women like crap. But, just as paranoids have enemies, immigrants working as hotel maids are not always innocent victims. And rich jerks sometimes are.
Naturally, despite pretty clear evidence that this woman lied, her name is still being protected and her face unknown. Meanwhile, DSK's been run through the ringer, lost his job, and permanently damaged by her lies.