More on Voter ID
Another study shows that voter ID laws negatively affect a lot of Americans.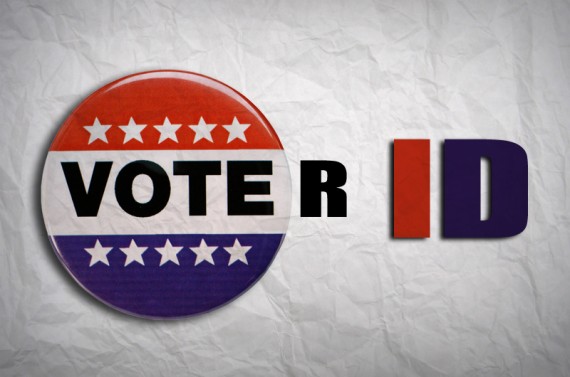 Keesha Gaskins and Sundeep Iyer of the Brennan Center for Justice have written a new study on voter ID laws in the wake of new laws in Alabama, Georgia, Indiana, Kansas, Mississippi, Pennsylvania, South Carolina, Tennessee, Texas, and Wisconsin entitled The Challenge of Obtaining Voter Identification.
The study notes that roughly 11% of eligible voters lack the types of government-issued photo IDs that these states now require.  As such, there are a substantial number of persons who face disenfranchisement as a result of these laws because they may well not be able to obtain the appropriate ID, or may have to engage in substantial efforts to obtain said ID.  This is problematic if one believes in the central right to vote that is inherent to democracy.
As I have stated in the past, as a generic proposition the notion of photo ID for voting does not bother me.  Indeed, at times in the past I have thoughtlessly dismissed the notion that voter ID could be a problem.  However, giving the matter some thought underscores empirical evidence such as the above.  When we couple numbers such as those listed above with the fact that there is precious little evidence of voter fraud out there, especially of the type that voter ID would stop, then one has the stop and reevaluate the cost/benefit here, as well as the competing values at hand.
The most paramount value ought to be access of citizens to the ballot box.  Anything that might curtail that most basic of rights needs a heightened level of scrutiny.
Further, it has to be noted that the people most affected by these laws:  poor citizens, the elderly, African-Americans, and Hispanics all tend to be key Democratic constituents.  Indeed, as the study notes that while roughly 11% of all eligible voters lack IDs:
Some populations lack these documents at even higher rates: 25 percent of African-Americans, 16 percent of Hispanics, and 18 percent of Americans over age 65 do not have such ID.
Further, rules that try to bar students from voting where they go to college is also targeting voters more prone to vote Democratic.
When a policy a) has the potential to affect a core right, b)  is deployed to fix a problem that empirically can be demonstrated not to be a real problem, and c) has disproportionate affects on constituents of the party opposite the party pushing the policy, then a + b + c should equal reassessment of the policy in question, its efficacy, and the motivations behind it.
I would recommend the whole study (it is brief, ~40 pps.).  It discusses the issue of access the ID-issuing offices in the states with the new law, as well as assessing the cost of the "free" IDs.
In regards to access to office, there is a distance issue and an hours issue.
In regards to distance:
Overall, more than 10 million eligible voters live more than 10 miles from their nearest state ID-issuing office. In Mississippi, Alabama, and Wisconsin, the burden of traveling to the ID office is particularly severe: More than 30 percent of voting-age citizens must travel more than 10 miles to the nearest ID-issuing office.
And it should be noted that we are speaking here about the rural poor who often lack their own cars and have no access to public transportation.
In regards to hours of operation, some examples from the text:
Offices without Regular Business Hours: In Wisconsin, Alabama, and Mississippi, less than half of all ID-issuing offices in the state are open five days a week.
Reduced Business Hours in Areas with High Concentrations of People of Color: Many  of the offices with limited hours are in areas with high concentrations of minority voters. In Texas, 40 ID-issuing offices are open three days per week or less; the majority of these are in the rural border region, home to a heavy concentration of eligible Hispanic voters. In Georgia, Mississippi, and Alabama, many of the ID offices with limited hours are located in the areas with the highest concentrations of black voters.
Idiosyncratic Hours: Some ID offices maintain hours so bizarre that it is necessary to consult a calendar to determine when the office is open. The office in Sauk City, Wisconsin is open only on the fifth Wednesday of any month. But only four months in 2012 have five Wednesdays. Other offices in Wisconsin are open only once every two months: For example, the office in Phillips is open only on the first Wednesday of February, April, June, August, October, and December. In Alabama, the Rockford office is open only on the third Thursday of the month. In Mississippi, the Woodville office is open only on the second Thursday of each month.
All of the above reminds me of the developing world, to be honest.  (The "fifth Wednesday" rule is my favorite.)
And in regards to cost:
Proponents of voter ID laws often say the requirement is not onerous because state-issued photo ID is available at no charge. But in all restrictive ID states except South Carolina, even if an eligible voter does not have to pay for the ID itself, he or she must provide supporting documentation — such as a birth certificate or a naturalization certificate — to obtain a state-issued photo ID suitable for voting. These records can be very costly.

An official copy of a birth certificate can cost anywhere from $15 to $30, depending on the state. The fees for a new passport or to renew a passport are $135 and $110, respectively. The price of a replacement naturalization certificate or certificate of citizenship is $345.

Married women who have changed their surname face an additional burden: They may need to present a marriage license with their current name to obtain a photo ID. Only 48 percent of voting-age American women who have ready access to their birth certificate have their current name on it. Fees for official copies of marriage licenses range from $5 to $40. Thus, a married woman who does not have a certified copy of her birth certificate and marriage license could easily spend $30 to $70 acquiring the documents necessary to obtain a photo ID.
This all strikes me as potentially quite onerous to a person, say, living in poverty in rural Alabama.
Also fun, the "Mississippi Catch-22"
Although Mississippi's restrictive law is not yet in force, citizens there without ID face a particularly perverse set of rules. To secure government-issued photo ID, many voters will need a birth certificate. Yet the state requires a government-issued photo ID to obtain a certified copy of a birth certificate.
Ok, so all of this (and more) for the purposes of solving a non-existent problem (again:  the evidence of any significant level of voter fraud perpetrated by persons misrepresenting their identities at the polls is also nil) in a way that potentially aids one political party while actively seeking to deny a fundamental right to citizens.
This is a good thing how?
By the way:  the real solution to all of this is a free, universally issued, national ID card with biometrics built into the card.  If voter fraud really is that big of a problem, then where in the support for that?
This last point reminds me of something that I read the other day by Robert Pastor writing for Fareed Zakaria's GPS site:
[Mexico's] IFE [the Federal Electoral Institute] actively registers about 95% of 77 million eligible voters and gives each a biometric, photo ID card, which Mexicans use as a primary identification. The registration list is audited regularly, and the photos of the voters are on the list in each polling site.

In contrast, U.S. states and communities passively register about 55% of eligible voters, and the lists are flawed with many duplicates and errors, especially between states and counties. Each state has different rules, and in states where Republicans have a majority, their focus on preventing electoral fraud has led them to restrict registration and require IDs, while Democrats are more concerned about voters' access and believe the Republican ID laws are aimed to suppress voter turnout from poor people or minorities. The truth is that we ought to adopt Mexico's national, biometric ID system. That would eliminate duplicates and simplify the registration and voting process.
If voter ID proponents truly were concerned with ID for the sake of ID, they would be pushing for a modern system such as in Mexico (and that they have in countries like Colombia).
Indeed, Pastor notes in the same piece:
How does the U.S. electoral system compare to Mexico's? I undertook a comprehensive study of the electoral systems in North America, and the good news is that the United States came in third. The bad news is that there are only three countries in North America.
The above will, no doubt, make some bristle, but truth is truth.  And certainly when it comes to questions of things like voter ID (as well as registration and participation) the US is decidedly not the best in the world.