More Problems for Cain Concerning his Behavior with Women
Cain's woes continue to mount.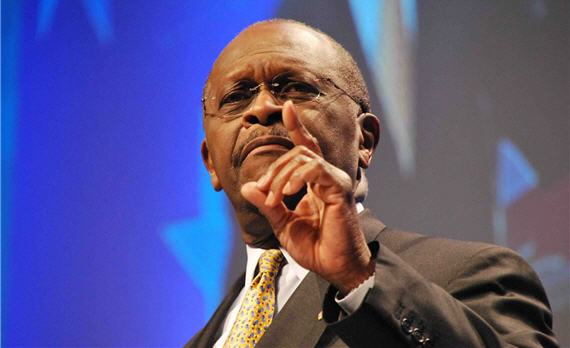 Via the Washington Examiner:  Fifth woman raises questions about Cain's behavior
Donna Donella, 40, of Arlington, said the USAID paid Cain to deliver a speech to businessmen and women in Egypt in 2002, during which an Egyptian businesswoman in her 30s asked Cain a question.

"And after the seminar was over," Donella told The Washington Examiner, "Cain came over to me and a colleague and said, 'Could you put me in touch with that lovely young lady who asked the question, so I can give her a more thorough answer over dinner?'"

Donella, who no longer works for USAID, said they were suspicious of Cain's motives and declined to set up the date. Cain responded, "Then you and I can have dinner." That's when two female colleagues intervened and suggested they all go to dinner together, Donella said.

Cain exhibited no inappropriate sexual behavior during the dinner, though he did order two $400 bottles of wine and stuck the women with the bill, she said.
Now, this is clearly not an issue of sexual harassment as there was no employer-employee relationship here.  Further, there may be nothing here at all–as Donella told the Examiner, "I couldn't swear that he had some untoward intentions, but we all thought his tone was suspect and we didn't feel comfortable putting him in touch with that woman."  However, the issue for Cain is rapidly becoming one of overcoming the preponderance of the evidence that he has a real problem in regards to his intentions towards various women with whom he has worked.
Consider, we now have:
1.  Two confirmed cases of financial settlements linked to allegations of sexual harassment when he worked at the National Restaurant Association.
2.  A potential third women who claims some type of inappropriate activity by Cain during the same period.
3.  A press conference from a woman who was willing to provide her name and a detailed story for public consumption with details of activity that could be construed as an attempt to get a quid pro quo of sex for a job.
4.  A fifth story now emerging suggesting that, at a minimum, Cain seemed to be trolling for one-on-one dinners with specific women.
Now, none of this proves anything, to be sure.  However, to this point some key pro-Cain arguments are evaporating at the moment, which include:
a. Well, the only accusations are from anonymous persons:  this is no longer the case.
b.  Well, only people who were paid off have made accusations:  this is no longer the case.
c.  Well, two cases does not equal a pattern:  now we are up to five cases that suggest that Cain may have been a womanizer (or, at least, was trying to become one).  Indeed, since the accusations are accelerating, the question hangs out there as to whether we are done with them as yet.
d.  Well, the only person willing to attach a name hired an attorney and might be after money:  this was the immediate response to yesterday's press conference.  However, the current story means that this is no longer the case.  See, also, the ChiTrib: Cain accuser has history of financial troubles, legal squabbles.
Meanwhile, Cain and his campaign have been quite poor at rebutting these stories.  While drawing Clarence Thomas comparisons will help him with his supporters, they will not solve the problem here.