More Sandy Hook Families Sue Alex Jones
Alex Jones is finally being called on to answer for his irresponsible lying about events like the Sandy Hook shooting.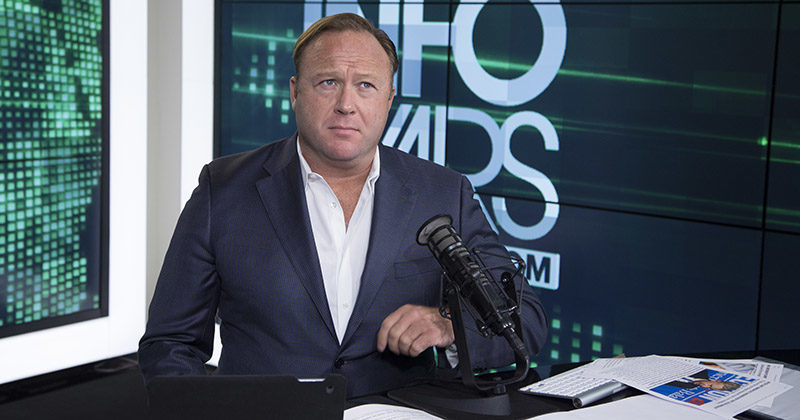 The families of six students killed in the 2012 school shooting at Sandy Hook Elementary School, along with a first responder who was among the earliest responders to the reports of a shooting at the school, have filed a defamation lawsuit against Alex Jones, who has spent the last five and a half years pushing conspiracy theories about the event including the claim that the shooting never actually happened:
WASHINGTON — After the body of Jesse Lewis, age 6, was recovered from his classroom at Sandy Hook Elementary School, his father, Neil Heslin, cradled him for a final time. At the top of Jesse's forehead was the gunshot wound that ended his life. "It meant a lot to be able to see him," Mr. Heslin said in an interview. "When he was born, I was the first to see him, and I was the last one to hold him."

Alex Jones, an online conspiracy theorist whose InfoWars website is viewed by millions, seized on this agonizing recollection to repeat the bizarre falsehood that the 2012 shooting that killed 20 first graders and six adults at the elementary school in Newtown, Conn., was an elaborate hoax invented by government-backed "gun grabbers."

On his radio show, Mr. Jones said Mr. Heslin needed to clarify "because the coroner said no, the parents weren't allowed to have touched the kids or have seen the kids." He played a video in which the InfoWars "reporter" Owen Shroyer says of Mr. Heslin, "He's claiming that he held his son and saw the bullet hole in his head."

"That is not possible," Mr. Shroyer said.

More than five years after one of the most horrific mass shootings in modern history, the families of Sandy Hook victims are still enduring daily threats and online abuse from people who believe bogus theories spread by Mr. Jones, whom President Trump has praised for his "amazing" reputation.

Now, for the first time, the families are confronting Mr. Jones in court.

"When anybody's behind a machine, whether it's a gun or a computer or a car, a dehumanization takes place that makes it easier to commit an act of violence," Veronique De La Rosa, the mother of Noah Pozner, another victim, said in an interview. She is suing Mr. Jones, she said, because she wants to force him to admit to his devotees that "he peddled a falsehood, that Sandy Hook is real and that Noah was a real, living, breathing little boy who deserved to live out the rest of his life."

In three separate lawsuits — the most recent was filed on Wednesday in Superior Court in Bridgeport, Conn. — the families of eight Sandy Hook victims as well as an F.B.I. agent who responded to the shooting seek damages for defamation. The families allege in one suit, filed by Koskoff, Koskoff & Bieder in Bridgeport, that Mr. Jones and his colleagues "persistently perpetuated a monstrous, unspeakable lie: that the Sandy Hook shooting was staged, and that the families who lost loved ones that day are actors who faked their relatives' deaths."

More broadly, the families are seeking society's verdict on "post truth" culture in which widely disseminated lies damage lives and destroy reputations, yet those who spread them are seldom held accountable. The suit filed on Wednesday emphasizes Mr. Jones's reach and connection to Mr. Trump. On his show last year, Mr. Jones called himself and his listeners "the operating system of Trump." Later he said, "I'm making it safe for everybody else to speak out just like Trump's doing, on a much bigger scale."

When the president called the news media the "enemy of the people" last year, Mr. Jones proudly tweeted that he used the phrase first, in 2015.

Mr. Trump has also echoed InfoWars' false claims that Hillary Clinton benefited from the votes of millions of illegal immigrants in the election, and repeated InfoWars' bogus charge that the news media covers up terrorist attacks.
More from The Hartford Courant:
An active FBI agent who responded to Sandy Hook Elementary School during the December 2012 shooting is joining a group of families of victims in suing controversial talk show host Alex Jones for claiming the mass shooting was a hoax.

The defamation lawsuit filed in Connecticut Wednesday mirrors one filed by the familes of two other Sandy Hook victims in Texas in April.

The plaintiffs in the new lawsuit are the parents of four children killed at the Newtown school — Jacqueline and Mark Barden, parents of Daniel; Nicole and Ian Hockley, parents of Dylan; Francine and David Wheeler, parents of Ben; and Jennifer Hensel and Jeremy Richman, parents of Avielle — as well as the relatives of first-grade teacher Victoria Leigh Soto, and Erica Lafferty-Garbatini, the daughter of Principal Dawn Hochsprung.

William Aldenberg, a longtime FBI agent and first responder to the scene, is also a plaintiff.

The lawsuit alleges a yearslong campaign of "abusive and outrageous false statements in which Jones and the other defendants have developed, amplified and perpetuated claims that the Sandy Hook massacre was staged and that the 26 families who lost loved ones that day are paid actors who faked their relatives' deaths," the suit said.

"While the nation recoiled at the terrible reality of the shooting at Sandy Hook Elementary School, Alex Jones saw an opportunity," said attorney Josh Koskoff, who is representing the families.

"He went on a sustained attack that has lasted for years, accusing shattered family members of being actors, stating as fact that the shooting itself was a hoax and inciting others to act on these malicious lies," Koskoff said in a press release. "He knew his claims were false but he made them anyway to further a simple but pathetic goal: to make money by tearing away at the families' pain. This lawsuit seeks to hold Alex Jones and his financial network accountable for those disgraceful actions."

(…)

Jones had said on his radio show the day the April lawsuit was filed that the Sandy Hook victims are being manipulated by Democrats and those who want to destroy the Second Amendment.

"I ask the families of Sandy Hook victims to actually admit that I have invited you on for years and admit that I have said for years that it really happened, and if I have caused you any pain by debating both sides of it I am sorry for your pain, but this is a big public event that has been seized on politically to take our rights," Jones said.
This lawsuit, which was filed in Bridgeport, Connecticut, joins two other lawsuits that were filed against Jones in Travis County, Texas where Jones resides, alleges in its essential parts that Jones defamed the parents and the first responder by alleging that they had lied about the aftermath of the shooting and ascribing to them participation in the numerous conspiracy theories he has woven over the past six years on his show and in various other appearances in an effort to spread the false claim that the shooting in Newtown, Connecticut never happened, that it was in fact a "false flag" operation to advance arguments for gun control, and that if it did happen it did not happen in the manner that has been reported in the general media. Additionally, Jones has claimed that the parents and many of the first responders were in fact "crisis actors" who can be shown to have been at the scene of other shooting events.
Generally speaking, a Plaintiff seeking to win a defamation lawsuit must show that a statement or statements made about them that have been published, which includes a broadcast over the Internet, television, or radio, that this statement is false, that the Plaintiffs suffered some sort of damage due to the false statement, and that the statement is not covered by an applicable privilege. In this case, the Plaintiffs appear t0 have alleged sufficient facts to meet this standard. There appears to be no question that the statements that Jones made regarding these Plaintiffs were made, that they are demonstrably false and that the parents have been injured by these false statements. It also does not appear that the statements would be covered by any applicable privilege.
Leaving aside the minimal pleading standards, though, winning the case will take something more than just the facts alleged in the Complaint. In this case, the families will need to show that Jones was, at the very least, negligent in making the claims that he did and failed to take the steps that an ordinary reporter would take to ensure that what they are reporting is accurate. In addition to this, the Plaintiffs' legal burden could become more difficult depending on whether or not they are considered "public figures." This question is relevant due to the Supreme Court's ruling in   New York Times v. Sullivan, where it ruled that a party that the First Amendment requires that individuals who are considered "public figures" must allege and establish that the defamatory statement was made with what the Court called "actual malice." In the relevant section of its opinion in that 1964 case, the Court put it this way:
A rule compelling the critic of official conduct to guarantee the truth of all his factual assertions — and to do so on pain of libel judgments virtually unlimited in amount — leads to a comparable "self-censorship." Allowance of the defense of truth, with the burden of proving it on the defendant, does not mean that only false speech will be deterred. Even courts accepting this defense as an adequate safeguard have recognized the difficulties of adducing legal proofs that the alleged libel was true in all its factual particulars. See, e.g., Post Publishing Co. v. Hallam, 59 F. 530, 540 (C.A. 6th Cir. 1893); see also Noel, Defamation of Public Officers and Candidates, 49 Col.L.Rev. 875, 892 (1949). Under such a rule, would-be critics of official conduct may be deterred from voicing their criticism, even though it is believed to be true and even though it is, in fact, true, because of doubt whether it can be proved in court or fear of the expense of having to do so. They tend to make only statements which "steer far wider of the unlawful zone." Speiser v. Randall, supra, 357 U.S. at 526. The rule thus dampens the vigor and limits the variety of public debate. It is inconsistent with the First and Fourteenth Amendments. The constitutional guarantees require, we think, a federal rule that prohibits a public official from recovering damages for a defamatory falsehood relating to his official conduct unless he proves that the statement was made with "actual malice" — that is, with knowledge that it was false or with reckless disregard of whether it was false or not.
The question of whether or not a person is a "public figure" has been the subject of much litigation in the years since Sullivan was decided, and it can often be difficult to determine when a particular individual qualifies for this distinction. One could make the case, for example, that the fact that these parents have made themselves available for press interviews in the years since the shooting means that they, at the least, qualify as "limited purpose public figures" in that they have "thrust themselves to the forefront of particular public controversies in order to influence the resolution of the issues involved." In this case, that particular controversy would be the issue of gun control and how we ought to respond to events like Sandy Hook or the Sandy Hook Shooting. On the other hand, one could argue that these parents are merely speaking as parents whose children were shot by a madman and that they haven't voluntarily "thrust themselves" into a public debate merely by speaking to the press. However one resolves that issue seems immaterial to me, though. Even if these parents are considered "public figures" for purposes of these claims, it seems clear that there is sufficient evidence for the "actual malice" that the Sullivan standard requires. At the very least, it seems clear that Jones made or published via his website the defamatory statements in question with "reckless disregard" of whether or not they were true or false. Therefore, Jones would still be liable even if he were successful in arguing that the Plaintiffs are "public figures."
There are not the only lawsuits Jones is facing as a result of the conspiracy theories that he has spread over the years, and the false claims he's made with regard to mass shooting events in particular. In March, a Massachusetts man who Jones had falsely identified as the shooter in the February 14th shooting at Marjory Stoneman Douglas High School in Florida filed a suit against Jones. Additionally, Jones is also facing a defamation lawsuit from the man who recorded the deadly car attack at last year's racist rally in Charlottesville, Virginia. In several broadcasts of his show, Jones had referred to the man as a "deep state shill" and a "CIA asset" who helped organize the attack. As with the attacks on the parents of the Sandy Hook victims, these assertions are untrue and seemingly made without any regard for whether they were true or false.
As I said last month with the first round of Sandy Hook lawsuits, it looks like the chickens are coming home to roost for Alex Jones.
Here's the complaint:
Lafferty Et Al v. Jones Et Al by Doug Mataconis on Scribd