More Tales of Keeping Us Safe at Airports
The TSA's crusade to fondle whomever they please continues.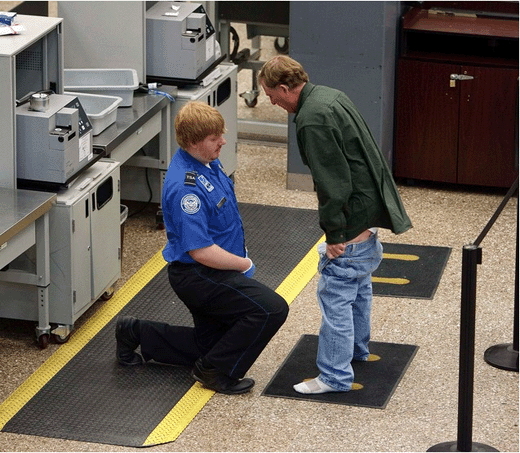 Via KVUE:  Woman arrested at ABIA after refusing enhanced pat down
Claire Hirschkind, 56, who says she is a rape victim and who has a pacemaker-type device implanted in her chest, says her constitutional rights were violated.  She says she never broke any laws.  But the Transportation Security Administration disagrees.

Hirschkind was hoping to spend Christmas with friends in California, but she never made it past the security checkpoint.

"I can't go through because I have the equivalent of a pacemaker in me," she said.

Hirschkind said because of the device in her body, she was led to a female TSA employee and three Austin police officers.  She says she was told she was going to be patted down.

"I turned to the police officer and said, 'I have given no due cause to give up my constitutional rights.  You can wand me,'" and they said, 'No, you have to do this,'" she said.

Hirschkind agreed to the pat down, but on one condition.

"I told them, 'No, I'm not going to have my breasts felt,' and she said, 'Yes, you are,'" said Hirschkind.

When Hirschkind refused, she says that "the police actually pushed me to the floor, (and) handcuffed me.  I was crying by then.  They drug me 25 yards across the floor in front of the whole security."

An ABIA spokesman says it is TSA policy that anyone activating a security alarm has two options.  One is to opt out and not fly, and the other option is to subject themselves to an enhanced pat down.  Hirschkind refused both and was arrested.
There has to be a better way than this.
Back in November, when the new "enhanced pat-down" policies were introduced I wrote:
The bottom line is that Americans, in general, are scared of the possibility of another terrorist attack and therefore are going to be willing, in general, to do almost anything that they think will "keep us safe."
Along those lines, I would note the following:
Other travelers KVUE talked to say they empathize with Hirschkind, but the law is the law.

"I understand her side of it, and their side as well, but it is for our protection so I have no problems with it," said Gwen Washington, who lives in Killeen.

"It's unfortunate that that happened and she didn't get to fly home, but it makes me feel a little safer," said Emily Protine.

The TSA did release a statement Wednesday that said in part, "Our officers are trained to treat all passengers with dignity and respect. Security is not optional."