More Than Half Of House Democrats Want Impeachment, But Pelosi Is Standing Firm
More than half of the House Democratic Caucus has endorsed impeachment, but that's unlikely to cause Nancy Pelosi to move off her current position.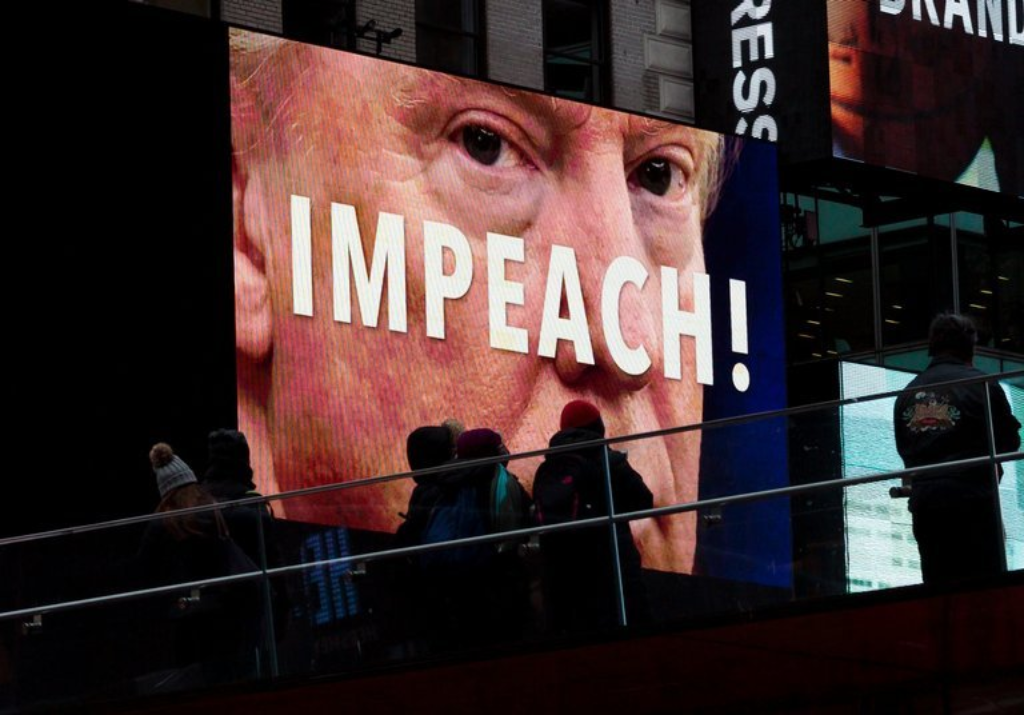 While polling continues to show that the majority of Americans oppose proceeding with impeachment against President Trump, Speaker of the House Nancy Pelosi faces mounting pressure from within her own party to do just that. The latest development in that regard came near the end of the week when the number of Democrats advocating for the opening of impeachment proceedings officially passed the halfway mark:
More than half of House Democrats say they would vote to launch impeachment proceedings against President Donald Trump, a crucial threshold that backers said will require Speaker Nancy Pelosi to reconsider her steadfast opposition.

Though Pelosi has given no indication that even a significant majority of House Democrats embracing impeachment proceedings would shift her view, supporters of an inquiry argue that crossing the halfway mark among the caucus isa symbolic boost that could shift the political dynamic.

"The president's repeated abuses have brought American democracy to a perilous crossroads," said Rep. Eliot Engel (D-N.Y.), chairman of the House Foreign Affairs Committee, who announced his support on Tuesday. "Following the guidance of the Constitution — which I have sworn to uphold — is the only way to achieve justice."

The number of House Democrats who support impeachment proceedings passed the halfway mark — 118 out of 235 voting members now support the effort — on Thursday when Rep. Ted Deutch of Florida announced his support. Deutch was also the 23rd Democratic lawmaker to support impeachment proceedings in the days after former special counsel Robert Mueller testified to Congress, affirming publicly his damning evidence suggesting Trump attempted to obstruct justice.

Mueller's appearance reignited a push for impeachment proceedings among Democrats, who had been slowly gathering momentum for the effort since April. Though his testimony was at times halting, Mueller confirmed to lawmaker his report's findings that Trump's 2016 campaign welcomed Russian assistance and that Trump repeatedly attempted to undermine the investigation into Russia's hacking and propaganda operation.

Perhaps more significant than the number of Democrats backing an inquiry are the identities of the members themselves. The latest additions include Reps. Mike Levin of California, Jennifer Wexton of Virginia and Jason Crow of Colorado, three freshmen who flipped Republican-held districts in November. Rep. Katherine Clark of Massachusetts, a member of Pelosi's leadership team, added her name to the list on Friday.

Engel, a veteran lawmaker from New York City, is also one of six committee chiefs tasked by Pelosi with investigating Trump's conduct. He's the second of those committee leaders, along with Rep. Maxine Waters of California, to publicly demand an impeachment inquiry. Judiciary Chairman Jerry Nadler has privately advocated for one as well.

The level of support for an inquiry, as calculated by POLITICO, does not take into account the positions of the handful of Democrats from Washington, D.C., and U.S. territories because they don't get to vote on the House floor — though they do have influence in the Democratic Caucus and on committees. On Tuesday, Washington, D.C.'s delegate, Eleanor Holmes Norton, who sits on the Oversight Committee, voiced her support for an impeachment inquiry. Rep. Justin Amash (I-Mich.), who left the Republican Party in July shortly after declaring his support for impeaching Trump, also is not reflected in the count.

(…)

The lawmakers quietly working to organize support for Trump's impeachment said there are two important figures to watch in the coming weeks. Assistant speaker Ben Ray Luján (D-N.M.), who is running for an open Senate seat against a primary opponent who has embraced impeachment proceedings, and Rep. John Lewis (D-Ga.), a civil rights icon who has questioned the legitimacy of Trump's election but so far deferred to Pelosi on impeachment.

Though there's no indication he's changing his tune, Luján's support for impeachment proceedings could help unlock the backing of a slew of freshman Democrats who Luján helped get elected in 2016, when he ran Democrats' campaign arm, pro-impeachment lawmakers said. And Lewis' support would carry significant sway with members of the Congressional Black Caucus who have remained on the fence so far. Lewis has repeatedly been asked for his opinion on impeachment proceedings but has repeatedly indicated that he's deferring to Pelosi.
Pelosi's concerns about impeachment proceedings against Trump aren't simply a math equation. Most Democrats facing serious reelection fights — whose 2018 victories in GOP-held districts helped deliver the House to Democrats — have avoided taking a position or outright opposed impeachment proceedings. In addition, Pelosi worries a successful impeachment in the House would send the question to the Republican-controlled Senate, which likely would acquit Trump and deliver him a potent weapon for his 2020 reelection campaign.

Rather, Pelosi has urged a more methodical approach, calling for continued House investigations and legal fights to obtain Trump's personal financial records as well as testimony from some of Mueller's key witnesses.

The Washington Post's Amber Phillips discusses where this leaves Pelosi, who for now at least has the luxury of a Congres in recess for her to leave the issue to the side for now:
having 118 out of 235 House Democrats supportive of the first step toward impeachment doesn't mean that step will actually be taken. It's possible that nothing will happen as a result of this milestone.

That's largely because House Speaker Nancy Pelosi (D-Calif.) has been resolute that starting down the impeachment path would be the wrong move for Democrats if they want to keep their majority. Pelosi is the one person in Congress who has the authority to stop the impeachment train before it gets rolling because, well, she's the boss. And she's well aware that a lot of her caucus still doesn't support impeachment.

There are other reasons not to be bullish on impeachment happening. Having 118 Democrats say they support an impeachment inquiry is not the same as voting to impeach the president.

Launching an inquiry is really just dipping a toe into the water. The House Judiciary Committee would launch an investigation to determine what, if anything, Trump has done that rises to Congress's self-determined bar of "high crimes and misdemeanors." If they find something that meets that bar, they would draw up articles of impeachment for the entire House to vote on. It's possible that what they draw up wouldn't win over a majority of Democrats. (Though in this hyperpartisan era, we recognize that that's a big maybe.)

Democrats had a chance to actually vote to move forward on impeachment last month; Rep. Al Green (D-Tex.) forced a resolution onto the House floor after Trump tweeted that four minority House Democrats should "go back" to countries they came from. A majority of House Democrats didn't even vote to proceed to debate the resolution.

Still, there's no denying that Democrats are steadily coalescing around the idea that they need to at least consider impeaching Trump. Since special counsel Robert S. Mueller III's report was released in April, every big moment related to the Russia investigation has brought a wave of lawmakers over to supporting an impeachment inquiry.

(…)

Pelosi is fully aware that impeachment is not popular among a majority of Americans. A Quinnipiac poll taken in the days after Mueller's testimony found no significant movement toward impeachment. It's still opposed by 6 in 10 Americans.

Nor is there any sign impeachment is a top priority for voters in Republican-leaning districts in states such as Kansas, Iowa and Georgia — places Democrats ventured into in the 2018 midterm elections to kick out Republicans and win the majority.

"I believe impeachment will assuredly consume us all," Rep. Stephanie Murphy (D-Fla.), who knocked off a Republican in a suburban swing district in 2016, told constituents at a recent town hall. The Orlando Sentinel's Steve Lemongello reported that just one audience member asked about impeachment. "Instead," he reported, "most of those at the town hall aimed at seniors asked about shoring up Medicare, protecting Social Security and other health care and fiscal issues."

One potential area of compromise between Pelosi and half her caucus: She can argue the investigations of Trump that are already going on are akin to investigating impeachment without actually using the politically polarizing "i" word. A lawsuit filed by the House Judiciary Committee to get the full Mueller report actually says they need the information for an impeachment investigation, leading some legal scholars to conclude an impeachment inquiry has already started under the radar.

Some members of Congress are trying to get that word out. "In every meaningful way, our investigation is an impeachment inquiry," Rep. Ted Deutch (D-Fla.), a member of the Judiciary Committee, wrote in an op-edpublished Thursday by the South Florida Sun-Sentinel.

Even if it goes no further than this symbolic majority-support milestone, this moment will be a bullet point in the history of Trump's presidency. But there's a real chance it doesn't go further than this.
If anything, I would argue that the fact that the number of Democrats calling for impeachment has crossed the halfway mark is far less meaningful than meets the eye. Unless the number gets much larger than that, we're likely to continue to see Speaker Nancy Pelosi take the position that she has unless and until it gets to the point where she's effectively standing alone in opposition to a caucus that is overwhelmingly in favor of making the move toward impeachment. That's unlikely to occur for several reasons, including the fact that most of the undecided members of the Democratic caucus come from the districts that were won in the 2018 election. Many of these include districts that President Trump won in the 2016 election, meaning that they will be difficult for Democrats to hold onto in 2020. Unless and until those members start turning in favor of impeachment in large numbers, Pelosi is likely to approach the issue conservatively and cautiously. From a political point of view, this is exactly what should be doing.
In addition to this, Pelosi is most likely well aware of where the American public is on this issue. Polling has consistently shown that most Americans remain opposed to impeachment, something that we have seen in the polls for months now. As I've said before, these polls amplify the political risk that Democrats would be taking if they move forward with impeachment. Even if a majority of the House votes to impeach, something that would only require the votes of 218 of the 235 Democrats in the House, or 217 if you also count the probable yes vote of Justin Amash, the former Republican turned Independent who previously endorsed the President's impeachment, it's basically guaranteed that the Senate will not vote to convict and remove the President. This would likely play to the President's political benefit on the en eve of the 2020 election, and if it happens in a political environment where most Americans don't believe impeachment should take place then it could backfire on Democrats just as they are trying to pull off the political trifecta of winning back the White House, keeping control of the House, and winning control of the Senate. Accomplishing that will be hard enough without the millstone of going against public opinion added to it.
For these reasons, I continue to believe that Pelosi is playing this correctly. She's letting the investigations by the House Judiciary Committee, the House Oversight Committee, and other committees move forward, but she's stopping short of endorsing the formal opening of an impeachment inquiry. This allows the relevant committees to continue gathering evidence that could be used as apart of such an inquiry without locking House Democrats into that lane. If the evidence justifies it, and if public opinion on the issue changes, then she may change her position. Alternatively, she may argue at the end of that process that we're so close to the 2020 election that it is impractical to proceed with impeachment. For now, though, it's best to play this close to the vest notwithstanding the loud voices inside the Democratic Party calling for impeachment.