Most Admired Man and Woman 2010
President Obama and Hillary Clinton top Gallup's lists of Most Admired Americans.
Gallup has released its annual most admired lists and, not surprisingly, President Obama leads the men's list, garnering 22% of the vote.  As Gallup's Lydia Saad notes, sitting presidents almost always to the list.  Here's how the polling has broken down in recent years: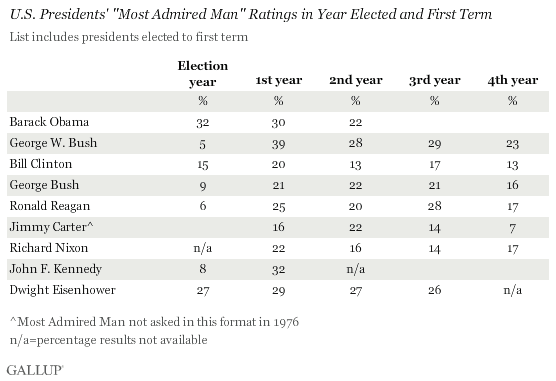 As you can see, Obama's ratings are down significantly from the previous two years.  But, again, that's not surprising:  The luster of the Hope and Change campaign has worn off and he's being judged on his record in office, not against his  predecessor.
It's interesting to note, too, that his numbers are will behind Bush's at comparable points in their presidencies.  But, again, not shocking.  Bush had come down from his post-9/11 high but the Iraq War morass and Katrina debacle were yet to come.   Obama's 22% is almost identical to Bush's in the year he was re-elected.
What's more interesting is that Hillary Clinton easily tops the women's list.  Indeed, despite having been incredibly polarizing during her husband's tenure in office, she's been at or near the top of the list for nearly twenty years.
Clinton has dominated the Most Admired Woman title for most of the past two decades, earning 15 No. 1 rankings since her first appearance on the list in 1992. She joins Eleanor Roosevelt and Jacqueline Kennedy Onassis as first ladies whose strong popularity has extended well beyond her husband's presidency, although, given Clinton's post-White House political career, perhaps for different reasons.

Historically, first ladies have figured prominently on the list, typically appearing in the top three at some point during their White House tenure. However, they are much less likely than presidents to win the top spot. First ladies who have succeeded in placing first include Clinton, with six No. 1 rankings in Bill Clinton's two terms as president; Nancy Reagan, who achieved it three times in Ronald Reagan's two terms; Barbara Bush, who achieved it twice in her husband's single term; and Rosalynn Carter, who tied for or placed first in three years during her husband's single term. No first lady has won the top overall ranking since Laura Bush in 2001.

Thus far as first lady, Obama, like Laura Bush for most of her husband's presidency, has not garnered high mentions as Most Admired Woman. Her single-digit performances on the list since Barack Obama took office are on the low side for other first ladies since Carter at this point in their husband's first term.
My guess is that this is a function of women's changing role in society rather than the performance of Bush and Obama as First Lady. Indeed, part of the reason Clinton was so controversial in the 1990s was that she was at the crossroads of this change.  Rather than being her husband's supportive and  silent partner, she was an accomplished professional in her own right and expected to have a role in the policy process. Which, of course, no one elected her to do.
While Eleanor Roosevelt also had a prominent role in  public affairs after her husband's passing, Clinton was the first First Lady to use the unofficial office as a springboard for a political career of her own — winning election to the Senate while her husband was still in office and going on to nearly win the presidency in her  own right.  Neither Laura Bush nor Michelle Obama are likely to follow suit.
UPDATE: I should point out, in case it isn't obvious, that these are open format polls where people simply give the first name that pops into  their head.   Obama's 22% isn't the totality of those who admire him, just those who say they admire him more than anyone else.  Similarly, that more people named Sarah Palin than Oprah Winfrey isn't a statement on their comparative admirably; Palin is simply more polarizing.  Indeed, I'd wager that more people admire Winfrey than Clinton, since the former seldom takes positions on hot button issues  that will harm her public support.