Most American College Students Don't Borrow To Pay Tuition
Some surprising findings about how America's undergraduates are paying for their education.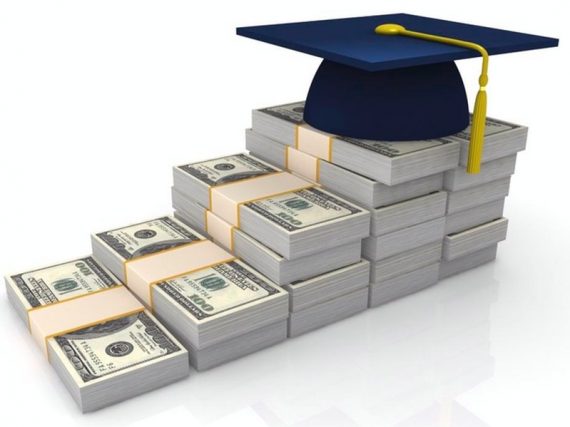 Andrew Sullivan points to this Sallie Mae survey of how American undergraduates (which they define as students between the ages of 18 and 24) pay for their college tuition. The results are not what you'd expect given all the attention given to rising college tuition and student loans:
83% of college students and parents strongly agreed that higher education is an investment in the future, college is needed now more than ever (70%), and the path to earning more money (69%).
Drawing from savings, income and loans, students paid 30% of the total bill, up from 24% four years ago, while parents covered 37% of the bill, down from 45% four years ago.
The percentage of families who eliminated college choices because of cost rose to the highest level (69%) in the five years since the study began. Virtually all families exercised cost-savings measures, including living at home (51%), adding a roommate (55%), and reducing spending by parents (50%) and students (66%).
In 2012, families continued the shift toward lower-cost community college, with 29 percent enrolled, compared to 23 percent two years ago. In fact, overall, families paid 5 percent less for college compared to one year ago.
35% percent of students borrowed education loans to pay for college: 25% borrowing federal loans only, 9% using a mix of federal and private loans, and 1% tapping private loans only.
As always, charts are helpful in understanding this data: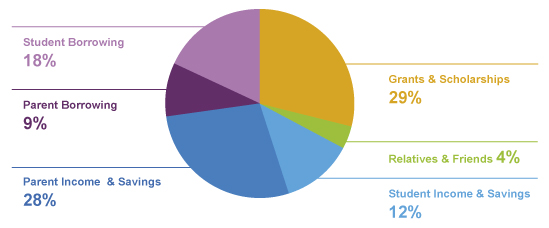 Sallie Mae also produced an infographic, one part of which does a very good job of summarizing the findings: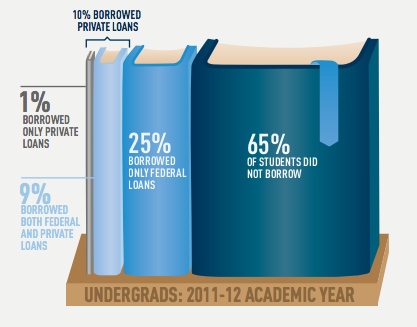 Kay Steiger looks at this data and concludes that this means that most American ungrads are still "wealthy":
This indicates to me that the vast majority of those attending college (and it's worth noting that Sallie Mae defined "undergraduates" for the purpose of this survey as 18 to 24 year olds, who are very much the "traditional" college student) are people who can afford to do so without taking out loans, which means they're wealthier. There are still some low-tuition schools out there that you can attend without taking out vast amounts of loans if you don't have wealth or savings, but that's an increasingly small portion of colleges these days. What this second chart indicates to me is that our traditional "undergraduate" population is still relatively wealthy. This means that college is less a means of class mobility as it is a means of maintaining one's class.
I am not sure that this is an accurate conclusion. For one thing, it's worth noting that the study itself appears to include students both four-year and two-year colleges and was weighted so that it was getting representative samples from both types of institutions, as well as from all sizes of institutions. For smaller schools and two-year institutions, tuition is obviously going to be far lower than a four-year public or private university. Additionally, discounts for in-state status and other benefits may reduce the cost of tuition at some institutions for some individuals. Keeping this in mind, isn't it also likely that a sizable portion of that part of the student body that is not using loans to pay tuition are using either savings or working their way through school, perhaps only taking as many credits as they can afford to pay for in a given year?
Steiger doesn't make clear what her definition of "wealthy" is either. Does she consider a middle-class family that, thanks to savings and perhaps some good fortune during the real estate boom was able to afford to pay for their child's education "wealthy," because I'm pretty sure that family wouldn't. Steiger makes a very broad conclusion here based on the data, but it strikes me that we'd need to see further research into the income status of the families of these students before being able to conclude if she's correct. My guess, though, is that she isn't.
These finding also raise interesting implications for the debate over tuition and student loan debt that we've been dealing with in this country. Quite obviously, we're talking about a minority of the student population here, and while I'm not suggesting that this means we can ignore problems like the Higher Education Bubble, but it does suggest that we ought to keep in mind that, for the vast majority of American college students the student loan issue isn't really much of a concern. Perhaps what we should do is find a way to bring the cost of Higher Education down so more people can join the group of students that don't borrow.
Here's the study itself for those interested: