Most Americans Aren't Paying Attention To Latest Round Of Scandals
Not surprisingly, the Pew Research Center's latest survey finds that the vast majority of Americans aren't paying attention to the latest round of scandals gripping Washington:
So far, public interest in a trio of controversies connected to the Obama administration has been limited. Roughly a quarter (26%) of Americans say they are very closely following reports that the IRS targeted conservative groups. About the same number (25%) are tracking the Benghazi investigation very closely, and even fewer (16%) are very closely following news about the Justice Department subpoenaing phone records of AP journalist.

The new survey by the Pew Research Center, conducted May 16-19 among 1,002 adults, finds that 37% of Republicans are paying very close attention to the IRS story, compared with 21% of Democrats and 25% of independents. And the Benghazi investigation continues to draw much greater interest from Republicans (34% very closely) than Democrats (18%).

A historical review of previous controversies involving White House or cabinet officials finds that these levels of public interest – and the partisan divide in attentiveness – are not necessarily new. Previous scandals – such as the Lewis "Scooter" Libby case during George W. Bush's administration or the "Pardon-gate" scandal at the end of Bill Clinton's second term – received similar levels of public attention, and were generally more interesting to those in the opposition party.
Bad news for Republicans, obviously, because as long as most of the public isn't paying attention to this story it's unlikely that they're going to score many political points off of this, and that is the ultimate end of all of this obviously. In the end, all this is likely to do is stir up the GOP base, although, as these numbers indicate, even most Republican's don't seem to be closely following the latest scandals: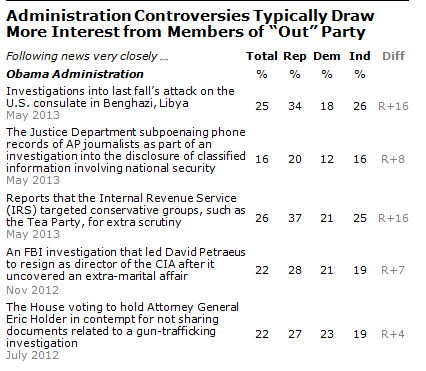 As we head into the summer, I doubt we're going to see public interest increase unless there is some major blockbuster revelation that directly links the White House to what happened at the IRS, or something serious in the Benghazi matter. Given the direction the evidence is going at the moment, this seems unlikely.