Most Americans Want Trump Gone, But Not By Impeachment
A new poll shows that most Americans want President Trump out of office, but don't want to see the House impeach him.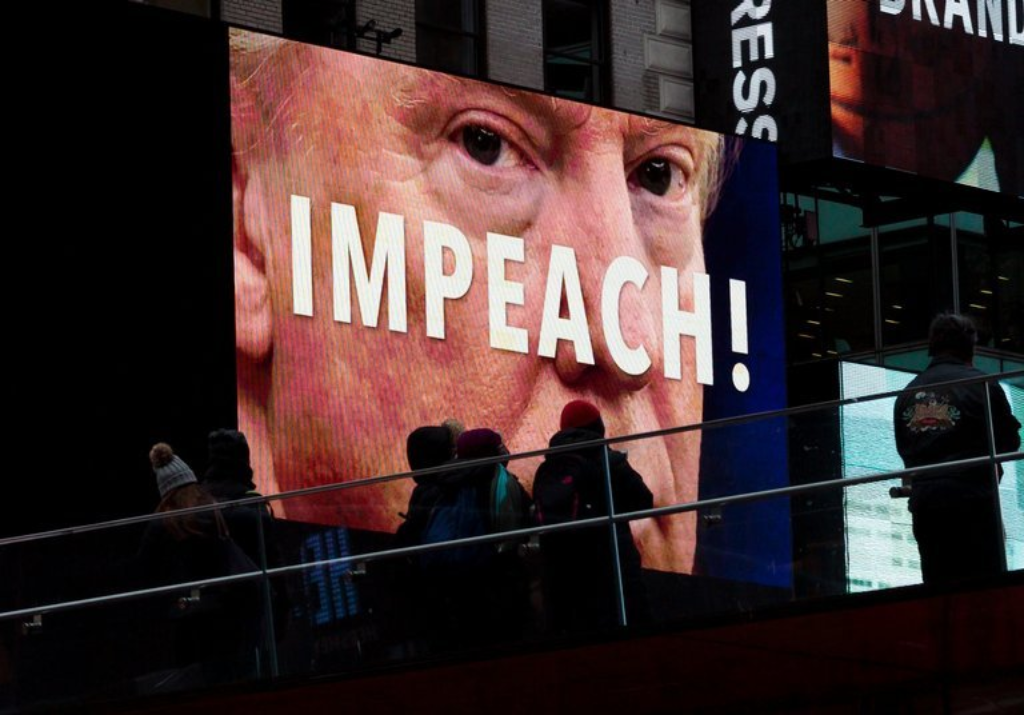 A new poll from Monmouth University shows that a majority of Americans want to see President Trump out of office, but they don't want to see Congress proceed with impeachment:
A majority of voters wants to see a new president in the White House, according to a new poll, but 59 percent say President Trump should not be impeached.

Fifty-seven percent of respondents said it is time to have a new president, according to a Monmouth University poll released Thursday. However, only 35 percent said they think Trump should be impeached.

Democrats overwhelmingly backed impeachment, at 72 percent. Only 39 percent of independents and 8 percent of Republicans agree, based on the poll.

Overall support for impeachment has ranged between 35 and 42 percent since Monmouth started polling that question in July 2017.

Earlier this month, House Judiciary Committee Chairman Jerrold Nadler(D-N.Y.) said the House had started formal impeachment proceedings and is gathering evidence to decide later this year whether or not to vote on articles of impeachment. Some 130 House Democrats back impeachment proceedings, based on The Hill's whip list.

Of the 59 percent of Americans who said they do not support formal impeachment, 27 percent said it's because they think Trump has done nothing wrong, according to Monmouth. Another 13 percent said the impeachment inquiry would be a partisan "witch hunt," echoing the president's own language on the matter.

If the House were to pass articles of impeachment, just 20 percent of respondents said they think there is a chance the Senate would vote to oust Trump, according to the poll. It would require two-thirds of the Republican-controlled Senate to impeach the president.

Some voters, 31 percent, said an impeachment process without a conviction could put Trump in a stronger position to be reelected. Just 23 percent said such an outcome would put him in a weaker position, and 36 percent said it would have no significant outcome.
More details from the poll report itself:
President Donald Trump's approval rating may remain underwater, but a majority of the public continues to oppose removal by impeachment even as the House Judiciary Committee has started proceedings. The latest Monmouth University Poll finds that about one-fifth of those who disapprove of Trump's job performance join nearly all of those who approve of the president to say that moving ahead with an impeachment inquiry is a bad idea. Only 1-in-5 Americans think that an impeachment trial would actually lead to Trump's removal from office. Opinion is mixed in terms of how this could impact the 2020 elections, but there are some indications in the poll that surviving an impeachment trial could provide a small net boost for Trump's reelection effort. However, many Democrats want to plow ahead with impeachment regardless of the political consequences.

Trump's overall job rating stands at 40% approve and 53% disapprove, which is similar to his 41% to 50% rating in June. Over the past 12 months, the president's approval rating has ranged between 40% and 44% in Monmouth's polling while his disapproval rating has ranged between 49% and 54%. The usual demographic clefts remain present – men are divided on the president's job performance (49% approve and 43% disapprove) while women are decidedly negative (31% approve and 62% disapprove). White Americans without a college degree tend to approve of Trump (55% approve and 37% disapprove), while the reverse is true among white college graduates (38% approve and 57% disapprove).

"Donald Trump is not a popular president by most measures, but the appetite for impeachment remains low," said Patrick Murray, director of the independent Monmouth University Polling Institute.

Just over a third (35%) of Americans feel that Trump should be impeached and compelled to leave the presidency while a clear majority (59%) disagree with this course of action. Support for the president's removal via impeachment has ranged between 35% and 42% since Monmouth started asking this question in July 2017, with the current results at the low end of that range. Opposition to impeachment has been between 53% and 59% during the same time.

Overall, 41% of Americans say it is a good idea for the House Judiciary Committee to conduct an inquiry which may or may not lead to impeachment, but more (51%) say even this initial step is a bad idea. Committee Chairman Jerry Nadler confirmed the launch of an inquiry earlier this month. Most Democrats (72%) feel it is a good idea to go down this path, but only 39% of independents and just 8% of Republicans agree. Among those who disapprove of the president's job performance, fully two-thirds (69%) say it is a good idea to take this step, while just over 1-in-5 (22%) disagree.

Among those who feel an impeachment inquiry is a good idea, 18% cite a need to follow the evidence, 17% say Trump has broken the law, 17% point to Trump's moral character, 16% cite the president's policies as problematic, 11% express concerns about racism and immigration issues, 10% say Trump acts like he is above the law and needs to be held accountable, 9% want the transparency of a public inquiry, 7% say Trump is dishonest, and 7% say he is unfit or unqualified for the office.

Among those who say an impeachment inquiry is a bad idea, the top reasons include feeling that Trump has done nothing wrong (27%), it would be a waste of time and money (22%), the inquiry would be a partisan "witch hunt" (13%), Trump has done a good job as president (12%), and Congress should be working on other issues (10%). There are some differences in these rationales, though, based on how poll respondents feel about the president's overall job performance. Among those who approve of Trump, the idea that he has done nothing wrong (34%) is the top reason for being negative toward an impeachment inquiry, followed by it being a waste of resources (22%), it is a partisan witch hunt (18%), Trump has done a good job in office (16%), Congress should be working on other things (11%), and the charges have already been investigated (7%). Among those who disapprove of Trump but feel that an impeachment inquiry is a bad idea right now, 26% say it would be a waste of resources, 16% say it would backfire on the Democrats, 16% say it is too late in Trump's term to start this process, 10% feel that Trump has not done anything impeachable, 10% say there is no point because the Senate won't remove him, 8% say Congress should be focused on other issues, and 7% say an inquiry would be bad for the country. Another 15% of this group offer general negative comments about Trump.

(…)

[O]nly 1-in-5 Americans think it is likely (6% very and 14% somewhat) that the Senate would actually vote to oust Trump if the House did pass articles of impeachment. Another 25% say removal of the president by the Senate is not too likely and fully half (50%) say this outcome is not at all likely. Even those who support impeachment admit that Trump's removal is unlikely – just 33% of this group expect that the Senate would vote to convict on articles of impeachment, while 63% say this is not likely to happen. Among those who oppose impeachment, only 11% say it would probably to lead to Trump's removal from office while 83% say this outcome is not likely.

"Impeachment may not earn widespread support, but that does not mean most voters want to see Trump remain in office. It is just that the ballot box seems to be their preferred way to achieve his ouster," said Murray.

A majority (57%) of registered voters say it is time to have someone new in the Oval Office, while just under 4-in-10 (39%) feel that Trump should be reelected in 2020. This is very similar to the 59% "someone new" and 37% reelect results in June, just before the official launch of the president's reelection campaign.

In approximately 300 "swing" counties, accounting for about one-fifth of the total U.S. electorate, only 35% back the incumbent's reelection compared with 60% who want a new occupant in the White House. Since March, support for Trump's reelection has ranged between 33% and 45% across these swing counties. In 2016, Trump lost the cumulative vote in these counties by just one percentage point.

In the nearly 2,500 "red" counties that Trump won by an average of 36 points in 2016, his current standing is a comparatively narrower 60% for reelection and 36% for someone new. In the remaining 360 "blue" counties that Hillary Clinton won by about 35 points on average, only 25% of voters support Trump for a second term while 72% want someone new. Over the past five months, support for the president's reelection has ranged between 51% and 60% in the "Trump counties" and between 21% and 25% in the "Clinton counties."
These numbers are roughly consistent with other polling we have seen on the issue of impeachment over the past several months. In July, a ABC News/Washington Post poll, for example, found that 59% of Americans do not believe that Congress should go forward with an impeachment inquiry. A smaller percentage, just 37%, support moving forward with impeachment. Not surprisingly, these numbers vary depending on political party, with 61% of Democrats supporting impeachment while the vast majority of Republicans oppose the idea. Among independents, the level of opposition to impeachment is roughly the same as in the public as a whole. Additional polling at the end of July found that that the numbers had not shifted at all despite events such as Robert Mueller's testimony before the House Judiciary and Intelligence Committees. It's also consistent with earlier polling which has indicated that the American public does not want to see Congress pursue impeachment at this time. Additionally, reports on the ground continue to show that Congressional Democrats who talked to constituents back home have found little support for immediate moves to impeach the President even among Democrats. Instead, these voters want to see Congress focused on health care reform and other issues of importance to the average voter.
All of this comes at the same time that support for impeachment continues to grow among Democrats on Capitol Hill. At the start of the month, around the same time that Congress began its month-long summer recess, the number of House Democrats in favor of starting an impeachment inquiry officially passed the halfway point. That number has grown to the point where there are now at least 130 Democrats the list supporting impeachment (see the latest update here) and they are joined by nearly all the Democratic candidates for President. Despite this, Speaker of the House Nancy Pelosi continues to put the brakes on the idea, but one wonders how long that can last given the current situation.
The good sign for Democrats in this poll, of course, is the fact that a majority of Americans want to see Trump out of office and seem prepared to make it happen in 2020. This should serve as a signal to Democrats about where they ought to concentrate their efforts, and that would be laying the ground for defeating the President at the ballot box rather than engaging in a quixotic effort to impeach him that will end with an acquittal in the Senate that could arguably end up strengthening him politically. As I've noted before, this doesn't mean that Democrats should let up the pressure on the Trump Administration:
[T]he better strategy for Democrats right now is to proceed forward with investigations into the matters discussed above and to do so in as public a manner as possible. Let all the information that can come out be made public unless it is classified. Let the American people decide at the next election what they want to do with that information. This seems like an even wiser strategy given the fact that it is unlikely that any investigations in the House will be completed until we're nearly on the eve of the 2020 election. At that point, the question will be whether to proceed with impeachment or take the strategy I have laid out here and let the people decide. Unless the evidence against the President is overwhelming, it seems to me that the decision should lean heavily in favor of putting this matter to the test at the ballot box rather than attempting an impeachment and removal that will not succeed and which could end up energizing Trump and his base when the President is ultimately acquitted in the Senate.
Perhaps these investigations will result in a sea change that will cause voters to rise up and demand Congressional action. but until that happens Democrats would be wise to bide their time and build up the case against Trump to play a central role in the 2020 campaign as it inevitably will. At that point, the voters can decide how they wish to proceed.