Most Of What Americans "Know" About The Federal Budget Is Wrong
The American people have no idea what's really in the Federal Budget, which makes any discussion about what to cut virtually impossible.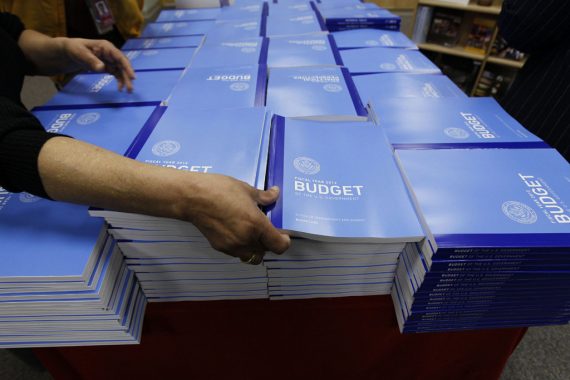 It's going to be impossible to have a rational discussion about federal spending when it's clear that the American people have no idea what the facts are:
If you think cutting the government's budget is as easy as taking the ax to some unpopular federal programs, a new national poll suggests that you should think again.

According to a CNN/Opinion Research Corporation survey released Friday, most Americans think that the government spends a lot more money than it actually does on such unpopular programs as foreign aid and public broadcasting.

The poll's release comes one week before current funding for the government runs out. If there is no budget agreement between congressional lawmakers by next Friday, some government programs and offices may shut down.

"The public has a better idea of how much the government spends on programs like Social Security and Medicare, but there is a related problem – cutting them has little public support," says CNN Polling Director Keating Holland. "The result: cutting unpopular programs would probably not cut the deficit very much, and cutting the deficit would probably require cuts in programs that Americans like."
How bad is it?  Pretty bad:
"According to the poll, on average, Americans estimate that foreign aid takes up 10 percent of the federal budget, and one in five think it represents about 30 percent of the money the government spends. But the actual figure is closer to one percent, according to data from the Office of Management and Budget from the 2010 fiscal year's $3.5 trillion budget."
The public estimates that the government spent five percent of its budget last year on public television and radio. In reality, it's about one-tenth of one percent.
"Americans think the federal government spent 10 percent of its 2010 budget on pensions and retiree benefits; the OMB figures indicate the real number is about 3.5 percent."
Americans estimates of how much the Federal Government spends on food and housing assistance are "three to four times higher than the actual price tag."
Those polled estimated that defense spending accounted for 30 percent of the budget, in reality it's 19 percent.
Even where the public gets it right, the news isn't good:
When we ask Americans to guess how much Social Security cost the government in 2010, the median estimate was 20 percent. Not bad, given that OMB figures indicate that Social Security represented 20.4 percent of the federal budget in 2010.

"Budget experts agree that cutting a target that big would be a good start toward getting the deficit under control. Problem is, 87 percent of people we surveyed don't want to decrease the amount of money spent on Social Security – and four in ten would like to see that figure grow. The same is generally true for Medicare and Medicaid, which combined made up 19 percent of last year's budget," adds Holland.
It's poll results like this, as well as the fierce resistance we've seen to even the modest budget cutting proposed by Governors like Chris Christie and Scott Walker and by the House GOP, that make me pessimistic about the possibility that we'll be able to reach any kind of consensus about reigning in Federal spending and the size and scope of government until we get to the point where we've got no choice. Not only don't the American people want to cut the things that we actually need to cut, they don't even know how miniscule the areas they would like to see cut actually are. I'm not sure if this is willful ignorance or that people have just become so deceived by demagogues  that they aren't thinking straight. Whatever the reason is, though, it's a very dangerous kind of ignorance we're playing with here.