Movie Legend Christopher Lee Dead At 93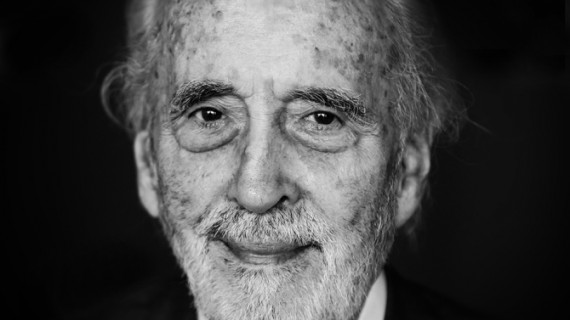 Christopher Lee, who played a vampire, a Bond Villain, a Sith Lord, and a Tolkien wizard during his career among so many other roles, has passed away at the age of 93:
Christopher Lee, a towering British movie actor who lent his distinguished good looks, Shakespearean voice and aristocratic presence to a gallery of villains, from a seductive Count Dracula to a dreaded wizard in "The Lord of the Rings," has died. He was 93.

His death was confirmed by an official for the Royal Borough of Kensington and Chelsea in London, The Associated Press reported.

Mr. Lee was 35 when his breakthrough film was released: Terence Fisher's British horror movie "The Curse of Frankenstein" (1957), in which he played the creature. But it was a year later, when he played the title role in Fisher's "Dracula," that his cinematic identity became forever associated with Bram Stoker's noble, ravenous vampire, who in Mr. Lee's characterization exuded a certain lascivious sex appeal.

When the film was reissued in 2007, Jeremy Dyson of the British newspaper The Guardian wrote, "Lee's count is piercingly rapt, a fierce carnal evil burning behind his flashing eyes."

Even in his 70s and 80s, Mr. Lee's countenance could strike fear in the hearts of moviegoers. He played the treacherous light-saber-wielding villain Count Dooku in the "Star Wars" installments "Episode II — Attack of the Clones" (2002) and "Episode 3 — Revenge of the Sith" (2005). And he was the dangerously charismatic wizard Saruman, set on destroying "the world of men," in the "Lord of the Rings" and "Hobbit" movies.

Mr. Lee was sometimes but not always philosophical about having been typecast. Of his roughly 250 movie and television roles, only 15 or so, he contended in a 2002 interview with The New York Times, had been in horror films. And that included at least 10 outings as Dracula (sequels included "Dracula: Prince of Darkness" in 1966 and "The Satanic Rites of Dracula" in 1973), plus one as Frankenstein's monster and one as the Mummy.

Many of his other characters were terrifying men. He was the swashbuckling assassin Rochefort in "The Three Musketeers" (1974); the eerily manipulative title character in "Rasputin: The Mad Monk" (1966); the Bond villain Francisco Scaramanga in "The Man With the Golden Gun" (1974); a Nazi officer in Steven Spielberg's "1941" (1979); and a mad scientist in "Gremlins II" (1990). During the 1960s, he played the title role of the Chinese criminal mastermind in five Fu Manchu movies.

But Mr. Lee also played men of quieter power. He was the dying founder of Pakistan in "Jinnah" (1998); Sherlock Holmes's brother in Billy Wilder's "The Private Life of Sherlock Holmes" (1970); and Prince Philip in a television film, "Charles and Diana: A Royal Love Story" (1982). He even made a western, "Hannie Caulder" (1971), playing a peaceful family man.

One of his favorite roles was that of the hedonistic pagan leader who advocated free love, public nudity and human sacrifice in "The Wicker Man" (1973).

Christopher Frank Carandini Lee was born in London on May 27, 1922. He grew up in the fashionable Belgravia neighborhood, the son of Lt. Col. Geoffrey Trollope Lee and Contessa Estelle Marie Carandini, a member of an old Italian family.

His parents divorced when he was 6, and his mother married Harcourt George St.-Croix Rose, a banker who, until his financial failure in 1939, easily maintained their privileged existence. Mr. Lee recalled that lifestyle in his 2003 memoir "Lord of Misrule," an adaptation of his earlier autobiography. "Tall, Dark and Gruesome" (1977). "It was true that we'd once failed to travel first class on the Blue Train," he wrote, "but that must have been a booking error."

Mr. Lee attended Eton and Wellington College, then joined the Royal Air Force, serving in intelligence and the Special Forces during World War II.

He had reached his full height, 6 feet 5 inches, as a boy. "I went through my school days in a constant state of embarrassment," he recalled in "Tall, Dark and Gruesome." His height proved to be a problem in his acting career as well.

After the war, a cousin suggested that he try acting and introduced him to people at the Rank movie studio in London. Lest he tower over his fellow actors, Mr. Lee remained seated throughout his first film appearance, as a nightclub customer in "Corridor of Mirrors" (1948). That same year he was allowed to stand, as a spear carrier, in Laurence Olivier's "Hamlet."

Exactly 30 years later, he had become so well known in the United States that he was asked to host "Saturday Night Live." He declined to play Dracula in a sketch, but he did appear as Mr. Death, a cultured gentleman in a black hooded robe carrying a scythe, who has come to apologize to a little girl (Laraine Newman) for taking her dog, Tippy. Mr. Death refuses to take the blame for Jesus' crucifixion, however ("No, the Romans did that"), and mentions in passing that "Ingmar Bergman makes movies I'll never understand."
Left out of the Times obituary, but mentioned by Variety is the fact that, prior to joining the RAF at the start of World War 2, Lee had volunteered and served with Finnish forces who were already fighting a war against the Soviet Union. Which is pretty darn cool.