MSNBC: Lean Forward ?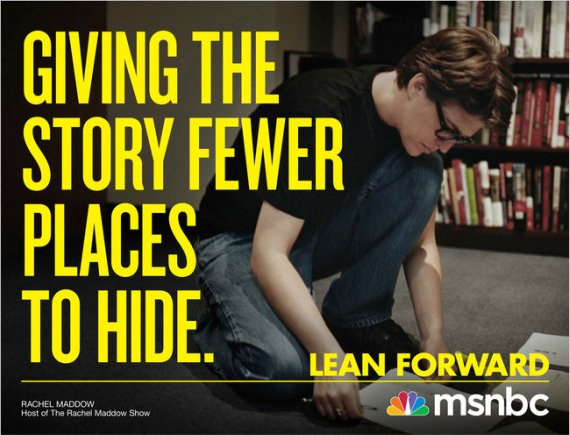 Struggling to stay in second place in a ratings war that has already been won by Fox News Channel, MSNBC is unveiling a new, odd, advertising campaign today:
MSNBC, once the also-ran but now the No. 2 cable news channel, has a new tagline that embraces its progressive political identity.

The tagline, "Lean Forward," will be publicly announced Tuesday, opening a planned two-year advertising campaign intended to raise awareness of the channel among viewers, advertisers and distributors.

The tagline "defines us and defines our competition," said Phil Griffin, the president of MSNBC, his implication being that the Fox News Channel, which is No. 1 in cable news and a home for conservatives, is leaning backward. Fox's best-known tagline is "Fair and Balanced."

Some of the new MSNBC ads include shots of President Obama on his election night; others, directed by the filmmaker Spike Lee, showcase hosts like Keith Olbermann and Rachel Maddow preparing for their nightly programs; and still others feature quotes like "the future belongs to the fearless."

The multimillion-dollar campaign is a long time coming for the 14-year-old MSNBC, and particularly for Mr. Griffin, who has complained for years about not having more money to market the channel. With "Lean Forward," MSNBC is following other cable channels that have found success by building easy-to-identify brands — like Bravo, TBS, HBO or, Mr. Griffin freely acknowledges, Fox News.

(…)

MSNBC has been encroaching on CNN for years, and last year it beat that channel among 25- to 54-year-old viewers in prime time. This year, for the first time, it is on track to beat CNN in both prime time and the entire day.

Even so, awareness of MSNBC remains far below that of CNN or Fox, according to the company's recent research, which found that only 51 percent of respondents said they were very or somewhat familiar with the channel. Ninety-five percent said they were familiar with CNN, and 90 percent with Fox. Sixty-four percent said they were familiar with HLN, the sister channel to CNN.

Ms. Otterman's lesson from that research: "All we have to do is tell our story to more people."

She added in an interview, "It's not that the look is changing. It's not that the programming is changing. It's that we're going out and telling people about it now."
Guys, I don't think your problem is the fact that people don't know what's on, it's that they don't want to watch it.