Mubarak Resigns, Military Now Runs Egypt
Hosni Mubarak has stepped down -- for reals this time.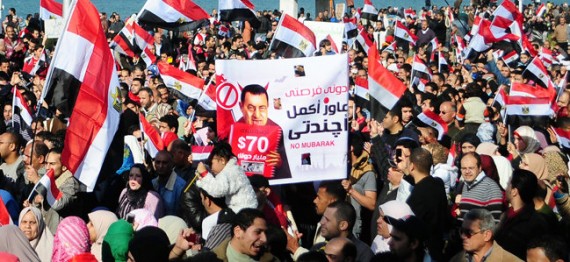 Hosni Mubarak has stepped down — for reals this time.
AP:
Egypt's Hosni Mubarak resigned as president and handed control to the military on Friday, bowing down after a historic 18-day wave of pro-democracy demonstrations by hundreds of thousands.

A massive crowd in Cairo's central Tahrir Square exploded into joy, waving Egyptian flags, and car horns and celebratory shots in the air were heard around the city of 18 million in joy after Vice President Omar Suleiman made the announcement on national TV just after nightfall.

"In these grave circumstances that the country is passing through, President Hosni Mubarak has decided to leave his position as president of the republic," a grim-looking Suleiman said. "He has mandated the Armed Forces Supreme Council to run the state. God is our protector and succor."

Nobel Peace laureate Mohammed ElBaradei, whose young suporters were among the organizers of the protest movement, told The Associated Press, "This is the greatest day of my life." "The country has been liberated after decades of repression," he said adding that he expects a "beautiful" transition of power.
Hosni Mubarak, the Egyptian president, has resigned from his post, handing over power to the armed forces.

Omar Suleiman, the vice-president, announced in a televised address that the president was "waiving" his office, and had handed over authority to the Supreme Council of the armed forces.

Earlier, massive crowds have gathered across Egypt, including hundreds of thousands of protesters in and around Cairo's Tahrir [Liberation] Square, calling for Mubarak to stand down.

Pro-democracy activists in the Egyptian capital also marched on the presidential palace and state television buildings on Friday, the 18th consecutive day of protests.

At the state television building, thousands have blocked people from entering or leaving, accusing the broadcaster of supporting the current government and of not truthfully reporting on the protests.

"The military has stood aside and people are flooding through [a gap where barbed wire has been moved aside]," Al Jazeera's correspondent at the state television building reported.

He said it was not clear if they planned to storm the building, but said that "a lot of anger [was] generated" after Mubarak's speech last night, where he repeated his vow to complete his term as president.

"The activity isn't calm, but there are a lot of people here who are tired of not having their demands met," he said.

Egyptian state television announced on Friday evening that an "urgent" televised message from the presidential palace was due "shortly".
CAIRO — President Hosni Mubarak of Egypt turned over all power to the military, and left the Egyptian capital for his resort home in Sharm el-Sheik, Vice President Omar Suleiman announced on state television on Friday.

The announcement, delivered during evening prayers in Cairo, set off a frenzy of celebration, with protesters shouting "Egypt is free!"

The Egyptian military issued a communiqué pledging to carry out a variety of constitutional reforms in a statement notable for its commanding tone. The military's statement alluded to the delegation of power to Mr. Suleiman and it suggested that the military would supervise implementation of the reforms.
I gather from Twitter that the crowds are cheering. But I wonder whether this will ultimately satisfy them. Yes, they were clamoring to oust Mubarak. But Suleiman was not the natural successor when the protests started; he was appointed VP in response to them. Is an unconstitutional military dictatorship really preferable to a constitutional quasi-elected dictatorship? I suppose that remains to be seen.
Will there be elections come September? Will they be "free and fair"? Will all parties be allowed to run? Under what structures?
UPDATE (Doug Mataconis): This would appear to be the resolution that was anticipated at this time yesterday, but which Mubarak was refusing to agree to.
UPDATE (James Joyner): Obviously, this is a breaking story.  Unlike blogs, which use a chronological format, AP and other news organizations constantly rewrite and replace their stories.  Here's an interesting tidbit from an updated version of the AP story linked earlier:
Abdel-Rahman Samir, one of the youth organizers of the protests, said the protest movement would now open negotiations with the military over democratic reform but vowed protests would continue to ensure change is carried out.

"We still don't have any guarantees yet — if we end the whole situation now the it's like we haven't done anything," he said. "So we need to keep sitting in Tahrir until we get all our demands."  But, he added, "I feel fantastic. …. I feel like we have worked so hard, we planted a seed for a yera and a half and now we are now finally sowing the fruits."
We'll see if this holds true. People seem to be thrilled by the news. And people need to get back to their lives — including making a living and feeding their families — at some point, probably soon. So the protests will almost certainly peter out.
It'll be very interesting to see what announcements come out from the interim government.