Mueller Investigators Say Report More Damaging than Barr Summary Indicates
It now appears that the Attorney General is keeping publicly-releasable information hidden away longer than necessary.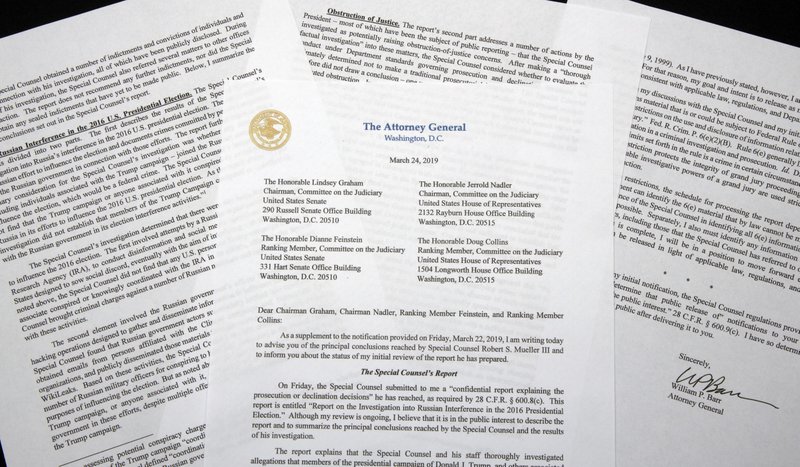 For almost two years, Robert Mueller and his team were scrupulous in refusing to leak to information to the press. Nearly two weeks since the report was submitted to the Attorney General, they're showing their frustration with his summary.
NYT ("Some on Mueller's Team Say Report Was More Damaging Than Barr Revealed"):
Some of Robert S. Mueller III's investigators have told associates that Attorney General William P. Barr failed to adequately portray the findings of their inquiry and that they were more troubling for President Trump than Mr. Barr indicated, according to government officials and others familiar with their simmering frustrations.

At stake in the dispute — the first evidence of tension between Mr. Barr and the special counsel's office — is who shapes the public's initial understanding of one of the most consequential government investigations in American history. Some members of Mr. Mueller's team are concerned that, because Mr. Barr created the first narrative of the special counsel's findings, Americans' views will have hardened before the investigation's conclusions become public.

Mr. Barr has said he will move quickly to release the nearly 400-page report but needs time to scrub out confidential information. The special counsel's investigators had already written multiple summaries of the report, and some team members believe that Mr. Barr should have included more of their material in the four-page letter he wrote on March 24 laying out their main conclusions, according to government officials familiar with the investigation. Mr. Barr only briefly cited the special counsel's work in his letter.

However, the special counsel's office never asked Mr. Barr to release the summaries soon after he received the report, a person familiar with the investigation said. And the Justice Department quickly determined that the summaries contain sensitive information, like classified material, secret grand-jury testimony and information related to current federal investigations that must remain confidential, according to two government officials.

Mr. Barr was also wary of departing from Justice Department practice not to disclose derogatory details in closing an investigation, according to two government officials familiar with Mr. Barr's thinking. They pointed to the decision by James B. Comey, the former F.B.I. director, to harshly criticize Hillary Clinton in 2016 while announcing that he was recommending no charges in the inquiry into her email practices.

The officials and others interviewed declined to flesh out why some of the special counsel's investigators viewed their findings as potentially more damaging for the president than Mr. Barr explained, although the report is believed to examine Mr. Trump's efforts to thwart the investigation. It was unclear how much discussion Mr. Mueller and his investigators had with senior Justice Department officials about how their findings would be made public. It was also unclear how widespread the vexation is among the special counsel team, which included 19 lawyers, about 40 F.B.I. agents and other personnel.

At the same time, Mr. Barr and his advisers have expressed their own frustrations about Mr. Mueller and his team. Mr. Barr and other Justice Department officials believe the special counsel's investigators fell short of their task by declining to decide whether Mr. Trump illegally obstructed the inquiry, according to the two government officials. After Mr. Mueller made no judgment on the obstruction matter, Mr. Barr stepped in to declare that he himself had cleared Mr. Trump of wrongdoing.
WaPo ("Limited information Barr has shared about Russia investigation frustrated some on Mueller's team") adds:
Members of special counsel Robert S. Mueller III's team have told associates they are frustrated with the limited information Attorney General William P. Barr has provided about their nearly two-year investigation into Russian interference in the 2016 election and whether President Trump sought to obstruct justice, according to people familiar with the matter.

The displeasure among some who worked on the closely held inquiry has quietly begun to surface in the days since Barr released a four-page letter to Congress on March 24 describing what he said were the principal conclusions of Mueller's still-confidential, 400-page report.

[…]

But members of Mueller's team have complained to close associates that the evidence they gathered on obstruction was alarming and significant.

"It was much more acute than Barr suggested," said one person, who, like others, spoke on the condition of anonymity because of the subject's sensitivity.

[…]

Some members of the office were particularly disappointed that Barr did not release summary information the special counsel team had prepared, according to two people familiar with their reactions.

"There was immediate displeasure from the team when they saw how the attorney general had characterized their work instead," according one U.S. official briefed on the matter.

Summaries were prepared for different sections of the report, with a view that they could made public, the official said.

The report was prepared "so that the front matter from each section could have been released immediately — or very quickly," the official said. "It was done in a way that minimum redactions, if any, would have been necessary, and the work would have spoken for itself."

[…]

Mueller's team assumed the information was going to be made available to the public, the official said, "and so they prepared their summaries to be shared in their own words — and not in the attorney general's summary of their work, as turned out to be the case."
Given that something approximating the full report will be not only shared with Congress but made public quite soon, I have operated under the assumption that Barr's summary was accurate as to the legal findings but shaded in terms of the political implications. I still think this is correct.
Still, we have information that we didn't when Barr's summary was released:
The report is over 400 pages. That's substantially longer than I had guessed. And it makes it reasonable that we still don't have the fullish report, which I had expected to happen within a week or so.
There is indeed substantial amounts of foreign intelligence and grand jury information in the report, which simply must be scrubbed from the public report. Again, that justifies the delay.
But: We now know that Mueller's team had what amounted to executive summaries for each of the relevant sections that were intended for immediate public release. Presuming their competence—and I do—those sections were free from classified and sensitive information. While I would have expected Barr and his team to exercise due diligence with those sections, there's no obvious good reason why those have not been released by now.
I'm less frustrated than Mueller's team that the Barr summary of the legal findings was to President Trump's early political advantage. Mueller's mission was to investigate whether the President and his people committed crimes. We knew before that report was finalized that many people close to Trump had been charged and pled guilty. But Mueller decided that there wasn't sufficient evidence to move forward with criminal charges against Trump himself or his immediate family and Barr quite rightly highlighted that.
At the same time, I have taken it as a given since I first read the Barr summary that the full version of events would nonetheless be politically damaging to the President. My strong hunch is that he has done all manner of things that fall into the "definitely shady" and "damned, that sure looks like it oughta be illegal" categories. While he gets the early win of being able to proclaim "No Collusion!" and "Exonerated!" we'll know the fuller truth in the next couple of weeks.
It's a foregone conclusion at this point that Trump won't be impeached. Speaker of the House Nancy Pelosi made that abundantly clear even before Mueller's work was done. So, we're left to the court of public opinion and the November 2020 election. We'll have nearly a year and a half for the fullish version of events to be hashed out.