My Basic Take on Romney's Speech
I give it a C+/B- (adequate, passing, nothing exceptional).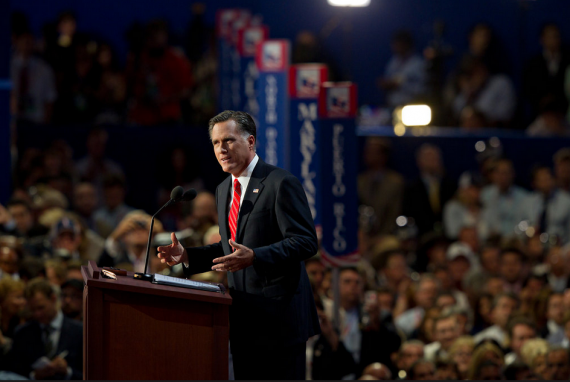 In considering Mitt Romney's speech last night, I would say that he was adequate.  I would also note two things.  One, he knows he has problems and two, I am not sure were the substance was in terms of governing.
First, the problems.
He knows he need to paint himself as normal (whatever that may mean):
We were Mormons and growing up in Michigan; that might have seemed unusual or out of place but I really don't remember it that way. My friends cared more about what sports teams we followed than what church we went to.

[…]

I grew up in Detroit in love with cars and wanted to be a car guy, like my dad. But by the time I was out of school, I realized that I had to go out on my own, that if I stayed around Michigan in the same business, I'd never really know if I was getting a break because of my dad. I wanted to go someplace new and prove myself.

Those weren't the easiest of days – too many long hours and weekends working, five young sons who seemed to have this need to re-enact a different world war every night. But if you ask Ann and I what we'd give, to break up just one more fight between the boys, or wake up in the morning and discover a pile of kids asleep in our room. Well, every mom and dad knows the answer to that.
He knows he has problems with women:
When my mom ran for the Senate, my dad was there for her every step of the way. I can still hear her saying in her beautiful voice, "Why should women have any less say than men, about the great decisions facing our nation?"

I wish she could have been here at the convention and heard leaders like Governor Mary Fallin, Governor Nikki Haley, Governor Susana Martinez, Senator Kelly Ayotte and Secretary of State Condoleezza Rice.

As Governor of Massachusetts, I chose a woman Lt. Governor, a woman chief of staff, half of my cabinet and senior officials were women, and in business, I mentored and supported great women leaders who went on to run great companies.
He knows that he has to overcome the fact that a lot of people still like Barack Obama personally:
How many days have you woken up feeling that something really special was happening in America?

Many of you felt that way on Election Day four years ago. Hope and Change had a powerful appeal. But tonight I'd ask a simple question: If you felt that excitement when you voted for Barack Obama, shouldn't you feel that way now that he's President Obama? You know there's something wrong with the kind of job he's done as president when the best feeling you had was the day you voted for him.

The President hasn't disappointed you because he wanted to.
Of course, having acknowledged these problems, I am not sure he did anything to fix them.
Second, he failed to do much in terms of policy save hand-waving:
And unlike the President, I have a plan to create 12 million new jobs. It has 5 steps.
First, by 2020, North America will be energy independent by taking full advantage of our oil and coal and gas and nuclear and renewables.

Second, we will give our fellow citizens the skills they need for the jobs of today and the careers of tomorrow. When it comes to the school your child will attend, every parent should have a choice, and every child should have a chance.

Third, we will make trade work for America by forging new trade agreements. And when nations cheat in trade, there will be unmistakable consequences.

Fourth, to assure every entrepreneur and every job creator that their investments in America will not vanish as have those in Greece, we will cut the deficit and put America on track to a balanced budget.

And fifth, we will champion SMALL businesses, America's engine of job growth. That means reducing taxes on business, not raising them. It means simplifying and modernizing the regulations that hurt small business the most. And it means that we must rein in the skyrocketing cost of healthcare by repealing and replacing Obamacare.
These are not bullet points of a plan, these are items on a wish list (and some of them are decades old).
Energy independence in eight years?  How?  Is such a thing even possible?
School choice?  First, not a federal issue.  Second, choice alone does not equal quality, let alone universal quality.
Trade?  Ok, trade is nice, but this is extremely vague.
Balance budget?  All well and good: but how? (Especially if the goals are to increase defense spending and cut taxes?).
Yay, small business?   Even if we stipulate for the sake of discussion that health care reform will cost small businesses, will the repeal of that legislation create more demand in the economy?
There is absolutely no substance here at all.  Not one actual policy idea save for wishing.
Now, back to the basic assessment:  he said nothing that will cause him trouble and he said plenty to placate the base.  He leaves the convention with a modest poll bounce, but he now has to weather the DNC.  Quite frankly, not much has changed and there is no new, honed attack to take on the campaign trail.  Ask yourself:  what happened this week that would cause someone on the fence to change their minds?  What is even the theme of this campaign save for "I, Mitt Romney, am not Barack Obama.  I was a businessman.  Jobs are good?"
Hence:  C+/B-.