Nancy Pelosi Facing Opposition In Bid To Return As Speaker Of The House
With their House majority secure, Democrats must now select their leadership team for the next two years. It's not going smoothly.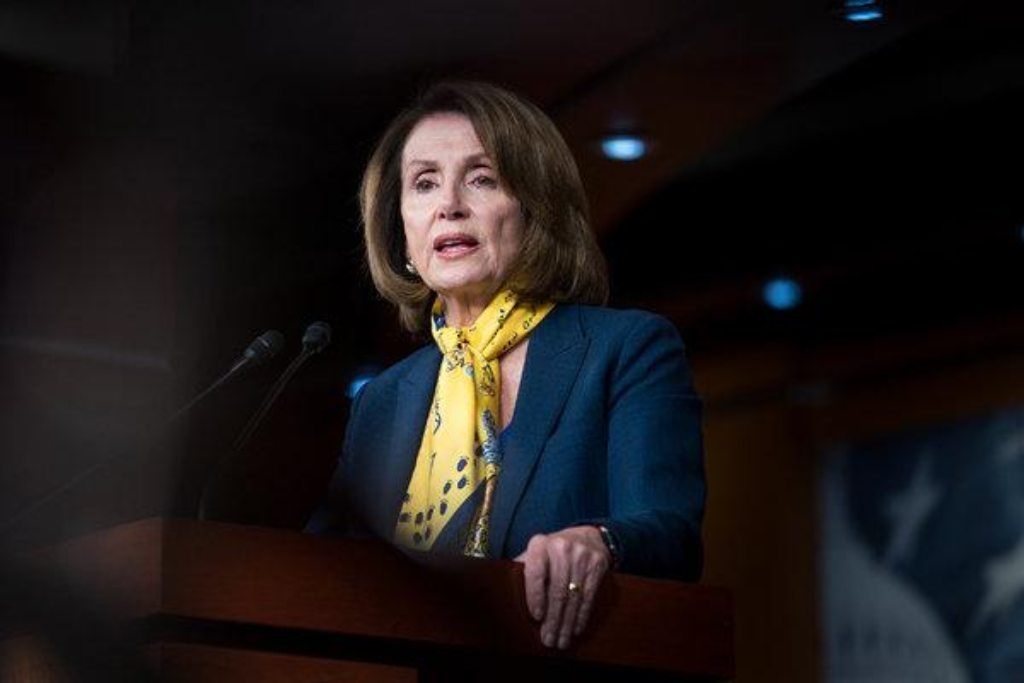 With the Democratic Party now getting ready to take back control of the House in January, current Minority Leader Nancy Pelosi is moving to solidify her position ahead of leadership elections:
House Democratic leader Nancy Pelosi is moving aggressively to snuff out a challenge from some lawmakers who are demanding new party leadership, while powerful allies outside Congress are helping rally support for her bid for speaker.

Pelosi has yet to clinch the necessary votes and is leaving nothing to chance, according to members and aides familiar with her approach. She is encouraging outside groups to speak up on her behalf while personally talking to the Democrats who will choose the next speaker on Jan. 3.

The organizations represent key parts of the Democratic coalition — bedrock sources of fundraising dollars, campaign muscle and votes — and have significant sway with incumbents and the newly elected.

Emily's List, which supported virtually every female Democratic House candidate, has made calls to incoming lawmakers to tout Pelosi's credentials, according to a person familiar with the effort. The leaders of two major unions — the American Federation of State, County and Municipal Employees (AFSCME) and the American Federation of Teachers — sent letters Monday declaring their support.

"When you look at the situation right now, today," said Randi Weingarten, president of the teachers union, "there is no candidate that is better than Nancy Pelosi. Unequivocally, we support her."

Those declarations are meant to defuse the brewing challenge to the 78-year-old Californialawmaker's return as speaker — one coming from a small but insistent group of sitting and incoming lawmakers who say that the party needs new leadership.

Pelosi, the current House minority leader, is expected to easily win an internal party nomination vote scheduled for the end of the month, but she would then need to win a majority of the House in a January floor vote to become speaker.

At least eight sitting members have signaled they will not vote for her in that scenario, and at least four incoming freshmen have said the same — such as Rep.-elect Max Rose (D-N.Y.), who said Monday he is looking for another candidate to step forward.

"I am not voting for her — no if, ands or buts, under any circumstances," Rose told Fox News.

A dozen other incoming freshmen have called generally for new leadership without saying specifically that they will oppose Pelosi in a floor vote.

The pressure will be intense for weeks. Three incoming Democrats from deep-blue districts who called for new leadership during their campaigns — Massachusetts's Ayanna Pressley, Michigan's Rashida Tlaib and New York's Alexandria Ocasio-Cortez — all declined to respond to a question about Pelosi after a training session Monday organized by the Congressional Progressive Caucus.

"Do you know who's running?" Tlaib asked wryly before heading into another meeting.

The size of the Democratic majority is in flux, with votes still being counted in uncalled races, but it could range from 13 to 16 seats — giving Pelosi a thin margin of error.
With the first vote on leadership just weeks away, some Democrats see their party in the same position Republicans were in just a few years ago:
Insurgent lawmakers, unyielding despite pressure from their own party, spurn leaders in an open show of defiance on the national stage.

Democrats have seen this scenario too many times on the Republican side, and as they eagerly look ahead to controlling the House, they see echoes of the GOP's internal strife in a brewing effort in their own ranks to block Rep. Nancy Pelosi (Calif.) from becoming speaker.

The Democratic dissidents are so far nowhere near as well organized as the House Freedom Caucus, the roughly three dozen conservative hard-liners who frustrated the GOP leadership and blocked legislation, but they are threatening to use similar tactics.

Pelosi's opponents are threatening to withhold their votes on the House floor even after an anticipated party vote nominating her as the next speaker. That is a page straight out of the Freedom Caucus playbook — used to deny Majority Leader Kevin McCarthy (Calif.) the speakership in 2015.

Top Democrats are warning rank-and-file members not to go down that road, underscoring a growing backlash to the anti-
Pelosi faction.

"I'll ask everybody to take a look at the so-called Freedom Caucus and see where they got the Republican Party," Assistant Democratic Leader James E. Clyburn (D-S.C.) said Tuesday. "I think they're the ones that got them into the shape they're in now."

The warnings come barely a week after Democrats won a sweeping victory in the midterm elections that put them in position to elect a speaker and claim committee gavels in January for the first time since 2007. While votes are still being counted, Democrats are on track to win anywhere from 35 to 40 seats — their biggest single pickup since the post-Watergate election of 1974.

(…)

Rep. Seth Moulton (D-Mass.), a leader of the anti-Pelosi faction, rejected the GOP comparisons. "The Freedom Caucus is trying to break government," he said. "We're just trying to get new leadership."

A critical test may come later this week as Democrats consider an internal rule change to raise the threshold vote for nominating a speaker candidate from a simple majority to 218 votes. The change is expected to fail, in a boost for Pelosi.

In 2015, the Freedom Caucus played a key role in forcing out Republican Speaker John A. Boehner (Ohio) by threatening to call a vote on his removal. Rather than put vulnerable lawmakers in a difficult spot, Boehner quit.

McCarthy, as the No. 2 leader, was the obvious heir apparent, but conservative hard-liners saw him as too much like Boehner — an establishment-minded operator without a strong interest in conservative policy. So they coalesced behind a stalking horse, Rep. Daniel Webster (Fla.), and promised as a bloc to stick with him — thus denying McCarthy the absolute majority he would need on the House floor.

Less than 24 hours later, McCarthy withdrew his speaker bid, and the Freedom Caucus was emboldened to make demand after demand under the compromise choice, Paul D. Ryan (Wis.).

"Different principles, but in terms of the tactics . . . you can really make a difference," said Rep. Warren Davidson (Ohio), a Freedom Caucus member who saw a resemblance between his group and the anti-Pelosi faction.

The Democrats who are plotting against Pelosi base their objections almost entirely on politics, not ideology or policy.

Where the conservatives wanted their leaders to adopt tough positions on issues such as immigration and government spending, the Democrats mainly want Pelosi to move on, fearing she is a drag on candidates in competitive districts. Meanwhile, longtime incumbents are eager to move up the leadership ladder.
Pelosi and her team are also facing a smaller challenge from more moderate Democrats:
Nine centrist House Democrats are throwing another hurdle in the path of top party leader Nancy Pelosi (D-Calif.) as she sprints toward the speaker's gavel.

It's not an unexpected obstacle: The nine are members of the Problem Solvers Caucus, a group formed to promote bipartisanship whose members agreed in September to condition their votes for any speaker candidate on support for a package of rules changes meant to improve how the House operates.

In a letter sent to Pelosi on Tuesday, the nine Democrats reiterated that their speaker votes are on the line and asked for a "written, public commitment" to their proposals by Friday.

"Our constituents and our democracy deserve better," they wrote. "Put simply, they want us to govern again."

The reforms range from making it easier to get amendment votes to ending the ability of a single disgruntled lawmaker to force a vote on ousting a sitting speaker. The centerpieces of the effort are mechanisms that would streamline the process of considering bills with broad bipartisan support on the House floor — at the price of eroding the power of the majority party's leadership to control what gets put up for a vote.

Signing the letter are Reps. Josh Gottheimer (N.J.), Tom O'Halleran (Ariz.), Jim Costa (Calif.), Kurt Schrader (Ore.), Daniel Lipinski (Ill.), Darren Soto (Fla.), Stephanie Murphy (Fla.), Tom Suozzi (N.Y.) and Vicente Gonzalez (Tex.).

"The motivating purpose of all this is to get things done and to actually be able to work together and do things differently than we've been doing," Gottheimer, a co-chairman of the caucus, said in an interview.

The Problem Solvers, whose efficacy has been in question, could represent more of a speed bump than a roadblock for Pelosi, who is facing a more serious uprising from a group of Democratic incumbents and incoming freshmen who are demanding new party leadership.
As of right now, there is no formal opposition to Pelosi or any of the other members of the House Leadership Team such as Steny Hoyer, who currently serves as Minority Whip and would stand to become Majority Leader if Pelosi becomes Speaker of the House again, and James Clyburn, who currently serves as Assistant Minority Leader and would be a top candidate for Majority Whip under Pelosi and Hoyer. Neither Hoyer nor Clyburn have given any indication that they would consider in challenging Pelosi for the Speakership, and there haven't been any indications of any serious challenges to either Hoyer or Clyburn at this time. That being said, if it becomes clear that Pelosi (along with Hoyer and Clyburn) is having difficulty putting together the majority she would need both inside the Democratic Caucus later this month and on the House floor in January then that could lead others to throw their hats into the ring. Even if these alternative candidates don't end up defeating Pelosi and her team, just the fact that there would be a fight could sour the win that Democrats scored last Tuesday. Additionally, the prospect of a challenge inside the caucus, even if it fails in the vote at the end of the month, could pose problems for Pelosi heading into the official vote in January.
Part of the reason that Pelosi appears to be facing problems is that it appears that the Republican effort to use her to rally its own base and to effectively demonize her seems to have had at least some impact on candidates who had to cater to the center to win their districts. Additionally, many of the new members of Congress who represent the Democratic Party's so-called "progressives" appear to object to Pelosi, Hoyer, and Clyburn largely because they believe the party needs new blood at the top of the Caucus. This is why Pelosi is facing most of her opposition not from middle-of-the-road mainstream Democrats but from the "progressive" left, especially from newly elected Members of Congress coming from that wing of the party. For this group, the main problem with the current leadership isn't that they are too far left, it's that they aren't far left enough and that they aren't committing to using the party's control of the House to pursue both a "progressive" legislative agenda that would inevitably die in the Republican-controlled Senate but also to commit to the idea of impeachment, even though it's not clear that grounds exist and it's rather obvious that the Senate would treat such an act the same way they did when Andrew Johnson was impeached in 1867 and Bill Clinton was impeached in 1998.
In the end, I expect that Pelosi, Hoyer, and Clyburn will beat back this challenge and end up being easily elected. However, the fact that there's even a controversy could portend problems in the years to come.