Nashville Waffle House Shooting Reveals Gaps In Gun Laws
Travis Reinking shot four people dead in Nashville over the weekend with a gun that he wasn't supposed to have access to. Thanks to what seem to be loopholes in existing gun laws, he had one anyway.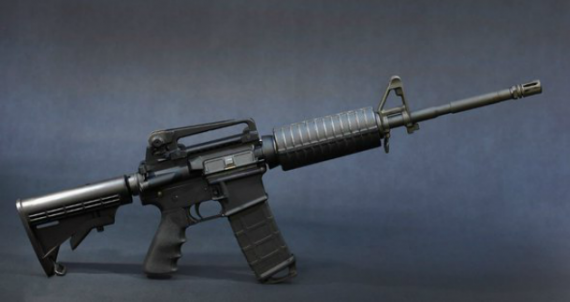 Early Sunday morning, a male wearing only a green jacket walked into a Waffle House in Nashville, Tennessee and gunned down four people before having his gun taken away by an unarmed hero and running away before he could be detained. Thanks to evidence left at the scene, police knew the identity of that man, Travis Reinking, and he was eventually captured near the scene of the shooting on Monday afternoon. As it turns out, though, Reinking, was not unknown to law enforcement. Last year, he was arrested near the White House and had several other run-ins with the police that resulted in his guns, including the AR-15 that was used in the Nashville shooting, being taken away from him. Even though he wasn't supposed to, he got those guns back, including that AR-15 that he used to kill four people Sunday morning:
NASHVILLE — He was once reported to the police in Illinois for stashing an AR-15 in the trunk of his car and then diving into a public pool wearing a women's pink housecoat. There was the time he complained to an officer that the singer Taylor Swift had demanded a rendezvous. And then last July he was grabbed by the Secret Service when he tried to force his way on to the White House grounds.

Travis Reinking, 29, was on the radar of law enforcement well before he was taken into custody on Monday and accused of barging into a Nashville Waffle House over the weekend and opening fire, killing four and injuring four more.

Yet even after the Illinois police revoked his firearms license and ordered that his guns be transferred to his father, Mr. Reinking got them back, including the AR-15 used in the Tennessee shooting, the police said. His case raises questions over how such a troubled individual could have legally carried weapons for so long and could have continued to carry them even after he was ordered to give them up.

"We have a man who has exhibited significant instability," acknowledged Don Aaron, a spokesman for the Metropolitan Nashville Police Department.

The police say that Mr. Reinking's father, Jeffrey, the owner of a crane business near the town of Morton, Ill., returned the guns to his son, enabling Travis Reinking to carry out the killings over the weekend.

Jeffrey Reinking's act of returning the guns to his son is "potentially a violation of federal law," Marcus Watson, a special agent with the Bureau of Alcohol, Tobacco, Firearms and Explosives, said at a news conference.

Jeffrey Reinking could not be reached for comment on Monday. After Travis Reinking's arrest in Washington last year, the F.B.I. passed on information about him to local authorities in Illinois, where he was ordered to complete 32 hours of community service at a Baptist church near Morton. The F.B.I. closed its investigation of Mr. Reinking in October.

About 160 law enforcement officials were involved in the search for Mr. Reinking, who officials said began his rampage at the restaurant southeast of downtown Nashville just before 3:30 a.m. on Sunday. The episode unnerved one of the largest cities in the South, focusing attention yet again on the ease with which so many people, including those with mental health issues, can access guns.
In addition to the White House incident, Reinking demonstrated other bizarre behavior that ought to have flagged him as someone who should not have had access to any weapons at all:
Mr. Reinking lived in Illinois for most of his life and only recently moved to the Nashville area to work in construction.

In reports, the sheriff's department in Tazewell County, Ill., had described Mr. Reinking as a man who was hostile to the police, had threatened suicide and believed his family was harassing him.

His father, mother and grandmother were all worried enough about his behavior that they called for help. They told the police that Mr. Reinking had been having delusions since August 2014.

In May 2016, police officers responded to a CVS parking lot in Morton after Mr. Reinking's family reported that he had talked of committing suicide, and owned firearms. Mr. Reinking told officers that Ms. Swift had stalked him and hacked into his Netflix account.

A few weeks earlier, he told officers, he had chased Ms. Swift in an attempt to get her to stop harassing him. "Travis stated he was telling the truth and he had proof on his phone since it was hacked," the report said. "However, Travis would not show us his phone."

Mr. Reinking was transported to a hospital to be evaluated. In June 2017, the police were called to a public pool in Tremont, Ill., where he had dived into a pool wearing a housecoat, then had shed the coat, wearing only underwear.

According to the report, Mr. Reinking began yelling at lifeguards and then "showed his genitals, saying he was a man."

Still, he was not arrested.

"This is an informational report showing the state of mind of Travis Reinking," the report noted. When the police contacted Mr. Reinking's father, he said that he had taken three rifles and a handgun away from his son "when Travis was having problems," then gave them back to him.

The officers advised Jeffrey Reinking that "he might want to lock the guns back up until Travis gets mental help, which he stated he would."

In August 2017, Travis Reinking, driving a blue Mitsubishi, pulled up alongside a police car and said he wanted to file a report. About 20 to 30 people were hacking into his phone and computer, he told the police. He could hear people outside his home barking like dogs, but didn't know who they were. At a Walmart recently, he felt that a man in a black shirt was watching him, and no one else.

"Travis said he is tired of people messing with him," the report said. The officer advised Mr. Reinking to call the police if he heard people barking like dogs again. "No further action is being taken," the report said.

Later that month, after the White House incident, the police approached Mr. Reinking and his father to deliver a copy of the paper revoking his license. He handed over the card and helped the police retrieve all of his weapons and ammunition, which were handed over to Jeffrey Reinking.

"Jeffrey was advised that he needed to keep the weapons secure and away from Travis," the police report said. "Jeffrey stated he would comply."
All of this happened in Illinois, which has some of the strictest gun laws in the country and what seems like a fairly straightforward process by which someone can lose the right to possess firearms and have their guns confiscated:
According to Illinois gun law, a person must be granted a Firearm Owners Identification card, or FOID, to possess a firearm. About 2.1 million people in Illinois have the cards.

But under the law, the process to keep firearms out of the hands of a person whose card has been revoked is weak, allowing many people to keep access to the weapons with little threat of enforcement or penalty.

The Illinois State Police revoked more than 11,000 cards in 2016, said a spokesman, Lt. Matthew Boerwinkle. People whose cards have been revoked are required to surrender the card and any weapons to a local law enforcement agency. But there is a provision that allows people whose license has been revoked to transfer their weapons to another person with a valid card, as Mr. Reinking's father had.

Those local police departments are then required to document that the person has turned over the card and weapons.

But local law enforcement agencies frequently fail to take action. In 2016, only about 4,000 of the 11,000 people whose cards were revoked submitted the mandatory reports explaining what they did with their guns, The Chicago Tribune reported in 2017.

"They're required to do it, but there's essentially no teeth in the law that holds the law enforcement agencies accountable to do it," Lieutenant Boerwinkle said on Monday.
In this case, of course, the Illinois law appeared to work the way it was supposed to, at least initially. In the wake of the White House incident and the other incidents that took place last summer, Reinking had his guns taken away from him. For reasons that still aren't at all clear though, those guns were given to Reinking's father who "promised" that he wouldn't give them to his son. How he managed to get that to happen is unclear, and I haven't had the opportunity to review the relevant Illinois laws to determine whether it was even appropriate for the authorities to give the seized weapons back to a family member given the circumstances behind the reasons that Travis Reinking had his guns taken away.
Whatever the legal basis, though, Jeffrey Reinking's promise not to give the guns back to his son was either not true at the time he made it or he decided to renege on it for reasons only he can explain. As it stands, what Reinking's father did is apparently a violation of Illinois law since his son's permit to own a weapon remained revoked even after the guns were given to his father. Additionally, the elder Reinking may also be criminally liable under Federal law in that he transferred weapons to someone he knew was legally ineligible to have them, and who he also knew to have a history of criminal and mentally unstable behavior that made allowing him to have access to weapons such as this was a very bad idea, to say the least. Assuming all of these facts can be established, then Reinking's father ought to face appropriate charges under both Illinois and Federal law, and should at the very least also be held civilly liable for the role he played in allowing his son to have access to the weapon that led to the deaths of four people over the weekend. If there are sufficient facts to justify it, I would suggest that he should face criminal liability as an accessory to the murder of four people in Nashville over the weekend.
The most important thing about all of this is the fact that the legal grounds already existed to ensure that Travis Reinking could not have legal access to firearms, but that this system broke down and, as a result, four people are dead. This isn't the first time we've seen this happen in a mass shooting case, of course. The gunman in the shooting at a historically African-American church in South Carolina should not have had access to weapons due to the fact that he was facing charges on a felony at the time he purchased the weapon he ultimately used to kill nine people. He was allowed to take custody of the gun he used in the shooting because the background check had not come back within the statutory period, meaning that the seller had the discretion to decide whether or not to let the buyer walk out the door with the weapon. The shooter in the massacre at a church in Sutherland Springs, Texas had multiple domestic violence convictions from his time in the Air Force, but because those convictions were not properly reported to the National Instant Criminal Background Check System (NICS) that is used to conduct federally-mandated background checks. Had the laws operated the way they were supposed to, then there's a strong possibility those shootings might not have happened and the same thing appears to be the case in the Nashville shooting.
Gun rights advocates will no doubt use incidents like this to argue against the proposition that additional laws would not have prevented the shooting. In some sense, I suppose, they're correct, but I'd suggest that each of these incidents also makes apparent that there are loopholes in the applicable laws that ought to be fixed. The Charleston case makes a strong argument for the proposition that no person should be allowed to walk out of a gun shop with a weapon unless there's been a definitive report received back from the NICS check that they have nothing on their record barring them from owning a weapon. The Sutherland Springs case seems to make it clear that the laws requiring the appropriate reporting of criminal convictions, both in civilian and military courts, to the NICS system need to be updated and strengthened. And, finally, the Waffle House case indicates that the laws allowing guns to be taken away from mentally unstable people like Travis Reinking should be strengthened to prevent what happened here from happening again. Giving guns taken away from a mentally unstable adult to one of their family members is nothing but an utter absurdity since there is no way to guarantee that said family member won't do what Jeffrey Reinking did in this case. These all seem to me to be perfectly reasonable ideas that would be well within the confines of the Second Amendment right recognized in District of Columbia v. Heller and McDonald v. Chicago. Whether any such action is actually taken is, of course, an entirely different matter, and since we're in the middle of an election year the odds of anything happening at the Federal level are pretty much zero.