National Drinking Habits
Americans drink less than Europeans and far less than Russians.
The Economist provides this handy dandy map of world alcohol consumption: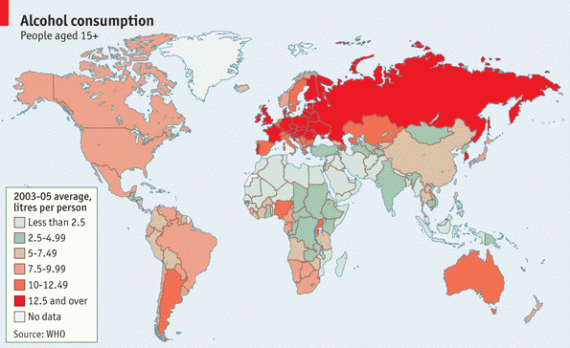 Robert Farley, tongue firmly in cheek, calls the United States' comparative low ranking "a national disgrace."
It is obvious that our national honor must be restored; we cannot allow an alcohol gap to persist. My question to the resident constitutional scholars is this: Would it be legal for Congress to mandate a minimum level of alcohol consumption for every American, in order to remedy our shame?
Matt Yglesias plays spoilsport:
Given prevailing land use patterns and automobile dependency, I say it's a good thing Americans don't drink very much. Indeed, Americans almost certainly drink too much relative to their transportation strategies. I think it's an underrated problem.
If we're playing the health game, that's the least of the issues. Back to The Economist:
The world drank the equivalent of 6.1 litres of pure alcohol per person in 2005, according to a report from the World Health Organisation published on February 11th. The biggest boozers are mostly found in Europe and in the former Soviet states. Moldovans are the most bibulous, getting through 18.2 litres each, nearly 2 litres more than the Czechs in second place. Over 10 litres of a Moldovan's annual intake is reckoned to be 'unrecorded' home-brewed liquor, making it particularly harmful to health. Such moonshine accounts for almost 30% of the world's drinking. The WHO estimates that alcohol results in 2.5m deaths a year, more than AIDS or tuberculosis. In Russia and its former satellite states one in five male deaths is caused by drink.
Sobering news.
As for me, I more than hold my own, easily consuming more than my 6.1 liter allotment. But I don't mix it with driving.