Trump's 'National Emergency' And The Law
President Trump's impending decision to declare a national emergency to get funding for his border wall will quickly face serious legal challenges. It may be more vulnerable than the White House suspects.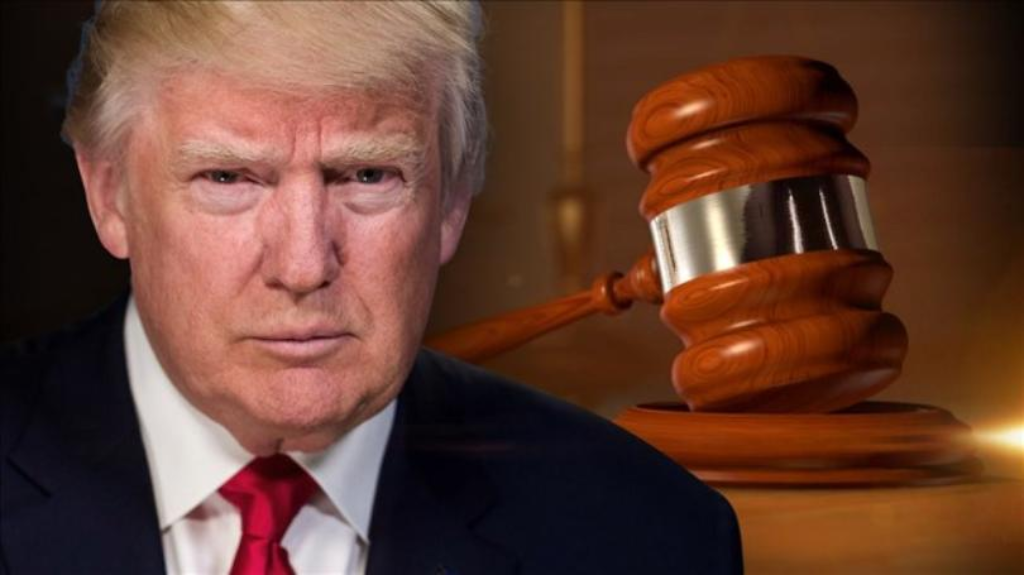 As it did in January when it was first reported as a possibility, the President's decision to declare a national emergency as a scheme to get funding for his border wall is raising serious legal issues that are sure to lead to court challenges almost as soon as the ink is dry on the declaration the President will sign later this morning:
WASHINGTON — The White House's announcement Thursday that President Trump would claim emergency powers to build his border wall without congressional approval was a way out of the political crisis he created over shutting down the government. But while the move means the country will avoid another protracted shutdown, legal specialists warned that the long-term costs to American democracy could be steep.

As a matter of political reality, such a declaration permits Mr. Trump to keep the government open without losing face with his core supporters by surrendering to congressional Democrats on his signature issue. As a matter of legal reality, the proposal is likely to be bogged down in a court challenge, leaving any actual construction work based on emergency powers spending an uncertain and, at best, distant prospect.

But no matter what else happens, Mr. Trump's willingness to invoke emergency powers to circumvent Congress is likely to go down as an extraordinary violation of constitutional norms — setting a precedent that future presidents of both parties may emulate to unilaterally achieve their own policy goals.

"This is a real institutional threat to the separation of powers to use emergency powers to enable the president to bypass Congress to build a wall on his own initiative that our elected representatives have chosen not to fund," said William C. Banks, a Syracuse University law professor who is the co-author of a 1994 book about tensions between the executive and legislative branches over security and spending, "National Security Law and the Power of the Purse."

"It sets a precedent that a president can, without regard to an actual existence of an emergency, use this tool to evade the normal democratic process and fund projects on his own," he added.

Emergency powers statutes are laws enacted by Congress that permit the president, upon declaring the existence of a national crisis, to take steps that would normally be forbidden by law. The idea is to allow the executive branch to move quickly in exigent circumstances.

While presidents in the modern era have declared dozens of emergencies to address various problems, none has been remotely as disputed as the one Mr. Trump is contemplating. Mr. Banks said he had found no examples of a lawsuit in which someone tried to challenge the factual basis for a president's determination that an emergency existed, leaving scant guideposts for what courts might do with any legal challenge.
More from Politico:
President Donald Trump's decision to declare a national emergency in order to access funds Congress refused to appropriate for his border wall is set to unleash a furious legal war that could bog down the project for months or years.

Immigrant rights advocates, property rights activists, environmentalists, Democratic lawmakers and state officials are all loudly signaling plans for a hail of legal writs aimed at blocking the president from what they have denounced as an unconstitutional end-run around the usual budget process.

While judges have sometimes moved to block spending seen as unauthorized by Congress, historically it has been almost unthinkable for judges to interfere with or second-guess a president's declaration of a military or national security emergency.

However, legal experts said Trump's history of erratic and inflammatory statements, his frequent rhetorical disconnects with senior officials in his administration and his tendency to see crises that others view as completely contrived mean that challengers stand a strong chance of finding a judge willing to throw a monkey wrench into the president's plans.

"Normally, any other time, you'd say it's a no-brainer that the president wins," at least with respect to the decision to declare an emergency, said Bobby Chesney, a University of Texas law professor. "But with this particular president, no bets are safe in assuming the courts will completely defer to him … Presidents traditionally get tremendous deference, but Trump is not going to get the same level of deference."

Chesney noted that when U.S. intelligence chiefs testified in the Senate late last month about global threats to the country, there was only brief discussion of migration and no mention of a crisis related to the so-called caravans at the southern border.

"That really strips away the core rationale …. and creates much more chance than normal that even at that initial step there's a non-negligible chance that [Trump's plan] could be rejected," Chesney said.

Some have compared the fusillade of litigation the administration is about to face to the one that developed against Trump's travel-ban policy in 2017. The administration ultimately won on that issue in a 5-4 ruling at the Supreme Court, but only after the policy was significantly watered down and repeatedly blocked for months in what sometimes seemed like a legal war of attrition.

However, one contrast with the travel ban fight is the slow-motion nature of Trump's emergency declaration on the border. The weeks of public threats have clearly given opponents of the border wall time to sharpen their legal arguments and their public rhetoric, while also giving the Justice Department more time to prepare for the inevitable onslaught of litigation.

Moments after Senate Majority Leader Mitch McConnell (R-Ky.) confirmed Thursday that Trump planned to declare an emergency, journalists were flooded with news releases denouncing the move and vowing a legal response.

"Raiding pots of federal money is unconstitutional and irresponsible," Sen. Dianne Feinstein (D-Calif.) said. "The Constitution says Congress decides how to spend money, not the president. For the president to divert this money to unauthorized wall spending is unconstitutional and will be immediately challenged in court."

California Attorney General Xavier Becerra, who has filed dozens of suits against Trump administration policy moves, added: "There is no national emergency. If Trump oversteps his authority and abandons negotiations with Congress by declaring a fabricated national emergency, we won't only call his bluff, we will do what we must to hold him accountable. No one is above the law."

Many of the critics painted Trump's planned action as both grave and not entirely unexpected.

"This is about more than a political tactic. It's an attack on our democracy by an autocrat," said Frank Sharry of the immigrant-advocacy group America's Voice. "Another moment of truth is upon us. This is not normal. Let us hope that Congress and the courts rally to defend what truly makes America great — a system of checks and balances that distributes power to prevent despotism."

(…)

Trump's plan is expected to come under legal attack from various quarters, including state and local governments, environmentalists, property owners along the border, would-be recipients of funds that would be diverted by Trump's move and, potentially, by the House of Representatives.

Legal experts said affected property owners would have the clearest legal standing, but just what property is in most jeopardy of seizure by eminent domain may be unclear at the outset if the administration is vague about its construction plans.

On the other hand, the House may be well positioned to file suit almost immediately on a theory that it is being unconstitutionally bypassed. Lawyers say the House's legal authority to sue on that basis is shakier than that of a private landowner who has his or her land seized. However, in 2015 a federal judge ruled than the then-GOP-led House had legal standing to sue over purportedly unauthorized cost-sharing payments to insurance companies under Obamacare.
Many of those objections were addressed back in January by Yale Law Professor Bruce Ackerman who argued in a New York Times Op-Ed that the President does not have the legal authority to declare a national emergency to get his wall built:
Begin with the basics. From the founding onward, the American constitutional tradition has profoundly opposed the president's use of the military to enforce domestic law. A key provision, rooted in an 1878 statute and added to the law in 1956, declares that whoever "willfully uses any part of the Army or the Air Force" to execute a law domestically "shall be fined under this title or imprisoned not more than two years" — except when "expressly authorized by the Constitution or Act of Congress."

Another provision, grounded in a statute from 1807 and added to the law in 1981, requires the secretary of defense to "ensure that any activity (including the provision of any equipment or facility or the assignment or detail of any personnel)" must "not include or permit direct participation by a member of the Army, Navy, Air Force, or Marine Corps in a search, seizure, arrest, or other similar activity unless participation in such activity by such member is otherwise authorized by law."

In response to the Hurricane Katrina disaster in New Orleans, Congress created an express exception to the rules, and authorized the military to play a backup role in "major public emergencies." But in 2008 Congress and President Bush repealed this sweeping exception. Is President Trump aware of this express repudiation of the power which he is threatening to invoke?

The statute books do contain a series of carefully crafted exceptions to the general rule. Most relevantly, Congress has granted the Coast Guard broad powers to enforce the law within the domestic waters of the United States. But there is no similar provision granting the other military services a comparable power to "search, seize and arrest" along the Mexican border. Given Congress's decision of 2008, this silence speaks louder than words. Similarly, the current military appropriations bill fails to exempt military professionals from criminal punishment for violating the law in their use of available funds.

It is, I suppose, possible to imagine a situation in which the president might take advantage of the most recent exception, enacted in 2011, which authorized the military detention of suspected terrorists associated with Al Qaeda or the Taliban. But despite President Trump's unsupported claims about "terrorists" trying to cross the border, it is an unconscionable stretch to use this proviso to support using the military for operations against the desperate refugees from Central America seeking asylum in our country.

It is even less plausible for the president to suspend these restrictions under the National Emergencies Act of 1976. From the Great Depression through the Cold War, presidents systematically abused emergency powers granted them by Congress in some 470 statutes, culminating in the Watergate fiasco. In response, the first section of the 1976 act terminated all existing emergencies and created a framework of checks and balances on the president's arbitrary will.
In addition to Ackerman's argument, there is Supreme Court precedent in favor of the proposition that a move such as this on the part of the President would violate the Constitution. In 1952, while the United States was involved in the Korean War, steelworkers across the nation went on strike over wages and working conditions. The strike was so extensive that it essentially brought steel production in the country to a halt. In response, President Truman, purportedly acting in accordance with his emergency powers as President and Commander in Chief, seized control of the nation's steel mills so that they could continue operating. As justification for his actions, the President cited the ongoing war in Korea and the fact that any halt in steel production would have an adverse impact on the ability of defense contractors to fulfill the orders placed by the Pentagon to keep troops in Korea supplied with weapons, ammunition, and other material.
Not surprisingly, the steel industry sued and, after an unusual expedited hearing, the Supreme Court ruled against the President and nullified his emergency orders directed toward the steel industry. In its decision in Youngstown Steel & Tube Co. v. Sawyer 343 U.S. 579 (1952) the Court ruled that Truman had acted improperly and that he had neither the Constitutional authority nor the authorization from Congress to take the action that he did even if one assumes that the government was correct about the impact that the strike and subsequent closure of the steel mills would have on the ability of defense contractors to fulfill their obligations and, ultimately, on the war effort in Korea. While the reasoning supporting the majority opinion written by Justice Hugo Black was somewhat confused by the fact that there were no less than five concurring opinions from Justices Frankfurter, Douglas, Jackson, Burton, and Clark. In any case, the general tenor of the Court's ruling was that the President does not possess the authority to take an end-run around Congress and the Constitution under the banner of declaring a "national emergency."
In addition to these arguments and the Youngstown Steel precedent, there are also other arguments against the idea of allowing a President to get away with using emergency powers in a situation like this. As I noted earlier today, there is simply no evidence to support the idea that there is a national emergency at the southern border. Without that evidence, the declaration itself becomes questionable, to say the least. Additionally, if there truly was an emergency at the border, then the question becomes why the Trump Administration has waited so long to declare one. An emergency, after all, implies the existence of an immediate and obvious threat that has to be dealt with outside of normal Constitutional and legal processes it. Instead of an emergency, what we have here is a President who lost a legislative battle over his wall who is going to turn around any use emergency powers to get what he could not get from Congress or, to put it another way, the emergency is a President seeking to save himself from being accused of having caved on a campaign promise by his supporters and by the likes of Ann Coulter, Sean Hannity, and Rush Limbaugh.
If that becomes an acceptable way to use emergency powers, then the prospects for the future are something that ought to cause Republicans to pause to consider the consequences of backing the President here. As Nancy Pelosi said yesterday, if Trump can use emergency powers to pay for his border wall because a Democratic House won't give it to him then what's to stop a Democratic President from using the same powers to enact gun control laws in response to the "crisis" of gun violence or to enact part of the Paris Accords in response to the "crisis" of climate change. If a President can simply declare a national emergency every time they lose a battle with Congress, then the entire Constitution becomes meaningless and we will have entered an era of unlimited Executive Branch rule. This is precisely what the Founders wanted to avoid when they set up the checks and balances that exist in the Constitution. As Dave Schuler points out at The Glittering Eye this morning, we've already seen Congress cede too much discretion to the Executive Branch to the point where the Presidency has assumed far more power than it was intended to have. Donald Trump's actions, if allowed to go forward, would essentially eliminate what's left of the checks and balances restraining Presidents.
Declaration of a "national emergency" isn't the only thing the President has threatened to do with regard to his border wall. He has also suggested recently that he might try to use money that Congress has allocated to the Defense Department to build the wall, even though Congress has not explicitly organized such an action. As with the idea of a "national emergency," this action would seem to directly violate long-standing Federal laws regarding the Federal budget such as the Federal Budget And Accounting Act and the Congressional Budget And Impoundment Act of 1974. While this may not matter to the President, it is likely to matter to the courts and to Congress. As with all things related to Trump, it's difficult to tell if this is a serious proposal or if he is merely trolling the media and Congress with another controversial proposal that will come to nothing. If he's even the slightest bit serious about attempting to use a "national emergency" to accomplish something that can't presently be done through normal channels then it will be yet another example of how he has nothing but contempt for the Rule of Law and political norms. Taking yet another extreme step would just be par for the course on his part.