National Enquirer Voters
The fading tabloid still has significant influence.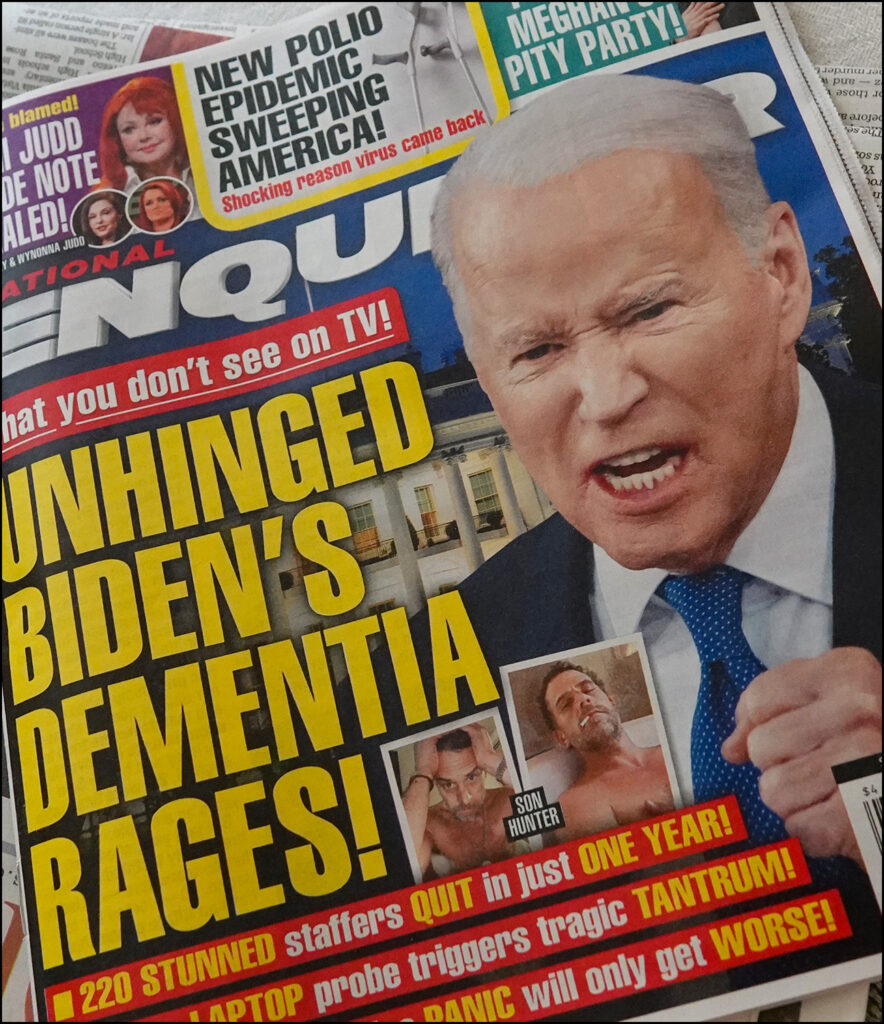 While he's spent a lot of time in recent years documenting the detrimental effect Fox News has had on American politics, Kevin Drum also points to a less obvious (to me, anyway) influencer.
Back in the day I used to tell people that if they wanted to understand a particular segment of the working class they needed to read supermarket tabloids. Aside from the endless celebrity gossip, the tabs embraced a political view that I'd call not ideologically conservative, but "common sense" conservative. 

That is, it was stuff that ordinary, nonpolitical, small-townish folks mostly considered obvious common sense: Government is incompetent; poor people are lazy; America needs to teach people a lesson sometimes; wokeness is ridiculous. Etc.

That came to mind again when I saw the current issue of the National Enquirer at the supermarket checkout today. Now, these days the Enquirer is more overtly political than it used to be, but tellingly, it still doesn't bother much with ideology or policy, since it knows that its working class readers don't care about that stuff. Rather, it focuses on gossipy pieces but featuring politicians instead of celebrities. This week the subject is Joe Biden's obvious mental decline.

The story inside is about what you'd expect: not even blind quotes, just assertions that "sources say" and "insiders dish" that Biden constantly loses his temper thanks to his "undiagnosed dementia."

This is politics as gossip, which is something the Enquirer used to have almost to itself. It's now only one of many, but it's still useful reading because its audience requires it to be blunt about things instead of just slyly insinuating them. As their motto says, they're "the only publication with the guts to tell it like it is."

And this is what its readers are being fed. Fox News may be the standard bearer for Republican agitprop, but there are other sources too. And not just the usual suspects.
A Slate piece from a couple years back notes that the Enquirer's circulation is a fraction of what it was in its heyday:
For decades, the Enquirer's circulation was in the millions. The death spiral, Grove says, began with the advent of the internet. The key distribution spot was no longer in supermarkets—it was on people's computers and smartphones. "They just never got a coherent strategy to deal with online news," he explains. "They never really understood it, they didn't know how to take advantage of it, and that's principally why they find themselves in the trouble they are in today."

The internet's assault on the gossip industry came in two phases. Phase 1 was when online outlets like TMZ started beating the Enquirer at its own game—paying sources, enlisting spies in courthouses and hospitals, and catching celebrities in their worst moments. Phase 2 came when those celebrities turned the tables. Now, Grove says, "celebrities themselves control their own images through their Instagram accounts, which are far more powerful than magazines that are distributed at newsstands and often charge a very aggressive price."

Despite its decline, the Enquirer managed a few more scoops during the internet era. Perhaps the biggest was in 2008, when it reported that Democratic presidential candidate John Edwards had fathered a child with his campaign's videographer. It was impossible to miss the echoes of the way the paper had brought down Gary Hart's presidential campaign in 1987, and the way the paper got the story was old-school Enquirer too. After an editor there got a tip about Edwards' relationship with Rielle Hunter, the paper spared no expense, putting dozens of reporters on Edwards' trail across the country for 18 months, before one of them confronted him during a late-night stakeout at the Beverly Hilton.
And also tells of the political shift Drum alludes to:
During the 2016 campaign, the Enquirer got its hands on a scoop that presidential candidate Donald Trump had cheated on his wife, just months after she'd given birth, with a Playboy model named Karen McDougal. The Enquirer pursued the story aggressively, paying McDougal $150,000 for the exclusive rights, but curiously, the story never appeared. At the behest of the Trump campaign, the Enquirer did what's called a catch and kill: It bought the story and then locked it in a safe. McDougal certainly thought it was an effort on behalf of the campaign—which brings us to the second thing that ruined the Enquirer: David Pecker.

"He's the son of a bricklayer from the Bronx who sort of pulled himself by his own Gucci straps to become a publishing executive," says Grove. "Basically, Pecker is not a journalist. He has no journalistic expertise. He's a marketing guy and an accountant. He took that magazine and basically drove it into the ground."

David Pecker was part of a group that bought the Enquirer in 1999. According to Lloyd Grove, this was perhaps not coincidentally the moment that Pecker suddenly became a person of great interest to Donald Trump: "They formed an alliance, and maybe a friendship, 20 years ago. Pecker would ride on Trump's plane back and forth to Florida and hang out with the guy and then boast about it to his employees."
Regardless, the Enquirer's paid circulation of roughly 265,00 readers pales in comparison to the 2.1 million who watch Fox News during prime time—which itself is just a sliver of the 18.14 million who watch Sunday Night Football, the most popular show on television.
Still, I suspect a lot of people read the headlines while waiting to pay for their groceries. And, even if most people understand that it's tabloid hype if not outright bullshit, I can't imagine that these headlines don't shape public opinion. Especially since, as Drum observes, they just reinforce "common sense" beliefs.