National Security Culture Gap
The White House and the Pentagon are buildings, not unitary actors.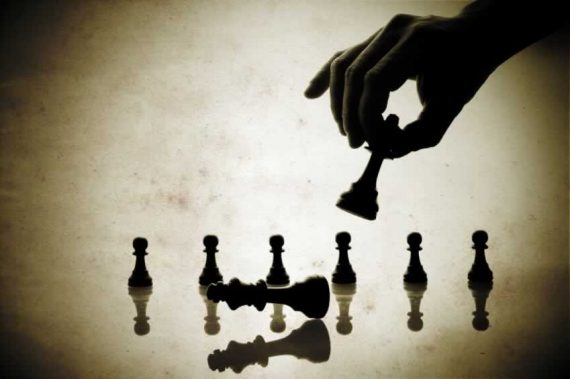 Georgetown lawprof Rosa Brooks, who has served in senior advisory roles at State and DoD, describes a cultural divide that adds friction to national security policymaking.
A few readers may remember the spring 2010 crisis in Kyrgyzstan. Several hundred people were killed by police and ethnically aligned mobs, many more were wounded, and thousands of refugees (mostly from the Uzbek minority population) fled their homes.

Within the White House, these events triggered fears of a possible ethnic cleansing campaign to come, or even genocide. One day, I got a call from a member of the White House's National Security Staff (NSS). With little preamble, he told me that Centcom needed to "move a surveillance drone over Kyrgyzstan, ASAP, so we can figure out what's going on there."

This wasn't such a crazy idea. Drones and other intelligence, surveillance, and reconnaissance assets have the potential to be powerful tools in human rights monitoring. The ability to watch troops or mobs or refugees move in real time, to see weapons being stockpiled or mass graves being filled, might help us take timely and appropriate action to stop a genocide before it gets off the ground.

There was one enormous problem with my NSS colleague's request, though: Neither of us had the authority to order Centcom to immediately shift a potentially vital asset from wherever it was currently being used to the skies over Kyrgyzstan.

"It's an interesting idea," I told him. "Has the president discussed it with [Defense] Secretary Gates?"

"We don't have time to spin up a whole bureaucratic process," he responded irritably. "The president doesn't want another Rwanda. This is a top priority of his. I need you to just communicate this to Centcom and get this moving."

This, I explained, wasn't going to work. The chain of command doesn't go from a director at the NSS to an advisor to the defense undersecretary for policy to Centcom — and the military doesn't put drones into foreign airspace without a great deal of planning, a lot of legal advice, and the right people signing off on the whole idea.

My friend was incredulous. "We're talking about, like, one drone. You're telling me you can't just call some colonel at Centcom and make this happen?"

"I'm afraid so."

"Why the hell not? You guys" — meaning the Pentagon writ large — "are always stonewalling us on everything. I'm calling you from the White House. The president wants to prevent genocide in Kyrgyzstan. Whatever happened to civilian control of the military?"

"You," I told him, "are the wrong civilian."

This was a minor issue, in many ways, but the exchange was far from unusual. My White House colleague — a smart, energetic, dedicated guy — went away furious, convinced that "the Pentagon" was refusing to take atrocity-prevention issues seriously (an attitude that soured many later interagency discussions about Sudan, Libya, and more).

My military colleagues reacted to the request with equal frustration: This guy was a fairly senior White House official, and he didn't understand why sensitive, expensive military assets couldn't instantly be moved from a war zone to foreign airspace with a simple phone call to a Pentagon acquaintance? If the president wanted to make this happen, he could call the defense secretary and direct him to have Centcom undertake such a move (though he'd be unlikely to do so without plenty of discussion at lower levels first), but the chain of command can't be accessed midway down and more or less at random. My military colleagues were insulted: How incredibly ignorant — and arrogant! — those White House people were.
She gives other examples; I commend the piece to you in its entirety.
What's interesting is that, perhaps because it's the bailiwick she's claimed at Foreign Policy, Brooks has shoehorned this into a debate about the "military-civilian gap." But it's not really that at all; indeed, Brooks herself is a civilian and was opposite another civilian in this exchange. The cultural divide in question is between the large Pentagon bureaucracy and the White House staff.
As with all staffs everywhere, the people who work for the president come to see themselves as extensions of the president. (In my Army days, there were similar frictions between the battalion staff and the operators at the battery level. Even as a lowly lieutenant, I didn't take orders from captains and majors in the S- shops; unless the battalion commander himself was giving the order, it was my battery commander I answered to, not the headquarters staff.) As with all staffs everywhere, they also see whatever they're working on at the moment as Of The Highest Priority and Urgency. The boss has asked for it, wants it yesterday, and by God it needs to get done. The problem is exacerbated at the White House because the staff people are almost universally superstars used to being in charge and because their boss happens to be the unofficial Leader of the Free World.
The Defense Department, meanwhile, is a gigantic bureaucracy in possession of our society's tools of violence. That there's a very structured chain of command and set of protocols surrounding the deployment of said tools is very much a feature rather than a bug.
Brooks' anecdotes also point to another fact that is constantly elided by both the press and the players themselves: The White House and the Pentagon are buildings, not unitary actors. A directive from the president to the secretary of defense is a vastly different animal from a plea from one "fairly senior" official at the White House to another at the Pentagon. POTUS and SECDEF are at the apex of the chain of command; their advisors are really smart, dedicated people tasked with making sure they have the information to make informed decisions—but they're not decisionmakers themselves.