Nearly $100 Million Spent On North Carolina Senate Race, And It's Not Over Yet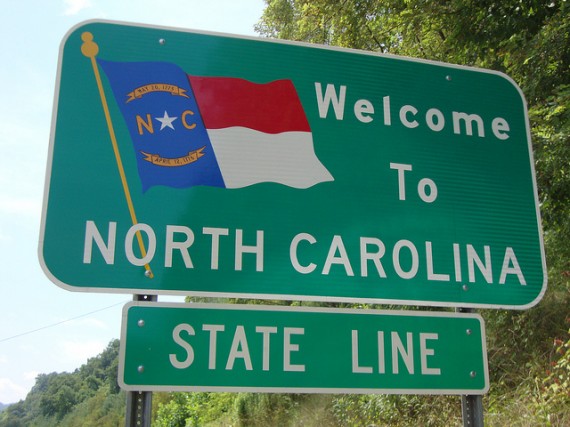 The North Carolina Senate race between Senator Kay Hagan and Republican Thom Tillis is expected to break records for the amount of money spent on a single Senate race:
From the Koch brothers and Art Pope to George Soros and Michael Bloomberg, wealthy donors are making North Carolina's U.S. Senate race one of America's first $100 million contests.

Outside groups continue to flood the state with ads and accusations, forcing Democratic U.S. Sen. Kay Hagan and Republican Thom Tillis to keep scrambling for dollars in the campaign's final two weeks.

Money spent or committed in the race is poised to top $103 million, according to public records and interviews with donors. Three-quarters of it comes from party and interest groups. More than $22 million is "dark money" from groups that don't disclose their donors.

"It's a stunning number, and it tells you two things," says Larry Sabato, a University of Virginia political scientist. "That campaign finance is completely out of anybody's control and North Carolina is a premier swing state."

The flood of money paid for nearly 80,000 TV ads through Oct. 13, according to a Center for Public Integrity analysis of CMAG/Kantar Media tracking data. At one point this month, that translated to three Senate ads every five minutes.

And more are coming. On Friday, a conservative group announced a new $1 million TV campaign against Hagan, who responded with her own new ad.

The figures may understate actual spending.

Campaigns and their allies are also spending online and on the ground as they try to mobilize voters in a race that could help determine control of the Senate.
North Carolina seems like an unlikely location for that much money to be spent, but of all the battleground states this year it does seem to be the most likely. Arkansas, Louisiana, Alaska, South Dakota, and Montana do not have very expensive media markets, for example, while North Carolina has at least two major metropolitan media markets in Raleigh/Durham and Charlotte along with media markets in other parts of the state. While individually none of them are as expensive as markets in the Northeast, the D.C. area, or California, they are expensive enough and an intense media campaign running statewide isn't going to be cheap. Additionally, of course, there's the fact that both sides have view the Tarheel State as a prime 2014 battleground from the beginning. For Republicans, the fact that Senator Hagan had been polling below 50% for some time in a state that Mitt Romney won in 2012 suggested a pickup opportunity. For Democrats, the fact that she was competitive with any of the Republicans who were running against her before the primary suggested it was a seat worth investing in. So far, for both sides, the investment has proven to be wise. While Senator Hagan remains in good position to win, the race has tightened significantly as we enter the last two weeks of campaigning. Right now, Hagan has a bare 0.7 lead over Tills in the polling average at RealClearPolitics but all of the polling this month has been within the margin of error. This guarantees that more money and resources will pour into the state over the next two weeks.