Netanyahu Faces Challenge For Likud Party Leadership
Benjamin Netanyahu is facing a challenge for the leadership of the party he's headed for more than a decade.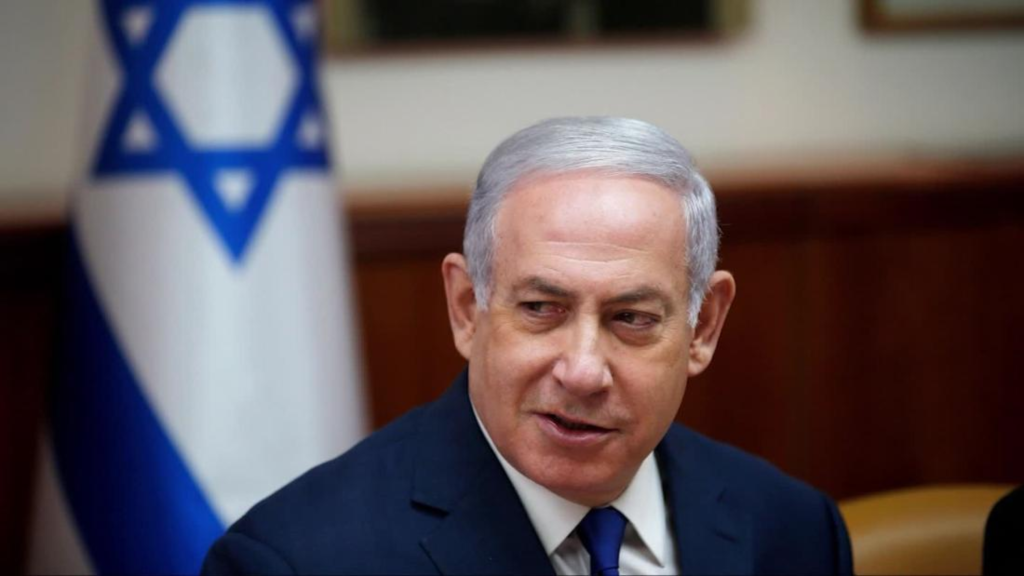 As Israel heads toward a third election in twelve months early next year, Prime Minister Benjamin Netanyahu finds himself facing an intraparty challenge that could result him being replaced even before the election begins:
JERUSALEM — With Prime Minister Benjamin Netanyahu's political future on the line — and possibly Israel's — members of his conservative Likud party voted Thursday on whether to stick with their scandal-scarred leader or replace him ahead of a general election in March.

Mr. Netanyahu, who was indicted last month on corruption charges including bribery, was widely expected to prevail over his challenger, Gideon Saar, a seasoned but less popular party veteran. Even so, this is the most serious challenge to the prime minister's party leadership since 2005, and fears of a low turnout on a day of bad weather made the outcome harder to predict.

The result of the vote, expected to be known early Friday, will determine whether Mr. Netanyahu, Israel's longest-serving prime minister, will lead Likud into the country's third parliamentary election in less than a year. The previous two general elections, in April and September, ended inconclusively and left the deeply divided nation in a political deadlock.

A clear win for Mr. Netanyahu would reaffirm his political survival skills and could energize his campaign for the March election, while a defeat would alter the landscape of Israeli politics and shake up that campaign.

On Thursday, both candidates urged their supporters to brave the windy, rainy weather and turn out, each insisting that a big victory for him would lead to a big victory for the party on March 2.

"For years I've been working as your emissary for our beloved country," Mr. Netanyahu, 70, wrote in an appeal to the voters on Thursday morning. "Now I am asking for your support." Soon after, in a Facebook Live post, he showed himself working the phones.

Mr. Saar, 53, said he felt an awakening among the grass-roots. Voting in Tel Aviv, where he lives, he said, "We can win today and set off on a new path that will allow us to form a strong and stable government, that will allow us to unify the people of Israel — and that is the most important thing right now."

About 116,000 paying Likud members are eligible to vote — a small fraction of those who vote for the party in general elections — and only about half have turned out for party primaries in the past.

There were also fears of a low turnout because the vote is taking place during Hanukkah, when children are out of school. It was not clear which candidate would be helped by sparse turnout, but some people joked about whether Mr. Saar's surname — Hebrew for "storm" — was an omen.

By 8 p.m., about 40 percent of those eligible had voted. The ballot boxes were to remain open until 11 p.m.
The Jerusalem Post's coverage also emphasizes the turnout issue:
+Stormy weather across the country, a perception that Prime Minister Benjamin Netanyahu would win easily and a Likud court decision requiring thousands of Likud members to travel far to vote resulted in low turnout in Thursday's Likud primary. At the time of this writing, roughly 40% of Likud members voted.

Netanyahu and his Likud challenger Gideon Sa'ar travelled to polling stations across the country in an effort to persuade people to vote. While Sa'ar and his campaign team made a point of expressing what they called cautious optimism, Netanyahu issued statements all expressing concern that the low turnout would harm his chances to emerge victorious in the race.

"People are telling me they want me to win but they aren't voting because they are sure I will win anyway," Netanyahu said in a statement he delivered on social media on Thursday night.

Speaking to Likud activists at the Jerusalem International Convention Center's polling station shortly after he and his wife Sara voted at home, Netanyahu said: "Don't let the win and rain defeat us. Our wind is stronger."

But KAN News reported that Netanyahu's concern was insincere and that his own campaign's data found that turnout among their supporters was ten percent higher than the Likud membership as a whole.
Sa'ar voted at the Council for a Beautiful Israel building in Tel Aviv alongside his wife, veteran anchorwoman Geula Even-Sa'ar on Thursday morning, and expressed hope in an upset victory.

"This is a fateful day for the Likud and the State," he said. "We have it in our power to bring about change and new hope for the citizens of Israel and guarantee the continued reign of the nationalist camp and a victory for our path. I asked for you trust and your votes in order to bring about the vision that the people of Israel expect. Likud voters should cast ballots and guarantee victory for the party in the March 2 election."
All of this comes at the end of what has been a tumultuous year for Israeli politics. It started with an election in April that appeared to result in a victory for Netanyahu and the Likud Party. As was expected, Netanyahu and his rival Benny Ganz of the Blue & White Party ended up close in the final result, but Likud had a slight advantage and was given the opportunity to form a new government by Israel's President. That effort ended in failure in May when it became apparent that Netanyahu would be unable to form a working majority in the Knesset thanks largely to the refusal of his former ally-turned-rival Avigdor Lieberman, who heads a small coalition of parties devoted to creating a more secular issue, to join a unity government that included ultra-orthodox parties.
That led to the second round of elections in September in which Netanyahu and Ganz ended up essentially tied in the number of seats their respective parties control in the Knesset. In both cases, though, that number was only about 50% of the way toward the 62 seats they'd need to command a majority, meaning that either party will have to form a coalition if they're going to form a government. Toward that end, there was considerable pressure on both parties to form a national unity government in which the position of Prime Minister would rotate between the two parties over the four years the new Knesset would be serving,
As had happened after the last election, Netanyahu was given the opportunity to form a government first. That effort proved to be unsuccessful, though, so Ganz was given the chance to do so. That effort also proved to be unsuccessful. That led to the call for a third round of elections currently scheduled for April. Subsequent to the call for a new election, Netanyahu was indicted on corruption charges that have been hanging over his head for the better part of the past year. The question for Likud members is whether they want to head into the elections with an indicted Netanyahu at the head of their party, or whether they want to make the first change in party leadership in more than a decade. We'll likely know the answer to that question tomorrow.