Netanyahu Returns as Israel's Premier
The corrupt leader is back for a sixth term.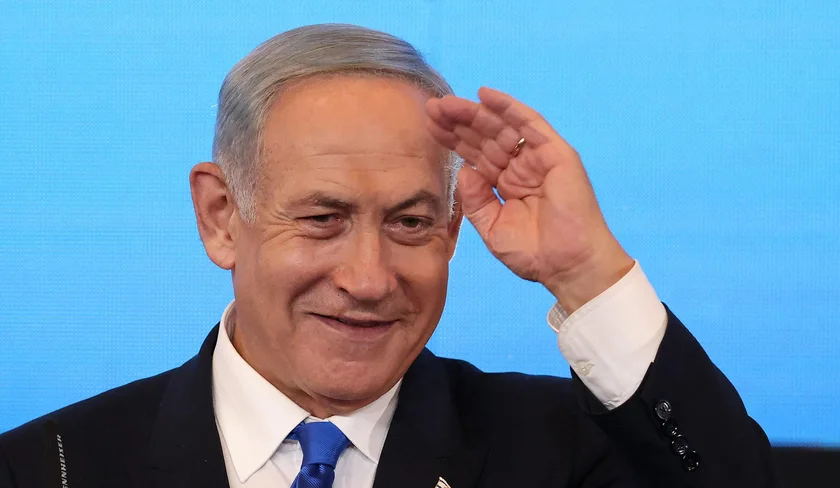 Haaretz ("Israel Election Final Results: Netanyahu, Jewish Far Right Win Power, Fiasco for Left"):
Likud leader Benjamin Netanyahu and his right-wing allies won a decisive majority in Israel's election, a final vote count on Thursday shows. Left-wing party Meretz was just a few thousand votes short of making it into the next Knesset, ending a three-decade-long era of political representation.

Likud won 32 seats, while outgoing Prime Minister Yair Lapid's Yesh Atid is the second-largest party with 24 seats, followed by the far-right Religious Zionism – headed by Bezalel Smotrich and Kahanist lawmaker Itamar Ben-Gvir – which earned 14 seats.
AP ("Netanyahu set to return to power in Israel after PM concedes"):
Former Prime Minister Benjamin Netanyahu on Thursday appeared set to return to power as head of Israel's most right-wing government ever after winning this week's national election, with the current caretaker prime minister conceding defeat.

Final results showed Netanyahu's Likud Party and its ultranationalist and religious partners capturing a solid majority in Israel's Knesset, or parliament.

The strong showing promised to end the political gridlock that has paralyzed Israel for the past three and a half years. But the planned agenda of the new government expected to take office — including an overhaul of the country's legal system and a tough line against the Palestinians — promises to further polarize a deeply divided nation and risks antagonizing Israel's closest allies abroad.

Israel on Tuesday held its fifth election since 2019 in a race, like the previous four, that was widely seen as a referendum on Netanyahu's fitness to rule as he faces corruption charges. While the previous races ended in deadlock, Netanyahu managed a disciplined campaign that gave him the edge over a divided and disorganized opposition.

The acting prime minister, Yair Lapid, conceded defeat and called Netanyahu to congratulate him shortly before the final results were released. Lapid said he had instructed his staff to prepare an organized transition of power.

[…]

The election focused heavily on the values that are meant to define the state: Jewish or democratic. In the end, voters favored their Jewish identity.

Netanyahu's main governing partner is expected to be Religious Zionism, a far-right party whose main candidate, Itamar Ben-Gvir has built a career on confrontations with Palestinians and espouses anti-Arab views that were once largely confined to an extremist fringe.

The party will be the third-largest in parliament.

Ben-Gvir says he wants to end Palestinian autonomy in parts of the occupied West Bank and maintain Israel's occupation over the Palestinians, now in its 56th year, indefinitely. Until recently, he hung a photo in his home of a Jewish militant who murdered 29 Palestinian worshippers in a 1994 mosque shooting in the West Bank.

Ben-Gvir has labeled Arab lawmakers "terrorists" and called for their deportation. The far-right lawmaker, who recently brandished a pistol while visiting a tense Palestinian neighborhood in east Jerusalem, wants to be put in charge of the country's police force.

The party's leader, Bezalel Smotrich, a fellow West Bank settler who has made anti-Arab remarks, has his sights set on the Defense Ministry. That would make him the overseer of the military and Israel's West Bank military occupation.

Party officials favor aggressive settlement construction in the West Bank. They also have made repeated anti-LGBTQ comments.

These positions have threatened to antagonize American Jews, who are overwhelmingly liberal, and put Israel's next government on a collision course with the Biden administration.

The White House on Thursday said it was looking forward to working with Israel on "our shared histories and values."

But in a separate comment, State Department spokesman Ned Price said the U.S. hopes Israel "will continue to share the values of an open, democratic society, including tolerance and respect for all in civil society, particularly for minority groups." He also reiterated support for a two-state solution between Israel and the Palestinians – an idea with little, if any, support among the incoming government.

Italy's new far-right premier, Giorgia Meloni, congratulated Netanyahu on Twitter. "Ready to strengthen our friendship and our bilateral relations, to better face our common challenges,″ she wrote.

Hungary's nationalist prime minister, Viktor Orban, also congratulated Netanyahu, calling him "a friend of Hungary."

As the votes were being counted, Israeli-Palestinian violence was flaring, with at least four Palestinians killed in separate incidents, and an Israeli police officer wounded lightly in a stabbing in Jerusalem's Old City.

Ben-Gvir used the incidents to promise a tougher approach to Palestinian attackers once he enters government.

"The time has come to restore security to the streets," he tweeted. "The time has come for a terrorist who goes out to carry out an attack to be taken out!"

While Religious Zionism could cause Netanyahu headaches abroad, it could bring him relief at home.

The party has promised to enact changes to Israeli law that could halt Netanyahu's corruption trial and make the charges disappear. Along with other nationalist allies, they also want to weaken the independence of the judiciary and concentrate more power in the hands of lawmakers. Netanyahu says the trial is a witch hunt against him orchestrated by a hostile media and a biased judicial system.

Netanyahu remains a deeply polarizing figure in Israel. If his coalition takes power and pushes forward with its war on the justice system, these divisions are likely to deepen.

Netanyahu, Israel's longest-serving leader, was ousted in 2021 after 12 consecutive years in power by an ideologically-diverse coalition. The coalition collapsed in the spring over infighting.

The strong showing by Likud and its allies reflected a decades-long shift to the right by the Israeli electorate.

Both Likud and Religious Zionism tapped into fears over Palestinian violence in the West Bank, accused Lapid of being weak and demonized his government for being the first to include an Arab party in a coalition.

Israel's dovish left wing, meanwhile, had an abysmal showing in the election. The Labor party, which was a dominant force in Israeli politics for decades and supports Palestinian statehood, squeaked into parliament with the minimum four seats. The anti-occupation Meretz was banished into political exile for the first time since it was founded three decades ago.

"This is a disaster for Meretz, a disaster for the country and yes, a disaster for me," Meretz's distraught leader, Zehava Galon, said in a video.
NYT reporters Yonette Joseph and Patrick Kingsley remind us, "Netanyahu Will Return With Corruption Charges Unresolved. Here's Where the Case Stands."
Benjamin Netanyahu will make a remarkable comeback as Israel's prime minister after the results of a general election, and the concession on Thursday of the current leader, Yair Lapid, put his right-wing bloc on a glide path to victory. But looming over his return is the unfinished business of the State of Israel v. Benjamin Netanyahu, a long-delayed felony corruption case.

Mr. Netanyahu, who faces a litany of bribery, fraud and breach of trust charges, has denied all accusations, vociferously attacking those who seek to prosecute him. The trial put Israel into uncharted territory, dominating political life and fueling a debate about the state of Israeli democracy and the country's legal system.

Now, with his comeback as prime minister apparently assured, Mr. Netanyahu has said that he will not use his authority to upend the legal process in his corruption trial. But some of his coalition partners have signaled a different plan.

[…]

In February 2018, the police formally recommended that he be prosecuted. In November 2019, he was indicted, and the trial began in May 2020. The Jerusalem District Court made its way through a list of more than 300 witnesses. But the trial, originally expected to last a year or more, has been delayed several times for various reasons, including once when a central witness cited "personal reasons" in 2021, another time because of coronavirus restrictions, and again in February this year, when the judge in the case tested positive for Covid.

[…]

The corruption trial combines three separate cases, known as Cases 1000, 2000 and 4000. (Mr. Netanyahu was cleared in a fourth case, Case 3000, which concerned the government's procurement of German-made submarines.) Mr. Netanyahu's wife, Sara, is also said to have received gifts but is not a defendant in the trial.

One court is hearing all three cases at once, instead of one after the other, slowing down the prospect of a verdict any time soon.

[…]

To some, his decision not to resign was evidence of a dangerous selfishness. Other analysts said that Mr. Netanyahu's decision not to step aside when indicted, as his predecessors Yitzhak Rabin and Ehud Olmert had done when under investigation, was a national badge of shame and exposed a grave weakness that could become more critical the longer the trial lasted.

But to Mr. Netanyahu's supporters, the trial was proof of a deep conspiracy against him.
Sound familiar?
NYT columnist Thomas Friedman declares "The Israel We Knew Is Gone."
Imagine you woke up after the 2024 U.S. presidential election and found that Donald Trump had been re-elected and chose Rudy Giuliani for attorney general, Michael Flynn for defense secretary, Steve Bannon for commerce secretary, evangelical leader James Dobson for education secretary, Proud Boys former leader Enrique Tarrio for homeland security head and Marjorie Taylor Greene for the White House spokeswoman.

"Impossible," you would say. Well, think again.

As I've noted before, Israeli political trends are often a harbinger of wider trends in Western democracies — Off Broadway to our Broadway. I hoped that the national unity government that came to power in Israel in June 2021 might also be a harbinger of more bipartisanship here. Alas, that government has now collapsed and is being replaced by the most far-far-right coalition in Israel's history. Lord save us if this is a harbinger of what's coming our way.

The coalition that Likud leader Bibi Netanyahu is riding back into power is the Israeli equivalent of the nightmare U.S. cabinet I imagined above. Only it is real — a rowdy alliance of ultra-Orthodox leaders and ultranationalist politicians, including some outright racist, anti-Arab Jewish extremists once deemed completely outside the norms and boundaries of Israeli politics. As it is virtually impossible for Netanyahu to build a majority coalition without the support of these extremists, some of them are almost certain to be cabinet ministers in the next Israeli government.

As that previously unthinkable reality takes hold, a fundamental question will roil synagogues in America and across the globe: "Do I support this Israel or not support it?" It will haunt pro-Israel students on college campuses. It will challenge Arab allies of Israel in the Abraham Accords, who just wanted to trade with Israel and never signed up for defending a government there that is anti-Israeli Arab. It will stress those U.S. diplomats who have reflexively defended Israel as a Jewish democracy that shares America's values, and it will send friends of Israel in Congress fleeing from any reporter asking if America should continue sending billions of dollars in aid to such a religious-extremist-inspired government.

You have not seen this play before, because no Israeli leader has "gone there" before.

Netanyahu has been propelled into power by bedfellows who: see Israeli Arab citizens as a fifth column who can't be trusted; have vowed to take political control over judicial appointments; believe that Jewish settlements must be expanded so there is not an inch left anywhere in the West Bank for a Palestinian state; want to enact judicial changes that could freeze Netanyahu's ongoing corruption trial; and express contempt for Israel's long and strong embrace of L.G.B.T.Q. rights.
Vox' Jonathan Guyer ("Netanyahu and the far right have triumphed. Here's what it means for Israel."):
To understand the complexity of the Knesset — Israel's parliamentary system — and its radical shift toward extremism, I spoke with Daniel Levy, a keen observer of Israeli politics and former negotiator for the Israeli government in its peace talks with the Palestine Liberation Organization. He's currently the president of the US/Middle East Project.

Levy's major takeaway: "It's important to not fall into the trap of just seeing this as an aberration. It might be an 'upgrade' in extremism, but I think it's correct to place this on a continuum of the absorption into Israeli politics of the most extreme."

Netanyahu and President Joe Biden, it also might be noted, have a long history. One of my first jobs out of college, in 2009, was working as a researcher on Levy's team at a think tank, as we thought through how then-President Barack Obama might approach Israel-Palestine. The rockiness of the Obama-Netanyahu relationship cannot be understated. Obama sought a partial freeze of Israeli settlement growth in the occupied West Bank, but when then-Vice President Biden arrived on a trip to Israel, Netanyahu snubbed him and US policy by announcing the expansion of new settlement building in East Jerusalem.

I asked Levy about what another Netanyahu premiership would mean for America's relationship with Israel, its closest Middle East partner. Though the prospects for an independent and viable Palestinian state seem less likely than ever, Levy offered a small dose of optimism. Since Biden has already visited Israel as president, he may have the clout and the cred to offer hard truths to an Israel whose policies toward Palestinians in the occupied territories and its own citizens are increasingly beyond the pale and in contradiction of human rights, let alone American values. It remains unlikely, however, as Biden did no such thing publicly on his trip to Israel in July.

[…]

Jonathan Guyer

What does this coalition look like? What is this more coherent government likely to look like?

Daniel Levy

Israel has a very pure form of proportional representation where the entire country is one district of 120 seats. This is super relevant in this election. As long as you hit a 3.25 percent threshold of support, you get representation in parliament, which means the smallest number of seats a party can get in the 120-seat Knesset is four. Then you build from there.

This is unusually small in terms of the number of parties that constitute this coalition. It will be composed of four party "lists."

The Likud party is the traditional party of the right. As the center of gravity of Israeli politics has continually shifted rightward, so too has the Likud party. Likud have no qualms this time around. In the past it was, "Well can we really have been Ben Gvir in the government?" They've paved the way for that. There's no question. No one today is saying, "Well, you know, this party is so extreme." No one's questioning it.

You have two parties representing the ultra-Orthodox Haredi public, who are the other big winners, by the way. They've scored a phenomenal success and increased their numbers. That does tend to happen when your community is having six, seven, eight, nine children per family and everyone else isn't. So that demography is now manifesting itself in votes. So you have the two ultra-Orthodox factions: one representing the Ashkenazi ultra-Orthodox community, the other representing the Sefardi ultra-Orthodox community.

The fourth party is this amalgamation of hard-right, national-religious extremists, which is known as religious Zionism.

Jonathan Guyer

This fourth one is the Jewish Strength Party. Tell me about that. Israel has been drifting to the right as long as I can remember. But this is pretty extreme, bigoted, Jewish supremacist, homophobic party that is normalizing the Kahanist worldview.

Daniel Levy

This is now the third-largest party in the Israeli parliament. Just pa

use on that.

The third largest party in the Israeli parliament is a party that derives its ideological inspiration from the most extreme strand. Now, the leader of one element of this party is Ben Gvir, who everyone in Israel considers to be the big winner of the election. He's a lawyer who tends to represent Jewish murderers of Palestinians, who commit terror acts, not in uniform, as civilians. Just before [Israeli Prime Minister Yitzhak] Rabin's assassination [at the hands of a Jewish extremist in 1995], he appeared in a famous TV clip with the emblem of Rabin's car, and he said, "We got to his car, and we'll get to him, too."
There's a whole lot more but you get the drift.
The parallels with Donald Trump are obvious but Netanyahu is an incredibly shrewd and skilled politician and therefore much more effective. And, like it or not, he's leading Israel in the direction it wants to go. Their system shows some of the dangers of multi-party democracy but it's undeniably a more representative and responsive system than our own.