Netanyahu Wins Yet Another Term
Both major parties have claimed victory but it certainly looks like Likud will hang on.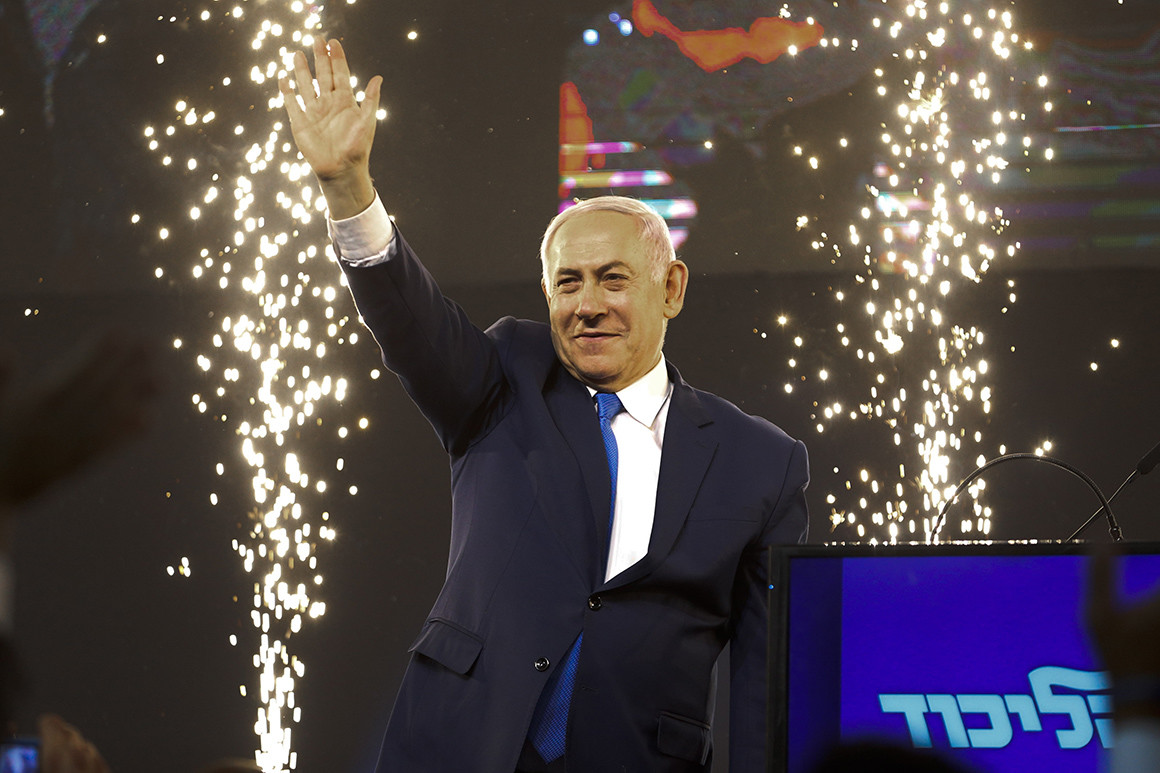 While the results are chaotic, it looks like Israeli Prime Minister Netanyahu will hang on to power for an unprecedented fourth straight term. The NYT summarizes where we stand:
• Prime Minister Benjamin Netanyahu was in position to win a fourth consecutive term on Wednesday, with nearly all of the votes counted. But the race was extremely tight, and his main rival, Benny Gantz, had also claimed victory, though he later tempered expectations.


• When the ballots are fully counted, it will be up to President Reuven Rivlin to choose the party leader he believes has the best chance of assembling a parliamentary majority. Mr. Netanyahu's Likud party and Mr. Gantz's Blue and White alliance were running neck and neck, but a count of the broader blocs supporting each party gave Likud a clear advantage in being able to form a governing coalition.


• Regardless of the final result, the election appeared to be a grave scare for Mr. Netanyahu, 69, who has led Israel for a decade of relative security and prosperity. More than a million Israelis voted for Blue and White, a record for a new party, placing it in the position of being the main alternative to Israel's right wing, a spot held for decades by the Labor Party.

New York Times, "Israel Elections Live Updates: Netanyahu Is on Track for Victory"
Haaretz describes the situation thusly:
Prime Minister Benjamin Netanyahu has all but secured a 5th term on Wednesday morning, after more than 95 percent of the votes gave the right-wing bloc a 10-seat lead over the left.

Netanyahu's Likud tied with Benny Gantz's Kahol Lavan party with 35 seats each. Both leaders made victory speeches after the exit polls, vowing to be "everyone's prime minister."

But almost all right-wing parties have said they would recommend to the president that Netanyahu form the next ruling coalition. Naftali Bennett and Ayelet Shaked's Hayamin Hehadash, as well as the far-right Zehut party led by Moshe Feiglin and Orly Levi-Abekasis' Gesher did not make it past the electoral threshold.


In the right-wing bloc, the parties that made it into the Knesset are Likud, United Torah Judaism, Shas, Yisrael Beiteinu, Right-wing Union and Kulanu. In the center-left bloc, the parties that made it into the Knesset are Kahol Lavan, Hadash-Ta'al, Labor, Meretz and United Arab List-Balad.

Haaretz, "Israel Election 2019: Right-wing Bloc in Clear Lead, Netanyahu Promises to Form Government 'Swiftly'"
They offer this helpful chart: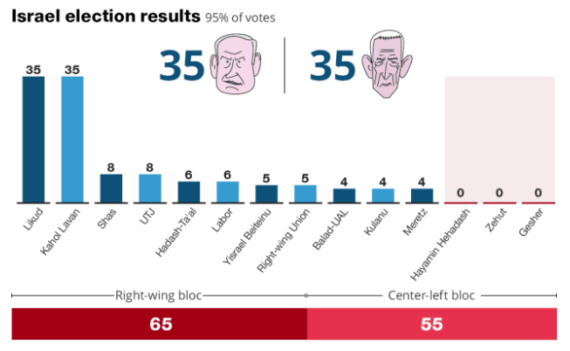 This illustrates beautifully the point Steven Taylor frequently makes here about how much institutions matter. Nobody "won" the election per se because Israel has a multi-party system. But even though the two leading parties got the same number of votes, Likud has an easier path to putting together a governing coalition.
In the context of this cobbled-together outcome, I was surprised to see an op-ed titled "Why Israel Still Loves Netanyahu" on the front page of the NYT. Thankfully, the actual analysis from Shmuel Rosner is much better than the headline would suggest. The key bit:
Mr. Netanyahu may be cynical but he doesn't rig elections. He wins fairly, often against great odds, including, this time, the coming indictments against him and an understandable fatigue with his decade-old leadership, not to mention various other inter- and intraparty squabbles. But he seems to have succeeded again this time for the same reason he has dominated Israeli politics for most of the past 25 years: because when it comes to Israel's national security, he is a leader with strategy and vision. And that is what many voters want.

In the mid-1990s, during his first term as prime minister, Mr. Netanyahu rejected the assumptions underlying the peace process with the Palestinians. At the time this was considered daringly right wing. Today, it is considered common sense in Israel, including by Mr. Netanyahu's political rivals. Likewise, Mr. Netanyahu was one of the first politicians to recognize Iran as the main threat to Israel's survival, and fought fiercely in international forums to get the world's attention to this problem. Today, this view is also widely appreciated across the Israeli political spectrum.


The list goes on: In 2005, he warned that withdrawing Israeli troops from Gaza would end in disaster — and it did. He successfully resisted eight years of the Obama administration's pressure to offer concessions to the Palestinians. He quickly forged an alliance with President Trump that has already proved to be of great benefit to Israel. In two years, Mr. Trump has moved the American embassy from Tel Aviv to Jerusalem, withdrawn from the nuclear agreement with Iran, recognized Israel's sovereignty over the Golan Heights, and on Monday, designated Iran's Islamic Revolutionary Guard Corps as a terrorist organization.


Blue and White tried to make this election a referendum on Mr. Netanyahu. Its campaign focused largely on the prime minister's personal failings, the corruption accusations against him, and exhaustion with his leadership. But in Israel, security trumps all other issues. (A poll ahead of the election found voters rated security as their No. 1 concern.)
That's a reasonable reading of the situation.
President Trump has already called to congratulate Netanyahu.