New Horizons Sends Back Images Of Ultima Thule
Three and a half years after its flyby of Pluto, the New Horizons spacecraft has reached the furthest distant object ever visited by a man-made craft.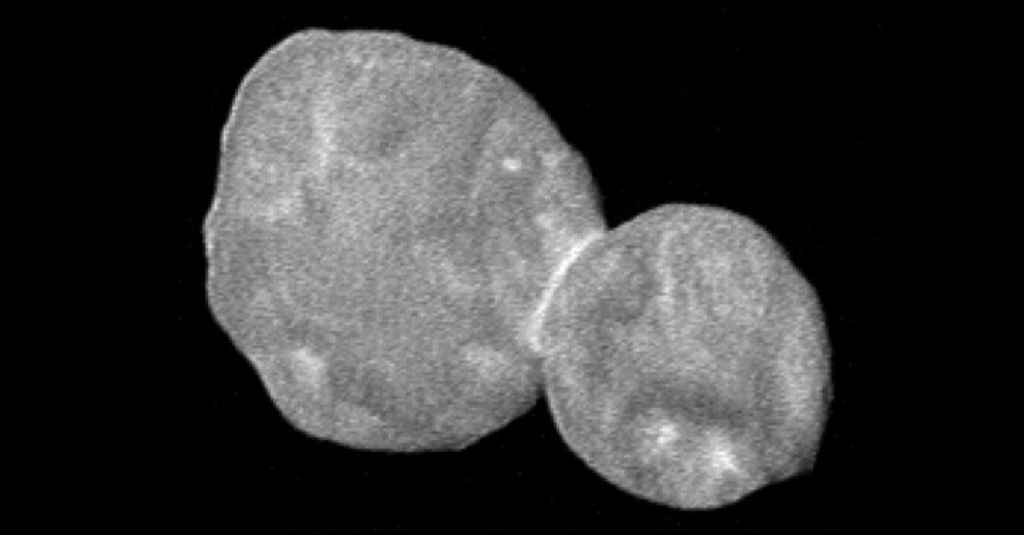 It was roughly three and a half years ago that NASA's New Horizons spacecraft flew by Pluto and provided the world with the clearest photos yet of the Dwarf Planet that orbits the Sun beyond the orbit of Neptune. The mission, which took nine years to reach its distant destination even though it was flying at speeds somewhat faster than many of the interplanetary unmanned craft that have been sent into space in the pace, was considered an outstanding success, but the little craft hasn't stopped doing its job. Since visiting Pluto, New Horizons has had encounters with several trans-Plutonian objects, the most recent being Ultima Thule, which is so far the most-distant object encountered by a man-made craft:
LAUREL, Md. — Ultima Thule, an icy world 4 billion miles from the sun, looks like a big snowman.

At a news conference on Wednesday, scientists working with NASA's New Horizons mission released several images that the spacecraft took as it flew by on Tuesday, New Year's Day.

Planetary scientists have never before seen a close-up of a body like Ultima Thule. It is likely a fragment that coalesced more than 4.5 billion years ago and which has remained in the deep freeze of the solar system's Kuiper belt ever since.

If it is indeed a pristine planetesimal, a building block of the planets, studying it will offer clues to how Earth and its neighbors formed.

On Tuesday, scientists released a blurry picture of this small world, also known by its official designation 2014 MU69, taken before the flyby from a distance of half a million miles. It sort of looked like a fuzzy bowling pin then.

"That was so 2018," Dr. Stern joked.

Now, much more has come into focus.

The scientists now say with confidence that Ultima Thule long ago was what they call a "contact binary."

"Two completely separate objects that are now joined together," said S. Alan Stern, the principal investigator for the mission.

It consists of two almost spherical lobes, one with about three times the volume of the other. To tell them apart, they named the larger one Ultima and the smaller one Thule. "Being scientists, we are not all that creative with words," Dr. Stern said.

Such contact binaries appear to be common in the outer solar system, but, Dr. Stern said, "This is the first object that we can clearly tell was born this way,"

By contrast, he suggested, scientists did not know for sure whether other two-lobe bodies — most notably the rubber ducky-like Comet 67P/Churyumov-Gerasimenko — were two objects that came together or one larger body that had eroded into its current shape.

A contact binary fits with some theories of how the planets formed — that clouds of pebbles clumped together into larger lobe-size bodies, and then these two lobes gently bumped into each other and stuck.

"It's actually gratifying to see these almost perfectly formed contact binaries in their native habitats," said Jeffrey M. Moore, the leader of the mission's geology and geophysics team.

In at least the general outlines, he added, "our ideas of how these things form seem to be somewhat vindicated by these observations."

He said that the two lobes must have hit at very low speeds, a few miles per hour at most. Dr. Moore said that the mottled appearance of the surface with dark streaks were suggestive of hills and ridges. As yet, there are no obvious craters visible.

"We see no unambiguous evidence," Dr. Moore said. "I'd be surprised if there are not at least a few."

Because these images were taken with the sun directly behind the spacecraft, there are no shadows to highlight the topography

Color images show that Ultima Thule is reddish. A ring of brighter, less reddish material circles the connection between the two lobes, possibly loose material that rolled down and piled up at the bottom of the slopes.

The details of the shape conclusively answer the mystery of why New Horizons did not detect variations in Ultima Thule's brightness as it approached. Typically, an irregularly shaped object will have a rhythmic pattern of brightening and dimming as it rotates. But here, the spacecraft was looking down at one of the poles, so essentially the same side of Ultima Thule was facing the spacecraft the entire time.

The first batch of science data from the flyby arrived on Earth on Tuesday afternoon. More than 100 scientists, including Heidi B. Hammel, a planetary scientist and a media liaison for the science team, gathered in the evening for a look.

"Everybody was there," Dr. Hammel said in an interview. "They all wanted to see it. The picture goes up and everybody applauds and cheers. Immediately, the chatter starts."
Ultima Thule was first discovered very recently, in June 2014 by astronomers using the Hubble Space Telescope who were looking for new targets for New Horizons in the wake of its flyby of Pluto. Technically, Ultima Thule is only a nickname for the object and its official name will eventually be assigned pursuant to the guidelines of the International Astronomical Union, although one hopes that its current nom de guerre becomes official in no small part because it sounds like someplace that might exist in the Star Wars universe. In reality, the nickame comes from Latin and roughly translates into "farthest Thule," meaning an object lying the furthest from the known world. In any case, whatever the object is ultimately called, the fact that we're now flying a craft by it is really one of those extraordinary accomplishments that probably don't get the attention they deserve because they aren't as sexy as the manned space program. In terms of actual science, though, it's rather clear that the unmanned probes that have been sent into the Solar System, largely by the United States, have been far more important to the expansion of human knowledge than the manned program has been. At some point, perhaps, a manned mission will do what Pioneer, Voyager, New Horizons, and other missions have done, and more, but for now these little robots are our best way to find out more about the universe and they're doing a fantastic job.
The object itself has an orbital period of 298 years, meaning that it takes nearly 300 years for Ultima Thule to make a complete orbit around the Sun. For perspective's sake, this means it was last in its current position in roughly 1718 when the American colonies were still beginning to form on the East Coast of North America, George I was King of Great Britain, Czar Peter the Great ruled Russia, and Louis XV ruled France. It won't be back in this position again until 2318. In terms of distance, it lies roughly 42.5 to 44.5 Astronomical Units from Earth, a distance that varies due to the fact that its orbit is not consistent in the manner that most planets are. No doubt, there will be more data and more pictures in the coming days. Even these initial images, which took more than twelve hours to make the journey from the craft to Earth and be properly processed, are amazing though. Nicely done, New Horizons. Nicely done.