New Jersey Congressman Makes Party Switch Official
New Jersey Congressman Jeff van Drew, elected just last year as a Democrat, is now a Republican.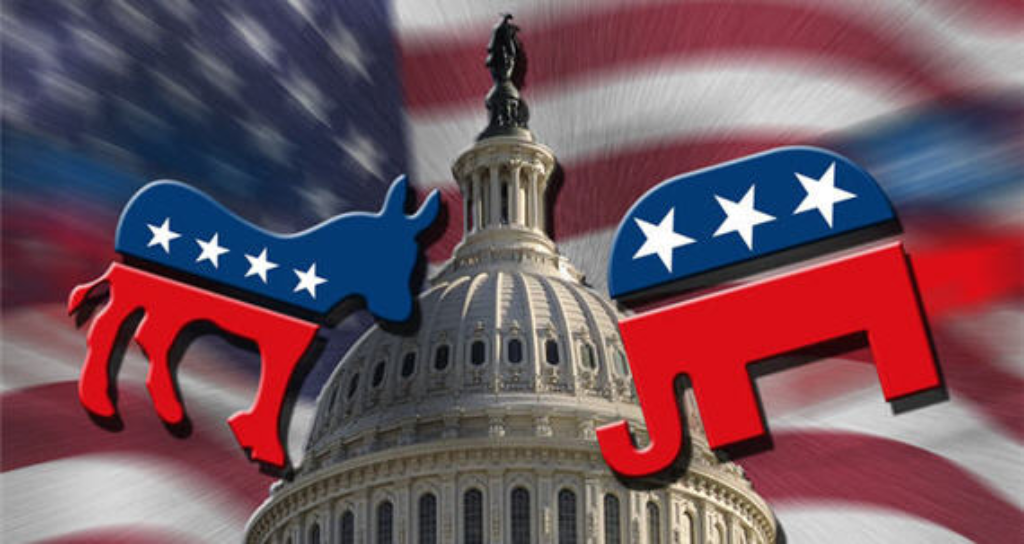 As hinted earlier this week, New Jersey Congressman Jeff van Drew, one of two Democrats to vote against impeachment this week, made his switch from the Democratic to the Republican Party official during an appearance at the White House yesterday with President Trump:
Rep. Jeff Van Drew of New Jersey, who emerged in recent weeks as an anti-impeachment Democrat, switched parties Thursday to join the GOP, one day after he opposed both articles of impeachment against President Trump — and following weeks of courting by the president, allies of the president and administration officials.

"Very big announcement . . . Jeff will be joining the Republican Party," Trump said Thursday, with Van Drew by his side in the Oval Office.

The announcement is one of the White House's first acts of political combat following Wednesday's impeachment vote, with the intent of casting the Democratic Party as consumed with investigating the president and inhospitable to moderates.

Van Drew and Rep. Collin C. Peterson (Minn.) were the only Democrats to vote against both articles of impeachment — abuse of power and obstruction of Congress. On the second article, obstruction, those two and freshman Rep. Jared Golden (D-Maine) voted in opposition. Democratic Rep. Tulsi Gabbard of Hawaii, who is running for president, voted "present" on each article.

Van Drew, a 66-year-old dentist, was elected in 2018 to represent a congressional district that was won by Trump in 2016.

Trump and administration officials, along with outside allies, have been wooing Van Drew for weeks, urging him to switch parties and assuring him that Trump and the GOP will support his reelection bid.

"I believe that this is just a better fit for me," Van Drew said Thursday at the White House. "This is who I am," adding that Trump has his "undying support."

In response, Trump said he endorses Van Drew.

Despite Van Drew's claim of the GOP being "better fit," his voting record on major bills was almost uniformly with House Speaker Nancy Pelosi (D-Calif.), not with Trump. Aside from impeachment votes, a bipartisan budget deal, and a vote on holding two Trump cabinet officials in contempt of Congress, Van Drew broke with the Trump administration on every major vote of 2019.

Trump sealed Van Drew's commitment to a switch on Dec. 13 during a meeting in the White House residence, according to two top Republicans briefed on the meeting who were not authorized to speak publicly.

Van Drew arrived quietly at the White House that day and was greeted by White House counselor Kellyanne Conway, who ushered the lawmaker through the White House. At one point, Van Drew and Conway walked past two television reporters — but the reporters did not recognize the largely unknown New Jersey Democrat, the Republicans said, enabling Van Drew to proceed without notice.

Once at the residence, Van Drew, Conway and Trump talked at length about his political future and his concerns about the Democratic Party. Trump promised that he and the Republican Party would enthusiastically back Van Drew next year, including with events in his district, the Republicans added.

A rally in New Jersey with Van Drew could happen as soon as January, according to one of the Republicans.

Beyond Conway, former New Jersey governor Chris Christie and Bill Stepien, a former White House political director who is now a senior adviser to Trump's campaign, were key players in engaging Van Drew and his political orbit and encouraged him to seriously consider a switch. Both Christie and Stepien — a former aide to Christie — have deep roots in Garden State politics.

More from NJ.com:
New Jersey Rep. Jeff Van Drew officially joined the Republican Party on Thursday.

Flanked by President Donald Trump and House Republican Leader Kevin McCarthy of California in the Oval Office, Van Drew said he no longer felt welcome in the Democratic Party because party leaders would not support him if he voted against impeaching the president.

"It kind of hurt because for years, I have given everything that I could to my people and my district," Van Drew said, taking out a piece of paper with notes to consult.

"I believe that this is just a better fit for me," he said. "This is who I am."
Trump welcomed Van Drew to the GOP.

"To me, it's a very exciting announcement," the Republican president said.
Almost immediately after the news of his intention to switch parties became public earlier this week, van Drew has received mostly negative reaction back home. The first consequence was the fact that he lost 13 staff members, all of whom have since found jobs on with other Democratic Members of Congress, Congressional Committees, or with the National Democratic Congressional Committee, the committee responsible for electing Democrats to Congress. Additionally, notwithstanding the fact that he was apparently endorsed by the President, van Drew has not received a very positive reception from Republicans in the 2nd Congressional District, many of whom have called the move the result of nefarious machine politics. As a result, van Drew is likely to face a vigorous primary battle next year and, if he wins that fight, a vigorous fight from district Democrats interested in seeking revenge against what they no doubt perceive as a betrayal. Given that, van Drew's time as a Republican Member of Congress may be short-lived indeed.
It's impossible to see van Drew's move as anything other than a cheap attempt to protect his political career. Earlier this year, for example, he was among the New Jersey Democrats who endorsed Senator Cory Booker's bid for the Democratic nomination, yesterday, in a scene that brought to mind Luca Brasi at the beginning of The Godfather, he pledged his "undying loyalty to Donald Trump. For most of this year, he was voting in lock-step with Speaker Pelosi and the Democratic leadership in the House. Now he's getting praised by Kevin McCarthy and the GOP leadership. It's really all quite pathetic. Hopefully, it won't fool the voters of the second district.