New Mexico Judge Orders State's Largest County To Issue Same-Sex Marriage Licenses
Three counties in New Mexico are under orders to issue licenses to same-sex couples.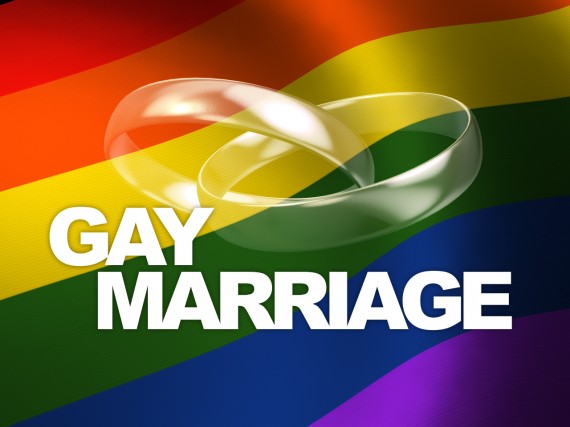 A state court judge in New Mexico has ordered the state's largest county to begin issuing same-sex marriage licenses:
ALBUQUERQUE, N.M.  — A New Mexico judge on Monday declared same-sex marriage legal, ordering the clerk of the state's most populous county to join two other counties in issuing licenses for gay and lesbian couples.

State District Judge Alan Malott ruled New Mexico's constitution prohibits discrimination on the basis of sexual orientation.

The Bernalillo County clerk's office in Albuquerque planned to start issuing marriage licenses to same-sex couples at 8 a.m. Tuesday.

The decision came after a judge in Santa Fe directed the county clerk there to begin issuing marriage licenses to same-sex couples on Friday. But Malott's ruling was seen as more sweeping because he directly declared that gay marriage was legal.

Laura Schauer Ives, a lawyer for the American Civil Liberties Union of New Mexico, called it "monumental" and said the group didn't expect such a broad decision by Malott. The judge had been asked only to order that the state recognize, on her death certificate, a dying woman's marriage Friday in Santa Fe to her longtime partner.

But after a short hearing in which neither the counties nor the state objected to the request, Malott also ruled on the broader lawsuit by that couple and five others seeking marriage licenses.

"We were stunned and amazed," Ives said.

However, it's uncertain whether clerks in the state's 30 other counties, who were not defendants in the lawsuit, will use the judge's ruling as a signal that they can issue marriage licenses to same-sex couples. Assistant Attorney General Scott Fuqua said the decision wasn't binding on clerks outside Bernalillo and Santa Fe counties.

Malott's order came during a hearing seeking an order for the state to recognize the marriage of Jen Roper, who has cancer, to Angelique Neuman.

The couple wed at a Santa Fe hospital after a state district judge in a separate case ordered the Santa Fe County clerk to issue same-sex licenses. The clerk of Dona Ana County in southern New Mexico decided on his own last week to recognize gay and lesbian marriages.

"It's been a long, long fight," Neuman said. "I'm glad things went our way."
Legal challenges same-sex marriage have been going on in New Mexico for the better part of a year now. As I noted back in March, some political leaders in the state were asserting back then that same-sex marriage was already legal in the state because the state's marriage laws do not specify that the parties to a marriage must be a man and a woman. Almost immediately thereafter, lawsuits were filed and, within just the past week we've seen the results.
I haven't referenced the relevant New Mexico laws, and have only had time to quickly scan through the most recent court decision, but it does strike me as problematic at some level even though I support same-sex marriage. Essentially, these judges have ruled that New Mexico's marriage laws, presumably drafted at time when the idea of same-sex marriage was far from anyone's mind, apply to same-sex couples regardless of what the intent of the legislators who drafted those statutes might be. While one, perhaps, can make an argument that this should be the case when, as here, the statute doesn't specify gender, it was undoubtedly the case that the legislators who adopted these laws intended them to only apply to marriages between one man and one woman. Is it really proper for a judge many decades later to be substituting his judgment for theirs and expanding the law beyond what it was intended to say?
As noted, it's unclear what this actually means for the rest of the state. For one thing, these orders only apply to the counties that were parties to the specific lawsuits and the orders have no binding effect on any of the other 30 counties in the state. Some County Clerk's may decide to voluntarily comply with the orders, but others may not. Additionally, other state trial court judges are not bound by these decisions as binding precedent, so they may reach a different conclusion regarding the reach of the state's marriage laws. Thus, it's quite likely that we'll see an uneven application of the law throughout the state, which would of course make no sense whatsoever.
Legislators are already vowing to appeal these cases, however, so it's likely that the New Mexico Supreme Court, which has already recently chimed in on the issue of gay rights, will be ruling on this matter in the relatively near future.