New Star Wars Movie Coming in 2015
George Lucas has sold the Star Wars franchise to Disney, which has announced a new Star Wars movie for 2015.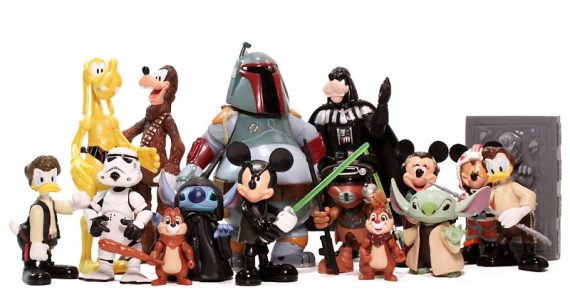 George Lucas has sold the Star Wars franchise to Disney, which has announced a new Star Wars movie for 2015.
Walt Disney Company ("DISNEY TO ACQUIRE LUCASFILM LTD."):
Continuing its strategy of delivering exceptional creative content to audiences around the world, The Walt Disney Company (NYSE: DIS) has agreed to acquire Lucasfilm Ltd. in a stock and cash transaction. Lucasfilm is 100% owned by Lucasfilm Chairman and Founder, George Lucas.

Under the terms of the agreement and based on the closing price of Disney stock on October 26, 2012, the transaction value is $4.05 billion, with Disney paying approximately half of the consideration in cash and issuing approximately 40 million shares at closing. The final consideration will be subject to customary post-closing balance sheet adjustments.

"Lucasfilm reflects the extraordinary passion, vision, and storytelling of its founder, George Lucas," said Robert A. Iger, Chairman and Chief Executive Officer of The Walt Disney Company. "This transaction combines a world-class portfolio of content including Star Wars, one of the greatest family entertainment franchises of all time, with Disney's unique and unparalleled creativity across multiple platforms, businesses, and markets to generate sustained growth and drive significant long-term value."

"For the past 35 years, one of my greatest pleasures has been to see Star Wars passed from one generation to the next," said George Lucas, Chairman and Chief Executive Officer of Lucasfilm. "It's now time for me to pass Star Wars on to a new generation of filmmakers. I've always believed that Star Wars could live beyond me, and I thought it was important to set up the transition during my lifetime. I'm confident that with Lucasfilm under the leadership of Kathleen Kennedy, and having a new home within the Disney organization, Star Wars will certainly live on and flourish for many generations to come. Disney's reach and experience give Lucasfilm the opportunity to blaze new trails in film, television, interactive media, theme parks, live entertainment, and consumer products."

Under the deal, Disney will acquire ownership of Lucasfilm, a leader in entertainment, innovation and technology, including its massively popular and "evergreen" Star Warsfranchise and its operating businesses in live action film production, consumer products, animation, visual effects, and audio post production. Disney will also acquire the substantial portfolio of cutting-edge entertainment technologies that have kept audiences enthralled for many years. Lucasfilm, headquartered in San Francisco, operates under the names Lucasfilm Ltd., LucasArts, Industrial Light & Magic, and Skywalker Sound, and the present intent is for Lucasfilm employees to remain in their current locations.

Kathleen Kennedy, current Co-Chairman of Lucasfilm, will become President of Lucasfilm, reporting to Walt Disney Studios Chairman Alan Horn. Additionally she will serve as the brand manager for Star Wars, working directly with Disney's global lines of business to build, further integrate, and maximize the value of this global franchise. Ms. Kennedy will serve as executive producer on new Star Wars feature films, with George Lucas serving as creative consultant. Star Wars Episode 7 is targeted for release in 2015, with more feature films expected to continue the Star Wars saga and grow the franchise well into the future.
My Twitter feed is understandably anxious about this, given how uneven the prequels (aka, Episodes 1-3) were. Jar-Jar Binks alone induces shudders.
But I welcome the news. First, Disney is a first-rate outfit, and as likely as anyone to carry off a reboot of the venerable Star Wars universe. Beyond that, the notion that even a bad movie will permanently tarnish a franchise as iconic as Star Wars is silly. After all, not all of the Star Trek movies were good, either. Hell, not all of the Star Trek series were good.  But that didn't mean that the recent reboot wasn't fantastic. Similarly, pretty much all of the non-Christian Bale Batman movies were bad. Certainly, neither the Val Kilmer nor the George Clooney turns from the late 1990s were very good. And goodness knows that not all 23 of the James Bond movies were stellar; indeed, most of them stunk. Yet, fans eagerly await November's release of "Skyfall."
It has been 35 years since "Star Wars" (Episode IV, "A New Hope") debuted in 1977.  There was a gap of 16 years between "Return of the Jedi" and "The Phantom Menace." Assuming Episode 7 actually comes out in 2015, it'll have been seven years since "The Clone Wars" and a decade since "Revenge of the Sith," the last episode in the continuity. Frankly, it seems like much longer. If Episode 7 has Jar-Jar Binks as its lead character, with all of the other characters being more annoying, will it really impact your enjoyment of a movie that came out 38 years before?
Put it this way: In 2015, "Star Wars" (Episode IV) will be as old as "Gone With The Wind," "Goodbye Mr. Chips," "Mr. Smith Goes To Washington," "Stagecoach," and "The Wizard of Oz" were when "Star Wars" debuted.