New Wikileaks Cables Show Deep U.S. Concern Over Pakistan
The latest wrong of documents from Wikileaks show that American diplomats are as worried about Pakistan as the rest of us, and not quite sure how to deal with the situation.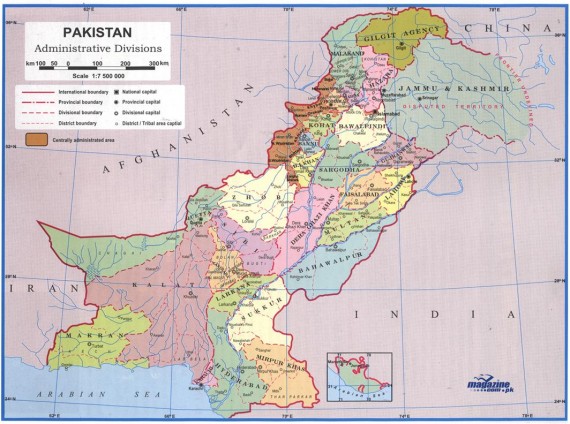 The latest round of diplomatic cables to receive scrutiny involve the nation that is arguably our most important "ally" in the War On Terror and show, not surprisingly, that American diplomats are deeply worried about Pakistan:
Less than a month after President Obama testily assured reporters in 2009 that Pakistan's nuclear materials "will remain out of militant hands," his ambassador here sent a secret message to Washington suggesting that she remained deeply worried.

The ambassador's concern was a stockpile of highly enriched uranium, sitting for years near an aging research nuclear reactor in Pakistan. There was enough to build several "dirty bombs" or, in skilled hands, possibly enough for an actual nuclear bomb.

In the cable, dated May 27, 2009, the ambassador, Anne W. Patterson, reported that the Pakistani government was yet again dragging its feet on an agreement reached two years earlier to have the United States remove the material.

She wrote to senior American officials that the Pakistani government had concluded that "the 'sensational' international and local media coverage of Pakistan's nuclear weapons made it impossible to proceed at this time." A senior Pakistani official, she said, warned that if word leaked out that Americans were helping remove the fuel, the local press would certainly "portray it as the United States taking Pakistan's nuclear weapons."

The fuel is still there.

It may be the most unnerving evidence of the complex relationship — sometimes cooperative, often confrontational, always wary — between America and Pakistan nearly 10 years into the American-led war in Afghanistan. The cables, obtained by WikiLeaks and made available to a number of news organizations, make it clear that underneath public reassurances lie deep clashes over strategic goals on issues like Pakistan's support for the Afghan Taliban and tolerance of Al Qaeda, and Washington's warmer relations with India, Pakistan's archenemy.

Written from the American Embassy in Islamabad, the cables reveal American maneuvering as diplomats try to support an unpopular elected government that is more sympathetic to American aims than is the real power in Pakistan, the army and intelligence agency so crucial to the fight against militants. The cables show just how weak the civilian government is: President Asif Ali Zardari told Vice President Joseph R. Biden Jr. that he worried that the military might "take me out."

Frustration at American inability to persuade the Pakistani Army and intelligence agency to stop supporting the Afghan Taliban and other militants runs through the reports of meetings between American and Pakistani officials
Perhaps the story that has gotten the most press coverage over the last few days has been the abandoned effort to remove nuclear fuel from a Pakistani research reactor and bring it to the United States, a project that was abandoned after the Pakistani government protested that the move would be seen by its citizens as an example of the U.S. "stealing" Pakistan's nuclear weapons. Of more immediately importance, though, is the ongoing saga of Pakistani cooperation, or lack thereof, in the fight against the Taliban and al Qaeda:
The cables portray deep skepticism that Pakistan will ever cooperate fully in fighting the full panoply of extremist groups. This is partly because Pakistan sees some of the strongest militant groups as insurance for the inevitable day that the United States military withdraws from Afghanistan — and Pakistan wants to exert maximum influence inside Afghanistan and against Indian intervention.

Indeed, the consul general in Peshawar wrote in 2008 that she believed that some members of the Haqqani network — one of the most lethal groups attacking American and Afghan soldiers — had left North Waziristan to escape drone strikes. Some family members, she wrote, relocated south of Peshawar; others lived in Rawalpindi, where senior Pakistani military officials also live.

In one cable, Ms. Patterson, a veteran diplomat who left Islamabad in October after a three-year stint as ambassador, said more money and military assistance would not be persuasive. "There is no chance that Pakistan will view enhanced assistance levels in any field as sufficient compensation for abandoning support for these groups, which it sees as an important part of its national security apparatus against India."

In a rare tone of dissent with Washington, she said Pakistan would only dig in deeper if America continued to improve ties with India, which she said "feeds Pakistani establishment paranoia and pushes them closer to both Afghan and Kashmir focused terrorist groups."

The groups Ms. Patterson referred to were almost certainly the Haqqani network of the Afghan Taliban and Lashkar-e-Taiba, a group financed by Pakistan in the 1990s to fight India in Kashmir that is accused of the 2008 terrorist attacks in Mumbai, India.
And that seems to be part of the problem with Pakistan right there. It's hard to any nation to be an ally in a war against terrorist groups when they are simultaneously backing terrorists as part of a decades long religious and territorial conflict with their largest neighbor. It raises the whole question of just how much American and Pakistani interests actually intersect. In fact, were it not for the conflict in Afghanistan and the fight against al Qaeda, it's arguably true that we would, and should, be far more closely allied with India than Pakistan. Circumstances, however, have forced us to ally ourselves with Karachi in the War on Terror even though it's clear their heart really isn't in the fight. As these cables suggest, that probably isn't going to work out so well in the long run.